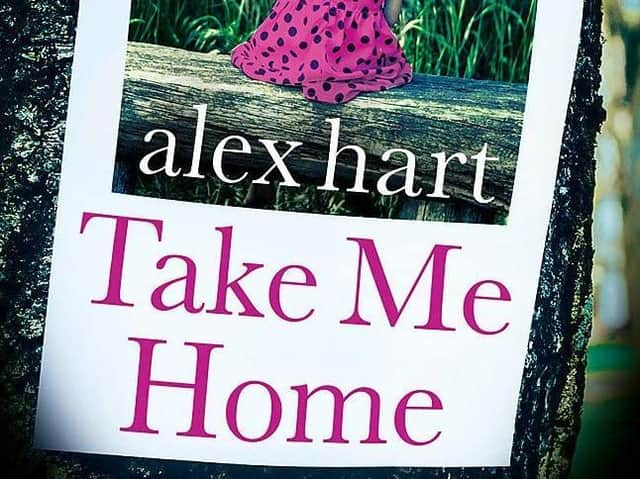 Take Me Home
When struggling, streetwise photojournalist Harper Stein returned a dress to a New York City store, she never expected to leave with an abandoned child clutching her hand.
Harper knows the tough streets of NYC only too well and she is determined to track down the mother of the lost little girl… but trying to find where she comes from could be the most dangerous assignment she will ever undertake.
After twenty years working in the film and television industry, primarily in drama and factual development, Alex Hart has turned her talents to writing novels and the result is this cracking debut… a super-smart thrill ride which packs in all the zingy dialogue and cinematic sequences of the best action movies.
Star of this tautly written, witty and yet heartbreakingly emotional tale is the feisty, funny but chaotic and insecure Harper, whose life has been scarred by her troubled early years in the care of New York's foster system.
Here we find her desperately searching for some freelance work to pay the overdue rent on her apartment to an unsavoury landlord who is only too ready to throw her out on to the street.
After buying an expensive dress to wear on the outside chance of a job at a high-end gala night, Harper loses the gig and heads uptown later in the day to return the dress and can't help but spot the same little girl sitting in the exact same place near the fitting room where she saw her hours ago.
No one in the shop knows who the girl is and no desperate parents have contacted shopping mall's security office to say they have lost their daughter. Harper can't just leave her there so takes her to the precinct police station where there have been no new reports of a missing child.
Police suggest that the child, who says her name is May Brown and is aged four, should be handed over to the Child and Family Services but Harper's own experiences of being continually pushed from pillar to post convince her that May isn't going to 'fall into the system.'
Unable to take May back to her apartment and risk facing her landlord, Harper turns for help to retired cop, TJ, the man who has been a surrogate father to her, rooting her out and dragging her back every time she went missing from home.
And there is also another helping hand from her ex-boyfriend Reggie, another NYC cop, who Harper hasn't seen for months but whose presence still has the power to ruffle her feathers.
With the only clue a scribbled note in May's pocket and the child saying she misses her mother, Harper, TJ and Reggie must try to discover why nobody is looking for her and how much they are prepared to risk for a child that doesn't belong to them?
It's a mission that takes them on a road trip from the chilly streets of New York City to the electric blue skies of coastal Florida as they follow a trail of theories all the way to a devastating revelation…
With its intricate plotting, fast-paced action and white-knuckle ride through secrets, scandals, and a complex web of clues, crimes and conundrums, this is both an absorbing mystery thriller and an entertaining race against time alongside a stellar cast of characters.
With the delectable and determined Harper leading the charge, Reggie providing the sexual tension, and TJ steadying the course, this is a brilliant page-turning crime debut full of ingenious twists and turns, but saving its final knockout punch for the brilliant denouement.
(Orion, paperback, £8.99)