Strange sea creatures, amazing cities and a dragon detective by various authors - book reviews -
Discover fish with fantastic fins, join a globetrotting penguin on a world tour, enjoy red-hot sleuthing antics, and celebrate the pleasures and pitfalls of siblings in a sparkling sunshine collection of summer children's books.
Wednesday, 10th June 2020, 12:30 pm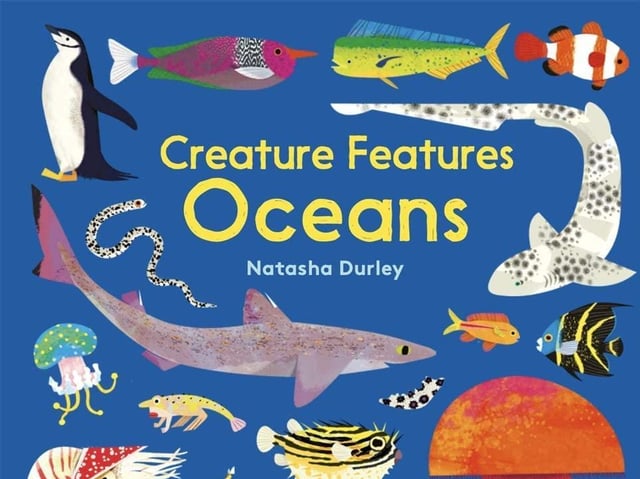 Creature Features Oceans
Discover fish with fantastic fins, join a globetrotting penguin on a world tour, enjoy red-hot sleuthing antics, and celebrate the pleasures and pitfalls of siblings in a sparkling sunshine collection of summer children's books.
Creature Features: Oceans
Dive into the ocean and discover sea creatures so amazing, colourful and bizarre that you won't believe they are real!
Natasha Durley, an artist who enjoys creating playful illustrations with an emphasis on colour, texture and the natural world, takes youngsters along sandy shorelines and deep into the world's oceans to fish out strange sea life with fascinating features in this stunning, sturdy board book.
Packed with Durley's bold, vibrant artwork and with lots to look out for on every page, this collection of curious underwater creatures will captivate young readers. Grouped by their incredible features – from enormous eyes to fantastic fins – this book is a celebration of both the bizarre and the beautiful.
There are thousands of creatures to be found under the water and many more still waiting to be discovered. And they come in all shapes and sizes, from enormous whales to tiny fish, and have developed extraordinary features to help them survive in their watery world. Some have big teeth, others have stripes and spots, some have super long arms and terrific teeth, while others glow brightly in the darkest depths.
Enjoy meeting them all in this amazing book and learn fascinating facts about how they use their creature features to ward off predators, taste and smell their food, or simply glide to the surface.
Created in a large format, organised by their distinctive features, and packed with fun, facts and all kinds of fish, this is a nature in all its glowing, strange and colourful glory!
(Big Picture Press, board book, £10.99)
If you can't escape on a big city break this year, take a whirlwind trip around the world and visit twenty eight of the most amazing cities.
Youngsters will love joining a cheerful globetrotting penguin as he cycles, ice skates and belly dances round the planet, and celebrates the history, culture and cuisine of fantastic locations and the people who live there.
Packed with beautiful illustrations by London-based Maggie Li, Big City Atlas uses double page spreads to show key sites and cultural specialities for each city alongside bite-size facts and information.
Learn about the major museums and galleries, key historical moments, traditions, local foods and famous landmarks. Lose yourself in the hills and beaches of Rio, explore the winding canals and pretty bridges of Amsterdam, or the skyscrapers of Hong Kong, check out some traditional Irish music and dancing in Dublin, step back in time in the ancient city of Cairo, and admire the magnificent buildings of Istanbul.
Children will love poring over the richly detailed pages, spotting well-known landmarks, and learning about the history, famous names, and daily lives of the people in each location, and finding places similar to their own home towns as well as some that are wildly different.
Packed with information and facts about every city, and with hundreds of details all waiting to be explored, Big City Atlas is an entertaining and educational book that enables you to travel the world from your own home.
And with fun quizzes and games at the back of the book, which let youngsters test their geographical knowledge, this is an eye-opening learning adventure, and an ideal addition to home and school shelves.
(Pavilion, paperback, £8.99)
Dragon Detective: School's Out
Get ready for more red-hot sleuthing fun with a droll, laidback dragon detective and his prodigiously clever partner-in-crime Holly Bigsby.
Master of zany comedy and award-winning author Gareth P. Jones is back with another updated, new look, tweaked title but still fun-filled version of his action-packed and much-loved The Dragon Detective Agency series which was shortlisted for the Waterstones Children's Book prize back in 2007.
Starring the lovable, jobbing London dragon detective Dirk Dilly and his feisty schoolgirl friend Holly, these brilliant stories are packed with laugh-out-loud comedy, madcap adventures, and positively fizz with Jones' energy, wit, imagination and irreverent sense fun.
In School's Out, the second book in this super, revamped series, Holly is desperate to be sleuthing again with her partner-in-solving-crime, dragon Dirk Dilly, but instead she's stuck at her exclusive, high-security boarding school for children of the rich and famous. She is determined to escape, until she meets Callum, the son of the Prime Minister, who claims he was kidnapped by dragons a year ago and hasn't been the same since. And when Dirk's own investigation into dragon activity brings him to the school, the two cases collide with earth-shattering results. What if Callum isn't as crazy as he seems?
With Jones' love of words shining through, and plenty of crooks and crime to enjoy, a reprise of Dilly and Holly is proving suitable fire-powered reading for all young mischief makers.
(Little Tiger, paperback, £6.99)
Harriet Evans and Andrés Landazábal
Family life is one of the most important parts of our formative years… and here are two beautiful picture books that celebrate the pleasures and pitfalls of growing up with siblings.
Using beautiful rhyme, exquisite illustrations and all the frustrations, fun and shared experiences of life's big adventure with brothers and sisters, author Harriet Evans and illustrator Andrés Landazábal touch our hearts and teach little ones about the joy and diversity of modern families.
In Sisters – a book full of colour, vibrancy and heartfelt messages – we discover that sisters can sometimes be irritating and rude but they share all your hopes, they soothe all your fears, and on the worst days they brighten your mood.
And in Brothers, we meet brothers big and small, stepbrothers and half-brothers. They might make life messy and upset the best-laid plans but big brothers lift you up, they share trust and secrets, and offer a pair of helping hands.
With their heartfelt message of love and kinship, gentle, reassuring, rhyming words, and pictures imbued with warmth and empathy, these enchanting books are set to become firm family favourites.
(Little Tiger Press, hardback, £8.99 each)
They also serve… who only lie back and swim!
Author and illustrator Bethany Christou, whose gorgeous debut picture book Slow Samson won hearts and accolades, returns with another beautiful and reassuring tale about a crocodile who gets the collywobbles when he has to take part in swimming contests.
Suffering from anxiety or getting nervous is all part of growing up and Christou addresses these natural fears with her second picture book starring a lovable little croc who can't face telling his family of successful water athletes that just the thought of competing gives him that sinking feeling.
Nigel loves swimming and so do all his siblings. The water is his favourite place to float and think but he doesn't like swimming in competitions. As soon as the whistle blows, his heart starts hammering, his tail starts trembling and his teeth start chattering. Can Nigel find the courage to tell his family how he really feels, and will he find something else at which to excel?
Nervous Nigel is a joy to share with little ones… Christou's colourful and expressive illustrations bring to life a cute little croc whose troubles will be familiar to many youngsters but who finds a new purpose and pride, and discovers that all his family really want for him is happiness.
Brimming with wit, warmth, and timely messages, this is a picture perfect book for all the family.
(Templar Publishing, paperback, £6.99)
Peek Through: Jobs We Do and Peek Through: Around Town
Jonny Marx and Zoe Waring
It's never too early to learn about the busy, bustling world of work.
Author Jonny Marx and illustrator Zoe Waring blend their talents for two informative and eye-catching board books which open up life in a busy town, and the many different sorts of people who work in them.
With delightful open-and-close flaps and peek-through pages, which allow children to seek answers to questions and make their own discoveries, these bright and colourful books are perfect for both educating and entertaining.
In Peek Through: Jobs We Do, we join Roxy the rat on a fun-filled trip to work. There are plenty of places to go, and along the way she meets Dasher the Detective, Smokey the Firefighter, Rocker the Chef and Michelle the Mechanic.
And in Peek Through: Around Town, meet Dusty the dog as he wanders around town in search of adventure. There are plenty of shops to visit, including the café, the bookshop, the music store and the sweet shop, but where will Dusty end up?
With a cute cast of animal characters, and lots of fun and learning to enjoy, these charming books are just the job for curious youngsters.
(Little Tiger Press, board books, £5.99 each)
Let's Go, Tractor! and Let's Go, Fire Truck!
Little ones love to be on the go and here are the perfect books to set their engines running!
Let's Go, Tractor! and Let's Go, Fire Truck! – two chunky board books with concentric pages in the shape of a tractor and a fire engine – come packed with colour, page-turning action and lots of chugs, roars, shakes, flashes and splashes.
In Let's Go, Fire Truck!, we join the busy, busy fire truck and Firefighter Bear as he zooms down the street, sets his siren blaring, puts out a fire, rescues a kitten from a tree, and generally saves the day.
In Let's Go, Tractor! we follow Farmer Dog as he works away in his busy, busy tractor as its engine roars and shakes. The horses neigh for feeding time, the pigs need a lift in the trailer, and the fields are waiting to be ploughed.
With their silver-foiled covers, fun rhymes, and appealing design and shape, these user-friendly books will be a hands-on winner with adventurous (and noisy!) toddlers.
(Little Tiger Press, board books, £6.99 each)