Six Tudor Queens: Katheryn Howard, The Tainted Queen by Alison Weir: A riveting account of an ill-fated queen - book review -
Henry VIII is a jealous king who prizes virtue above all else in women… and Katheryn Howard is an English rose with hidden thorns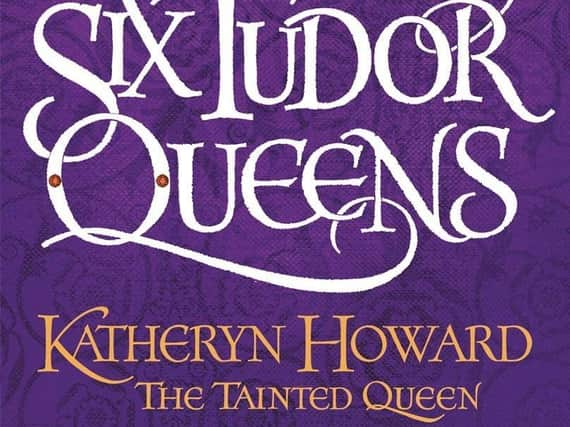 She is the young queen who likes to dance and sing, and thinks a royal marriage will bring her riches and privilege beyond compare.
But Henry VIII is a jealous king who prizes virtue above all else in women… and Katheryn Howard is an English rose with hidden thorns. If the truth of her past is weeded out, she could so quickly be cut down without ever reaching full bloom.
No queen of Henry rose so quickly and fell so spectacularly as the young and reckless Katheryn, and in the latest book of her groundbreaking sequence of novels featuring the six famous royal wives, Alison Weir uses her vast historical knowledge, in-depth research, and a tantalising slice of artistic licence to bring us a fascinating and compelling account of the doomed queen.
Born into an impecunious branch of the most noble family in the land, Katheryn was Henry's youngest bride… a diminutive, naïve, and lively girl whose short life has become one of the most tragic and heart-wrenching tales in English history.
Cruelly neglected in childhood by her feckless, spendthrift father who farmed her out into the care of other aristocratic families, the pretty, fun-loving and virtually uneducated Katheryn was easy prey for the ambitious, power-hungry Howard clan who were prepared to use a vulnerable girl to get closer to the throne.
When her mother dies in childbirth in 1528, seven-year-old Katheryn's world is shattered. Her father has squandered her mother's inheritance and ensured that, although they are members of the foremost noble family in England headed by the powerful Duke of Norfolk, they are almost penniless.
Sent to live in the household of her step-grandmother, Agnes Howard, Dowager Duchess of Norfolk, to learn the 'skills and graces' needed to make a good marriage, Katheryn spends her days with other dependant young ladies, and soon discovers that they are freely left to 'make their own pleasure.'
Although she has no dowry, the fast-blossoming Katheryn comes to the attention of louche and dangerous young men like Francis Dereham, and Thomas Culpepper, a distant relative noted for 'the pursuit of his own pleasure,' who are attracted by her 'pretty face and noble blood,' and rumours that her Howard cousin, Lady Anne Boleyn, is soon to be the next queen.
But all that changes when, three queens later, the 49-year-old king is on the hunt for a new wife with an impeccable past. Used shamelessly as a pawn by her family, the trusting Katheryn is quickly manoeuvred into the eyeline of the king and completely captures his heart.
Although she cannot countenance marrying a man who is old, fat and smells, she has no choice but to comply and is secretly thrilled at the prospect of wearing 'gorgeous clothes' and living in 'palaces of the greatest splendour.'
But Katheryn knows she is far from the 'virtuous' woman that the king so desires, and what would be the cost if he discovered the truth?
Brimming with the kind of rich period detail that has made Weir as much loved for her historical novels as her illuminating non-fiction books, this is an enthralling story that fuses a large helping of fact with a fresh and enthralling fictional perspective on Henry's tainted and tragic wife who was executed aged just 21.
Katheryn Howard, a flawed, frivolous and fallible young woman whose only real desire was to be loved and cherished, was a far cry from her fiercely intellectual, sophisticated and wily cousin, Anne Boleyn, who met the same terrible fate on a scaffold at the Tower of London.
Viewing her life through the lens of her troubled childhood, Weir brings us a Katheryn who has been cast adrift and grows up shy, curious and eager for new experiences in a lax household which unwittingly places her in the path of unscrupulous and immoral men, only too ready to take advantage of an attractive aristocratic girl.
Katheryn believed that she would never have to account for her misspent teenage years but her ageing and increasingly infirm husband is subject to wild mood swings, the notorious Tudor court is a hotbed of rumour, rivalry and perilous politicking, and a past full of dangerous secrets casts a long shadow over a queen chosen for her youth and purity.
Written with new insight and understanding, Weir's compelling and compassionate portrait of a woman manipulated and abused almost throughout her brief life, is both a riveting account of an ill-fated queen and an eye-opening window on to 16th century history.
(Headline Review, hardback, £20)