Silent Waters by LV Matthews: A must for avid crime fans – book review –
When she joined the police force, diving expert Jen Harper's goal was always to be in the water... it's a place she knows well, has always loved, and which poses a challenge she relishes.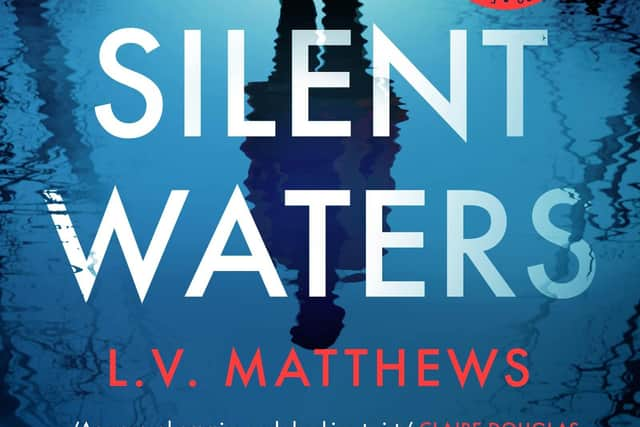 But she also knows that even though water often runs deep and dark, people can never assume that anything hidden there will be concealed forever because trained police divers know exactly where to look, and how to find it.
For over ten years, L.V. Matthews worked for major UK publishing houses, before leaving to pursue a career in writing and winning the attention of critics with her pulsating debut novel, The Prank, which explored what happens when reality TV goes wrong.
This was followed by The Twins, an addictive and unsettling page-turner about sibling rivalry, which was a Richard and Judy Book club pick and confirmed Matthews as an exciting new voice in the world of psychological thrillers.
And now she returns with Silent Waters, a powerful and haunting novel about family, secrets and murder which takes readers in at the deep end and way down under into the fascinating and little-known world of a police diver.
At 5am on a summer's morning, experienced police diver Jen Harper wakes to find herself submerged in the silt of a river with no memory of how she got there. It's part of a water-meadow Jen knows well... one of her favourite childhood haunts where wildflower grasslands and woodlands are criss-crossed by waterways.
Single parent Jen, who has been prone to sleepwalking since she was a teenager, has never before sleepwalked and woken actually in the water even though she is 'called to it like a lover.' She knows she needs to get home quickly now before her six-year-old son Sam – the only 'precious thing' in her life – notices that she's gone.
Forty-eight hours later, Jen is called out to dive in the same river in search of a 34-year-old blonde woman who was declared missing that morning and matches the description of a suspicious sighting in the river. Jen's brother Bill, who lives only minutes away and is one of her regular babysitters, steps in to take care of Sam for what could well be another case of a drunk falling into one of the river's waterways.
But for Jen, this is no ordinary job because the missing woman is Olympic diver Claudia Franklin and Jen more than just knows her. The two were once good friends, both headed for the top in the world of diving, and their families were entangled for decades.
Water might have brought Jen and Claudia together but it was also 'the undoing of their friendship.' What's more, there is still unresolved resentment between them and unspoken secrets. As a police officer, Jen knows she should officially declare 'a conflict of interest' but she keeps her mouth shut.
After all, Jen hasn't seen Claudia for twelve years now... or has she?
Matthews' plotting is devilishly clever as she plunges us into a murky, menacing tale which flows into the shady shared inlets of Jen and Claudia's lives to uncover decades of buried secrets, caustic rivalries and complex relationships.
The logistical realities and vivid descriptions of the work of a police diver add an intriguing extra layer to a mystery which drips with menace and breathtaking suspense, and is not afraid to peer into the toxic rivalries that can erupt amidst the ultra-competitiveness of the Olympics.
And at its heart are the superbly drawn lead players... Jen, whose past and motives we are not entirely certain of, her former friend and diving rival Claudia who was always noted for her beauty, and Jen's brother Bill who harbours his own lingering secrets.
With a storyline in which lies constantly swim to the surface, a jaw-dropping twist is waiting to be unearthed, and the enthralling world of diving springs to vivid life, Silent Waters is guaranteed to float the boat of all avid crime fans.
(Welbeck, paperback, £8.99)