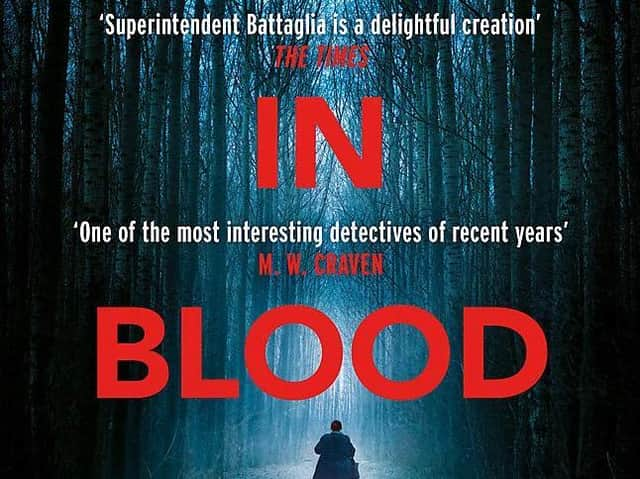 Painted in Blood
An Italian portrait dating back to the last days of the Second World War has been hiding a shocking secret for over 70 years… it was painted in human blood by an artist who dipped his fingers into someone's heart.
For those who haven't already met Superintendent Teresa Battaglia, the ageing police chief, experienced profiler, and star of Ilaria Tuti's mesmerising murder mystery novels, then immerse yourself in this stunning and atmospheric cold case thriller, and discover one of crime fiction's most captivating detectives.
Painted in Blood is the second book in a trilogy – flawlessly translated into English by Ekin Olap – which began with the outstanding debut, Flowers Over the Inferno, a fabulous thriller-chiller which became a top ten bestseller on publication, and made Tuti one of the most internationally successful Italian authors of recent years.
Tuti lives in Friuli, in the far north-east of Italy, and these hard-hitting stories harness the wild beauties of this majestic region as the backdrop for her ageing detective whose tough-nut exterior, secret battle with early dementia, and a not-so-secret soft spot for the children she never had, make her an extraordinary and unique protagonist.
Superintendent Teresa Battaglia's life is now a guessing game… guessing 'where to look, what words to say, and which shadows to be wary of.' Desperate to hide her early stage dementia, she is trying 'to play the hero when she can no longer remember what things are called.'
Fortunately, her work partner and sometimes combatant, Inspector Massimo Marini – half her age and 'the son Teresa never had' – is her greatest admirer and knows she can crush his ego with the blink of a pair of eyes that always 'see well below the surface.'
And Teresa needs all the help she can get with a new cold case centred on The Sleeping Nymph, a work of art of magnetic beauty, painted by young partisan fighter, Alessio Andrian, during the last days of the Second World War.
DNA analysis has revealed that the striking portrait of a young woman – discovered in the attic of the artist's great-nephew – has a shocking secret hidden in the red pigment on the canvas. It was painted with blood and cardiac tissue created by the artist dipping his fingers into a human heart.
Teresa is able to trace the evidence to the Resia Valley in the north-east of Italy, a perfect genetic enclave protected for centuries from the outside world, where she uncovers more about the life of Andrian who painted whilst hiding in the mountains between German raids.
But Teresa's investigation is getting too close to the truth and a fresh human heart is hung at the entrance to the valley with a warning not to cross its threshold by someone hell-bent on protecting a sacred secret.
And as she hunts a ruthless killer, Teresa must face down her own rapidly deteriorating physical and cognitive abilities, as well as someone she hoped never to see again… Albert Loma, the new district attorney, a man who hates her, has come to destroy her, and who has just become her supervisor while her boss is away.
Tuti is one of the most gifted European authors in the crowded market of crime fiction, and the ageing Teresa Battaglia is one of the genre's most exciting and original creations. This is principally because she is a perfect enigma… her sarcastic and abrasive veneer hides a warm heart full of compassion and empathy, while an inbuilt intelligence and acute intuition has allowed her to fight on doggedly and covertly through failing memory and a constant battle with diabetes.
But second lead in this complex and compelling new case for Teresa is undoubtedly the magical and secluded Resia Valley, one of northern Italy's most isolated and untouched regions where its people have Slav origins dating back to the 7th century, and a rich history of languages, culture and folklore.
Faced with disturbing revelations from the dying days of the war, when brave Italian partisans fought back against the occupying German military, a ruthless murder in the present day, and the menace posed by an old enemy, Teresa's mental and physical frailty is tested to the limits.
Expect a sweeping, fast-paced plot, thrilling frissons of the supernatural, a killer whose cunning knows no bounds, and the joy of witnessing the fascinating and ever-evolving relationship between Teresa and Massimo… but don't expect to put the book down until the last page has turned!