Number wonders, fantastic fungi and puppy love by various authors - book reviews -
Try to imagine a world without numbers, discover why fungi are vital to the world's ecosystem, get drawing with creative artist Rob Biddulph, and share madcap fun with a parrot called Pandemonium in a dazzling selection of summer holiday children's books.
Thursday, 23rd July 2020, 7:00 am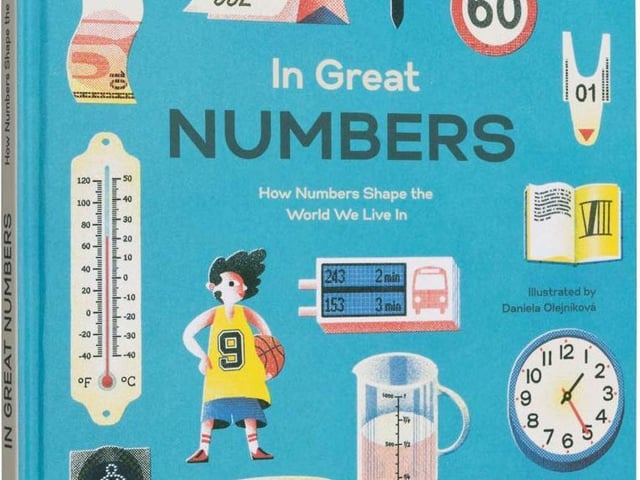 In Great Numbers
Try to imagine a world without numbers, discover why fungi are vital to the world's ecosystem, get drawing with creative artist Rob Biddulph, and share madcap fun with a parrot called Pandemonium in a dazzling selection of summer holiday children's books.
In Great Numbers: How Numbers Shape the World We Live in
Isabel Thomas, Raphael Honigstein, Maria-Elisabeth Niebius, Robert Klanten and Daniela Olejnikova
Did you know that numbers are a universal language?
All over the world, people use numbers, employing the same basic rules for addition, subtraction, multiplication and division. Everybody accepts and understands these rules, making numbers a truly global language.
If you thought numbers were boring, you certainly won't when you dip into this coruscating compendium of fascinating facts about numbers, and how they help us in our daily life and assist us in making sense of the world.
In Great Numbers comes from Little Gestalten, a publisher which prides itself on pairing compelling stories with striking illustrations, and is the perfect book to help children understand how useful and fun numbers can be.
How else would we ask for three scoops of ice cream, or know whether we've got 60 minutes left to play with our friends rather than 60 seconds? Why does a minute have 60 seconds anyway and not one hundred? Where does zero come from, and what language do computers understand?
Without the wonderful invention of numbers, we wouldn't be able to count, measure, and compare. Over the centuries, people have conceived clever ways to use numbers so that we can understand the world around us better, build cities, find our way home, and much more, and In Great Numbers tells the story of this groundbreaking invention.
Ever since the ancients first counted out the fish they had caught or the animals in their herds thousands of years ago, numbers have become the foundations of communication and progress, and their possibilities are endless, whether it's sending humans to the moon, cracking codes, or designing robots for the future.
This informative and entertaining book – vibrantly illustrated throughout by Daniela Olejnikova – puts numbers in the picture and brings them to vivid life. So what are you waiting for… 1, 2, 3, go!
(Little Gestalten, hardback, £16.95)
Curated by Katie Scott and Ester Gaya
Welcome to the Fungarium… home of the strange and fascinating life form known as fungi.
This fantastic exploration of fabulous fungi is the follow-on to the hugely successful Historium, a collection of objects from ancient civilisations, Animalium, a detailed exploration of more than 160 animal specimens, Botanicum, a super-sized book of stunning botanical delights, and the dangerously entertaining Dinosaurium and the out-of-this-world Planetarium.
Created in collaboration with the Royal Botanic Gardens, Kew, Fungarium is the exciting new addition to the Welcome To The Museum series from the Big Picture Press, which enables readers to wander galleries from the comfort of home and discover a collection of curated exhibits on every page, all accompanied by informative text.
In this eye-catching new tour, which comes in the form of a large, high-quality book packed with amazing pictures and fascinating facts, we marvel at the beautiful colours and incredible shapes of mushrooms and lichens, and peer through microscopes at penicillin.
Fungi are sources of food and medicine for humans, but also vital for plant and animal life in most ecosystems. Find out how they evolved, how they reproduce and just how important they are to life on the planet.
Illustrator Katie Scott provides the exquisite, detailed images of some of the most fascinating living organisms on this planet. From the fungi we see on supermarket shelves to fungi like penicillium that have shaped human history, this is the definitive introduction to what fungi are and just how vital they are to the world's ecosystem.
So step inside the pages of this spellbinding book and explore the diverse and very surprising kingdom of fungi!
(Big Picture Press, hardback, £20)
Lily Murray and Anna Chernyshova
When a parrot is called Pandemonium, only chaos can ensue!
Welcome to a marvellously madcap and uplifting rhyming picture book from the dynamic pairing of author Lily Murray and illustrator Anna Chernyshova.
Unconditional love lies at the warm heart of this wonderfully witty tale of a young puppy who is the happiest and most helpful pooch in town… until a pesky, misbehaving parrot turns his world (and his home!) upside down.
Cooper loves being top-dog at home… his owner Martha adores him and he never lets her down. Until one day, a new pet arrives in the shape of Great Aunt Mildred's parrot Pandemonium (or Pandy for short). Mildred says he's as good as gold but when Martha goes out for the day, entrusting our proud hero with the task of guarding the house for the very first time, the parrot decides to invite over a few old friends. One by one, Pandy's increasingly exotic friends arrive and the noise and mess escalates. Pandy thinks Cooper should just calm down and enjoy the party but the puppy starts to panic! Can he cope, how will he clean up in time, and will he still be Martha's perfect pet?
Nobody in the world is perfect, as Cooper discovers in this gently reassuring and riotous tale which has a cheeky and cheering wag in its tail. Murray's enchanting rhyme is matched perfectly by Chernyshova's high-octane illustrations in a fabulous rainbow palette of colours.
(Buster Books, paperback, £6.99)
When the coronavirus pandemic swept into the UK in March, creative artist Rob Biddulph's series of twice-weekly draw-along videos – to help parents with children at home from school – became a viral phenomenon.
The videos – featuring many of Biddulph's own picture book characters – captured the imaginations of families, children, and artists both young and old and have garnered about 28 million impressions on YouTube alone. And on May 21, Biddulph broke the Guinness World Record for the world's largest art lesson when over 45,000 families took part in his 30-minute class to draw a whale.
And now an exciting #DrawWithRob activity book has been published to let families carry on drawing with him. With 64 pages and step-by-step instructions on how to draw your favourite characters, it's packed with family fun and guaranteed to get your creative juices flowing!
Learn how to draw your favourite characters – from Penguin Blue to a very Hot Dog – and when your masterpiece is finished, the perforated pages mean you can easily tear out the artwork and create your own gallery.
Fun for boys, girls, and everyone aged three to one hundred and three, and a wonderful introduction to the world of art, Draw With Rob is ideal entertainment for staycations or travelling abroad.
(HarperCollins Children's Book, paperback, £6.99)
Meet a tiny, opinionated horse who is out for a duck when it comes to making pasta!
Yes, award-winning author and illustrator Morag Hood is back with her new picture book… and it's saucier, stringier and sillier than ever!
The ever-inventive, super-talented Morag Hood can't put a foot (or hoof) wrong when it comes to comical and creative thinking and this madcap adventure featuring a quirky quest for spaghetti serves up one of her tastiest dishes yet.
Duck has lost his spaghetti, and Tiny Horse has a plan to save the day. But what exactly do you bring to a Spaghetti Hunt? A spade, a fishing rod, a jar of peanut butter, cutlery and some binoculars… obviously. Searching far and wide, Tiny Horse catches worms, a ball of string, and even a snake – but no spaghetti. Disaster! Until Duck consults a recipe book and armed with flour, eggs and a pasta maker, sets about making his own spaghetti.
Spaghetti Hunters is full of the clever playfulness, imaginative power, and endearing mischievousness that we have come to expect from the creator of best-selling favourites like The Steves, I Am Bat, Aalfred and Aalbert, and Brenda is a Sheep.
With a storyline that encourages reading and teaches children about where food really comes from, plus eye-catching illustrations full of bold colours and Hood's unique wit, this is a picture book to share with all the family.
(Two Hoots, hardback, £11.99)
I Have to Start at School Today
Simon Philip and Ged Adamson
Starting school can be scary… particularly when an angry rhinoceros is standing at the gate!
Author Simon Philip and illustrator Ged Adamson let their imaginations run wild as they pool their talents on a laugh-out-loud picture book which aims to reassure little ones that their fears about school are outrageously and hilariously over-cooked.
With his trademark, lively rhyme and keen eye for what makes a young mind tick, Philip harnesses a child's far-fetched imaginings about starting school and turns them into a riotous romp full of animal magic and madcap antics.
'You'll have such fun!' my parents say. I know they think I'll be okay, But what if things don't go my way?
Starting at a new school can be scary business. From rhinos at the gate to bears who won't share, there are all SORTS of things that could go wrong. Luckily, Grandma is on hand to point out that there's no need to fright, as things could just as easily… go right!
Philip's funny, warm and comforting story is brought to vivid life by Adamson's bold, multi-coloured and fabulously expressive illustrations. And with the extra giggle in its clever tail, this is the ideal book to calm all those pre-school collywobbles!
(Simon & Schuster, paperback, £6.99)
All discerning young readers are wild about author and illustrator Sam Usher's flights of imaginative fancy…
And this brilliant picture book, second of a quartet of enchanting picture books in which a boy and his beloved grandad discover the joys of the natural world, takes us on a truly wild and wonderful adventure.
Grandad and Boy are looking after a cat for a friend. The little boy does lots of reading up about what cats like, but the cat is having none of it… she doesn't want to play, eat or sleep. And when she runs off into the wild, Grandad and Boy follow her and enjoy a wild animal jungle fantasy adventure of their own!
Wild is the perfect story for sharing… a warm, wise and whimsical tale celebrating the world's most amazing animals, the power of the imagination and the special bond between the older and younger generations.
Usher's quirky and charmingly atmospheric story is complemented by a palette of his trademark watercolour illustrations which add extra life and texture to a funny, inspirational, and life-affirming adventure.
Animal magic for all generations!
(Templar Publishing, paperback, £6.99)