New book written by Lancaster University students looks at how 2020 devastated the lives of so many
The year 2020 will forever have a prominent place in history.
Thursday, 18th March 2021, 12:30 pm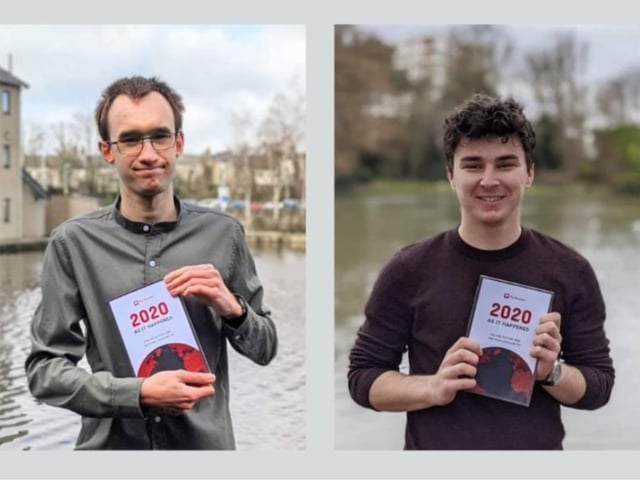 Nathan Shoesmith and Calum Paton have co-authored a book called 2020 As It Happened.
In a time of a global health emergency, the world also saw vast change and ground-breaking activism, from tackling racial injustices to the climate emergency.
People stood up to be counted in 2020, went out of their way to help others and saw their lives changed like never before.
In a new book, 2020 As It Happened, the year of unprecedented events is recapped through adapted analysis and reporting from The Speaker.
An online political publication set up by students in 2018 on a mission to inspire the next generation in politics, The Speaker aims to make politics more accessible and understandable for the wider public, particularly young people.
In changing and uncertain times, from the coronavirus pandemic, to Brexit and the Climate Emergency, it is vital now more than ever that young people can understand politics, get involved and have their say.
The book provides a detailed and impartial reference of what happened in the year like no other, from Australian wildfires, to a unique presidential election in the United States.
Nathan Shoesmith, managing director of The Speaker Media Limited, student at Lancaster University and co-author of the book, said: "Having a record of how 2020 unfolded is important for everyone, given the extent of change and unprecedented events that impacted the lives of us all.
"The Speaker has always strived to educate and inspire the next generation and we hope this book helps achieve that, both in the near and more distant future."
Calum Paton, deputy managing director of The Speaker Media Limited and co-author of the book, said: "Looking back on the truly unprecedented year of events which saw lives and the world change like never before, this is 2020, as it happened.
"The events of 2020 will be felt for many years, if not decades to come. This book looks at how 2020 devastated the lives of so many - we wish to donate a portion of profits from the book to charitable causes that have helped to respond to the health emergency."
The book is available from amazon.co.uk.