Maths, mystery and magic cast a spell at Christmas by various authors - book reviews -
Enjoy a spectacular mathematical mystery tour, find out how Father Christmas became Father Christmas, head back in time for an action-packed Yuletide adventure, and discover a dreamy, fact-filled lullaby of a book just made for bedtime reading in a sparkling collection of children's gift books.
Monday, 23rd November 2020, 3:45 pm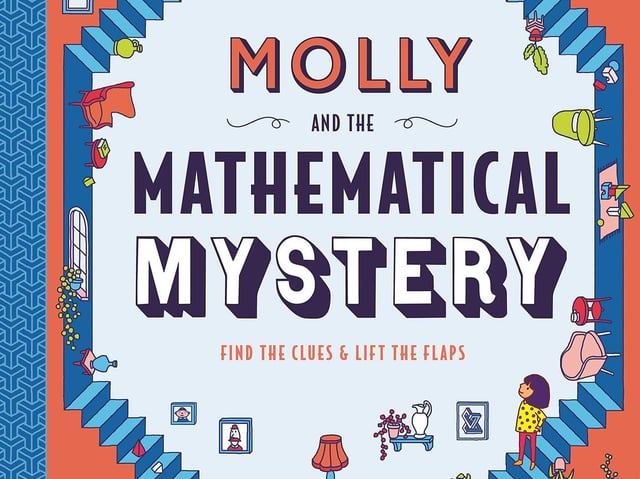 Molly and the Mathematical Mystery
Molly and the Mathematical Mystery
Eugenia Cheng and Aleksandra Artymowska
Take a mystery tour of the marvellous world of mathematics in this stunning interactive book from top team Eugenia Cheng and Aleksandra Artymowska.
Youngsters are invited to find the clues and lift the flaps as they join curious explorer Molly on an adventure into a strange world where nothing is quite as it seems.
A trail of mysterious clues leads from scene to scene, presenting Molly with a number of ideas and challenges. But who is leaving the clues and where will they lead?
This brilliantly created book shows maths isn't just about numbers and sums… it's also about using your imagination, making sense of the world, and making seemingly impossible things possible!
Cheng, a mathematician who is passionate about overcoming maths phobia, works wonders as she takes an explorative and creative approach to the sometimes daunting topic of maths, and turns it into an exciting adventure.
Youngsters will love reading letters, finding clues, lifting flaps, and turning wheels, and discovering fascinating mathematical facts as they journey through a series of intriguing scenes and challenges.
Add on Polish illustrator, graphic designer and painter Artymowska's stunning artwork, which puts the maths 'lessons' into a visual perspective, and you have maths made not just understandable, but exciting and entertaining.
Prefect for use both at home and at school… and the ideal gift for number-loving youngsters.
(Templar Publishing, hardback, £16.99)
The Night I Met Father Christmas
Ben Miller and Daniela Jaglenka Terrazzini
Immerse yourself in the spirit of Christmas in Ben Miller's classic twist on one of Charles Dickens's best-loved books.
The magic and morals of A Christmas Carol prove a delight for both children and adults in this retelling which comes beautifully illustrated by Daniela Jaglenka Terrazzini, and with Christmas bonus content and a special gold foil cover.
Jackson knows all about the flying reindeer, he knows about the elves and the secret North Pole workshop, he knows about the magic that allows Father Christmas to deliver presents around the world in just one night, but there's one thing he doesn't know ... how did Father Christmas become Father Christmas?
That all changes when, one Christmas Eve, Jackson meets Father Christmas and hears his incredible story. So begins an enchanting fairy tale into a magical snowy landscape, where Torvil, a mean-spirited and miserly elf, is about to discover the true meaning of Christmas.
This might not have been the story Jackson was expecting but, as Father Christmas tells him, no good story ever is...
This gorgeous Christmas gift book, with its stunning illustrations, warm heart, and enchanting snow-filled adventures – laced throughout with Miller's irrepressible wit – is guaranteed to bring a smile to readers young and old.
(Simon & Schuster, paperback, £6.99)
What better time to read Little Women, Louisa May Alcott's timeless classic novel starring four sisters navigating hardship and adventure in Massachusetts during the American Civil War.
This gorgeous new paperback edition is illustrated throughout with black and white movie stills from Greta Gerwig's 2019 star-studded, award-winning film adaptation starring Saoirse Ronan, Emma Watson, Florence Pugh and Eliza Scanlen, and features eight fabulous, full-colour, pull-out mini-posters.
Alcott was a writer and early feminist, best known for her groundbreaking Little Women which was first published as a serial in the 1860s, and is the semi-autobiographical story of her own years spent with her sisters in Concord, Massachusetts.
As fresh and meaningful today as it was when it was first written, the book's undoubted stars are the four young March sisters… Meg, Jo, Beth and Amy. Despite the girls possessing very different personalities, they are all still totally devoted to each other and support their beloved mother, Marmee, while Father is away, serving as an army chaplain in the Civil War.
In the Sony Pictures' movie, director Gerwig draws on both the novel and the writings of Alcott as Jo March reflects back and forth on her life, telling the story of the four young women, each determined to live life on her own terms.
Through friendships, romance and tragedy, and despite having little in the way of wealth, the family overflows with love, compassion, resilience and imagination to see them through the toughest and darkest of times.
The ideal gift for a new generation of readers… and a must-have for fans of the new film.
(Amulet Paperbacks, paperback, £8.99)
Be Your Own Football Hero: Ronaldo
Become your own football hero in this super 'pick your own path' spin-off series from the much-loved Ultimate Football Heroes books which tells the life stories of the best footballers in the world.
From the playground to the pitch, youngsters can step into the shoes of one of the greatest footballers in the world and follow their incredible journeys from childhood fan to superstar professional player.
In this first book in the new series, youngsters are on the trail of star Portuguese player Cristiano Ronaldo in an action-packed, footballing journey. With many possible endings, you must try to navigate your way through the world of professional football and make the right choices at every turn. Will you follow the path of fame and glory, or will you struggle to keep up with the competition?
Written by sports writer brothers Matt and Tom Oldfield, and with lots of exciting scenarios endings to experience and new discoveries every time you open the book, Be Your Own Football Hero is guaranteed to be bang on goal with all aspiring young footballers.
(Dino Books, paperback, £5.99)
Football Superstars: Rashford Rules and Van Dijk Rules
Simon Mugford and Dan Green
And don't miss out on more footballing fun with an enthralling new series of highly visual first football biographies featuring some of the world's most famous faces.
Collect your favourites and build your knowhow with stats and expert tips about today's biggest global football heroes with the Football Superstars books specially created by Ipswich Town fans Simon Mugford and illustrator Dan Green to engage reluctant young readers.
With a simple narrative text that has been graded and approved by an educational expert, and easy-to-digest facts and figures, youngsters can find out about each player's rise to glory, top scoring moments and club transfers.
Is Marcus Rashford your ultimate football hero? His path to the top has already seen him win the FA Cup, EFL Cup and UEFA Europa League for Manchester United as well as become a semi-finalist at the FIFA 2018 World Cup.
Discover how the local kid got into Manchester United's famous academy and worked hard to become part of its star-studded first team as well as an England international, plus the amazing way he campaigned to end child poverty during this year's pandemic.
And if Van Dijk is your favourite football superstar, then this second book is the one for you. Discover how he went from playing football in cages and in the streets in the Netherlands to being named the UEFA Men's Player of the Year in 2019. And learn how Van Dijk came to captain the Netherlands national team and become one of the strongest defenders in the world, currently playing for Liverpool.
Each book is filled with fun quizzes, stats and little known facts, and features a supporting cast of players, managers, TV pundits – and even the authors themselves – chipping in with quotes, jokes and comments to add to the playful and informative fun.
Add on cartoons and visual jokes, presented with an energetic, graphic look, a glossary of top words young fans need to know, whether that is the Ballon d'Or or the Copa Rey, and you have reading heaven for your own little soccer stars.
(Welbeck Publishing, paperback, £5.99 each)
Head back in time with a daring brother and sister duo for a fun-filled, action-packed Christmas adventure from best-selling, award-winning author Sally Nicholls.
With the atmospheric black-and-white illustrations of Rachael Dean to bring the story to life, A Christmas in Time is perfect for youngsters who love travelling back through time for stories brimming with humour, thrills and history.
A Christmas in Time follows on from A Chase in Time and again stars Alex and Ruby Pilgrim who have discovered that when they fall through the magic mirror at their Aunt Joanna's Applecott House, they find themselves in a different historical period, each time with a different task to perform before they can return to the present.
In this new adventure, the siblings step into the Victorian age at Christmas time and discover that the festive season is lovely there – with all the food and candles and games and singing – unless you are poor, motherless Edith who is condemned to be sent to a cruel boarding school on Boxing Day.
Can Alex and Ruby persuade her strict father that home is where the heart is instead?
With Nicholls' trademark beautiful storytelling, lots of humour and exciting action, a charismatic cast of characters, and fascinating period detail, A Christmas in Time is the ideal book to feast on over the holiday season.
(Nosy Crow, paperback, £6.99)
Trouble on Planet Christmas
Kate Saunders and Neal Layton
Enjoy a Christmas adventure that's simply out of this world!
Master storyteller and Costa award-winner Kate Saunders is back with the action-packed, laugh-a-minute sequel to The Great Reindeer Disaster and it dishes up the same tasty treat for children with wild imaginations and a mischievous sense of fun.
There's trouble again on the planet of Yule-1, the real home of Father Christmas, and the Trubshaw family are flown back from Earth to help out. Some tiny dinosaurs are proving to be not so sweet and cuddly, and Father Christmas wants them all rounded up.
Once again Jake and Sadie are transported to the place where elves and reindeer are their friends and everything is about getting ready for Christmas, the best holiday of the year.
Illustrator Neal Layton adds the festive finishing touches to this madcap adventure full of spills, chills and thrills as the Trubshaws fly into a Christmas like you've never seen before!
Saunders' exciting story is full of spills and thrills and plenty of dark humour. Her clear and concise narrative style makes the story flow and the element of supernatural gives an added dimension to the cracking plotlines.
With sackloads of laughter and riotous reindeer at every turn, this is the perfect stocking filler for your own little adventurers!
(Faber & Faber, paperback, £6.99)
Camilla De La Bedoyere and Lara Hawthorne
Get hands-on with the hidden world of nature in this beautifully illustrated lift-the-flap board book.
Small Worlds: Earth is part of a stunning series, which includes Small Worlds: Water, and is a hands-on exploration of how small areas in the natural world act as habitats to a wide range of plant and animal life.
With over 70 integrated flaps and Lara Hawthorne's intriguing and immersive illustrations to enjoy, young readers experience the sense that they are making their own, hands-on investigation.
Here, children explore nature's small animal and plant worlds in exciting close-up. Peel back leaves on the forest floor, look at what happens under the leaf litter in a forest, find out what lives in a single desert oasis in the hot Sahara, see the snug cave homes of deer mice, and examine the top of a Brazil nut tree in the Amazon. What plants and animals will YOU find when you explore these small worlds?
Prepare to be surprised by the variety of life on each page of this gorgeous, fact-filled book as the rich detail of the cycles in nature's small worlds is uncovered in its colourful array.
The joy of tiny wonders in a big, wide world...
(Big Picture Press, board book, £12.99)
5-Minute Really True Stories for Bedtime
Sally Symes, Jackie McCann, Jen Arena and Rachel Valentine
'To sleep: perchance to dream.'
Lull your child gently into the land of nod with this dreamy, fact-filled lullaby of a book which features intriguing short stories on the soporific topic of bedtime and sleep.
The big, colourful 5-Minute Really True Stories for Bedtime contains expert information and stunning artwork from ten talented illustrators, and thirty amazing stories covering everything from frozen frogs and ancient beds to the world's biggest sleepover and the phases of the moon.
This bedtime reading bonanza comes from Britannica Books, a new reference imprint for young readers, published in an exciting partnership between What on Earth Publishing and Encyclopaedia Britannica. Their mission is to inspire children's curiosity and passion for learning, offering engaging non-fiction books that you can trust, with experts behind every page.
So discover why we sleep, how sharks snooze underwater, what causes the Northern Lights and where the oldest bed in the world is located as you embark on a journey of wonder and learning to find out the answers to all these questions and many more.
Travel to Ancient Egypt to explore the beds of Tutankhamun, jet off into space to see how astronauts get ready for bed, and plunge underwater to learn how hibernating turtles breathe through their bottoms!
All the facts are verified by Britannica and with lavish illustrations on every page, including specially commissioned artwork, this inspirational and entertaining book is the ultimate, soothing bedtime brain food for curious youngsters.
(Britannica Books, hardback, £12.99)
What a Ship Sees: A Fold-Out Journey Across the Ocean
Laura Knowles and Vivian Mineker
Climb aboard a little red ship and set off on a thrilling voyage of discovery!
This spectacular concertina book – which folds out to nearly eight feet – follows the ship across the sea as it chugs its way past fishing vessels, a tanker and even a giant-sized cruise ship.
Charming, inventive and informative, What a Ship Sees allows children to look at all the different things the ship sees on its mammoth voyage. Marvel at leaping dolphins and shoals of flying fish as the ship sails onward through the high, choppy waves of a lightning storm, and finally reaches its own little harbour.
The playful story guides the journey, providing fun, shared experience and conversation starters for parents and young children. And the reverse side of the concertina pages features spot illustrations picked out from the main scene, with more detailed information about each element, from ships to ocean life.
Cleverly written by Laura Knowles, who has a background in children's publishing, and delightfully illustrated by Vivian Mineker, a Taiwanese American artist who uses watercolour and coloured pencils to begin her pieces, then polishes them digitally, this is the perfect gift book for all budding young travellers.
(Welbeck Publishing, hardback, £12.99)
Miffy, the little white rabbit who has won the hearts of millions of children, celebrates her 65th anniversary this year and here's a beautiful treasury of five of her classic adventures.
Adorable Miffy comes from the imagination of Dutch author and illustrator Dick Bruna, one of the most famous picture book creators in the world, who left a rich legacy of 124 books before he died at the age of ninety in 2017.
This gorgeous, collectible treasury is the perfect celebration of Miffy who sprung to life when Bruna was on holiday in 1955 and began to tell his son stories about a little white rabbit who lived in the garden of their holiday home.
With a gentle, simple text, brightly coloured illustrations that leave out everything that is superfluous, and stories that feature little adventures in familiar places and often explain how to deal with difficult situations, these books have a special and enduring child appeal.
Miffy starred in 32 books which have been translated into more than 50 languages and this wonderful collection of Miffy at the Zoo, Miffy's Birthday, Miffy at School, Miffy is Crying and Queen Miffy is the perfect introduction to a new generation of youngsters.
(Simon & Schuster, hardback, £16.99)