Marvels of machinery, beautiful eyes and a rural renewal by various authors - book reviews -
Enjoy an inside look at some amazing machines, celebrate Lunar New Year with an eye-catching story, go wild in the great outdoors, and look forward to spring in true poetic style with a colourful array of new children's books.
Tuesday, 9th February 2021, 3:45 pm
Updated
Wednesday, 10th February 2021, 1:55 pm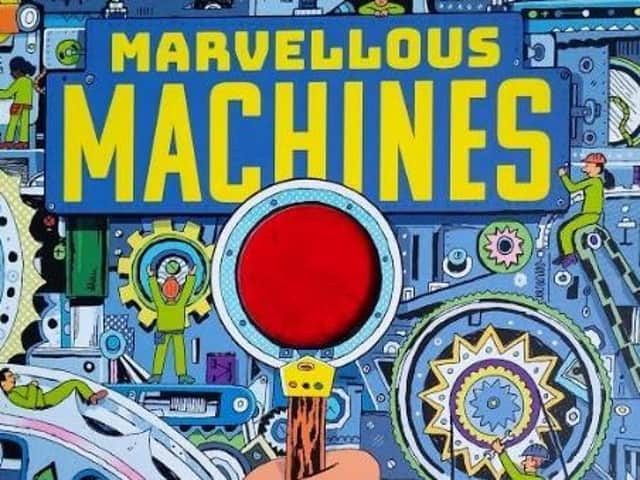 Marvellous Machines
Marvellous Machines: A Magic Lens Book
Jane Wilsher and Andrés Lozano
Who would have thought you could look inside a book and see the hidden workings of a complex machine?
Always ready to come up with the most ingenious ways to make learning fun as well as informative, What on Earth Books provide a devilishly clever 'invention analyser' to peep inside some of the world's most incredible machines and inventions.
Using a see-through magic lens, Marvellous Machines lets youngsters learn about mathematics, physics, chemistry and engineering by exploring the fascinating inner workings of machines, whether they are in your kitchen, bedroom, beneath city streets or far up in space.
Day and night, machines are at work making, moving, building and even thinking for us, and in this fantastic, full-colour book, you can explore everything from everyday objects like toasters, microwaves and bicycles, to cutting-edge technologies such as pill-sized medical robots, printing presses, super-fast maglev trains and even the International Space Station.
The lens offers an exciting extra by showing all the elements hidden within the machines, from wires and pipes to magnetic and gravitational forces, and also included are an index, source, notes and a guide to important words.
Add on Jane Wilsher's witty and engaging text, which explains all the scientific concepts in simple terms, perfectly partnered by Andrés Lozano's bright and child-friendly illustrations, and this magnificent and marvellous book is the ideal gift for budding scientists, and any inquisitive child.
(What on Earth Books, hardback, 14.99)
Eyes that Kiss in the Corners
'I have eyes that kiss in the corners and glow like warm tea.'
With Chinese communities all over the world getting ready to celebrate Lunar New Year on Friday, enjoy a stunning picture book that blends words of lyrical beauty and breathtaking illustration to celebrate Asian-shaped eyes and the power of love.
Chinese New Year could not be marked in a more memorable way than with this joyful, moving tale of a young Asian girl who draws strength from the powerful women in her life, learns to recognise her own beauty, and discovers a path to self-love and empowerment.
The girl cannot help but notice that her eyes look different from her friends. They have big, round eyes and long lashes. But she knows too that her eyes are like her mother's, her grandmother's, and her little sister's. Her grandmother's eyes may not work like they used to but she sees all the way into the girl's heart. They all have eyes that kiss in the corners and glow like warm tea, crinkle into crescent moons, and are filled with stories of the past, and hope for the future.
This heartwarming, poetic story was written by Joanna Ho, who is of Chinese and Taiwanese heritage and is passionate about equity in books and education, and illustrated by Dung Ho, who was born and raised in Hue Imperial City, Vietnam, and finds inspiration for her exquisite artwork in nature.
Based on their combined lived experiences, Eyes that Kiss in the Corners will delight readers of all ages with its celebration of family connections, its messages about self-acceptance and diversity, and its outstanding visual elegance.
Nick Powell and Becca Hall
Once upon a time, the countryside was the safe and flourishing home of a multitude of birds, animals, flowers and plants…
But after decades of industrial sprawl and intensive farming, the land and its animal habitats have been plunged into a devastating decline. Can one little girl save her grandad's farm and help nature to work its magic again?
Join Poppy and her grandad on her incredible and vitally important 'rewilding' mission in an inspirational and exciting adventure brimming with wildflowers, lush meadows, skylarks, hopping hares, snuffling hedgehogs… and a thrilling sense of renewal.
Author Nick Powell, who grew up with a strong appreciation of the rivers, wild meadows and rolling hills of the Black Country, and illustrator Becca Hall, whose childhood was spent exploring and playing in woodland in the Lake District, work their own magic in this wonderful, eco-themed story.
Poppy is sad that her grandad might never again see his farm where wild fruits and berries grow in profusion, huge hares bounce over his head, peregrine falcons dive-bomb at 200 miles per hour, and otters race each other in the river.
But she has a plan save the farm by returning the countryside to a time when flower meadows grew wild and native animals flourished, and his land was full of all those amazing things again.
Together, they will give countryside a makeover by stopping using pesticides, cleaning up the river, and creating lots of overgrown, grassy areas for animals to feel safe enough to return. It sounds like a lot of hard work but together, they are determined to succeed!
With a foreword by Hugh Fearnley-Whittingstall , the award-winning writer and broadcaster known for his uncompromising commitment to seasonal, ethically produced food and his concern for the environment, this is an enchanting and heartfelt book and the perfect introduction to concepts of rewilding and replenishing in order to care for our natural world.
With Hall's evocative and playful illustrations, including a map of the farm, to bring Poppy's eco-adventures to life, there could be no better incentive for a child to head off to the great outdoors and help to save the precious countryside.
(Little Steps Publishing, hardback, £14.99)
A Poem for Every Spring Day
'Nothing is so beautiful as Spring…'
As the season of flowers, green awakenings, sunshine and renewal draws near, there could be no better time to celebrate the joys of springtime than with some of the best and most inspirational poetry.
Expertly curated by award-winning and bestselling poetry anthologist Allie Esiri, A Poem for Every Spring Day will transport you to vivid springtime scenes, whether that is the Easter celebrations of Christians' Holy Week, the ancient Hindu festival of Holi, also known as the festival of spring, or the first sighting of tree blossom in May.
The poems have been selected from Esiri's bestselling poetry anthology, A Poem for Every Day of the Year and A Poem for Every Night of the Year, and are perfect for reading aloud and sharing with all the family.
With a dazzling array of familiar favourites and new discoveries, these seasonal poems – together with introductory paragraphs – are full of the lightness, brightness, and the sometimes tragic and meditative qualities, of spring and have a link to the date on which they appear.
With its striking cover and immaculate presentation, this beautiful book includes poems by William Wordsworth, Christina Rossetti, John Donne and Emily Dickinson who sit alongside Ted Hughes, John Agard, Maya Angelou, Wendy Cope, John Cooper Clarke and Carol Ann Duffy.
Esiri is an insightful and sensitive anthologist and her introductions to each of the two poems for the morning and evening of each day of spring – from March 1 right through to May 31 – give readers a window into each poem and its relevance to a diverse selection of topics, emotions, historical moments and events.
Soul-enhancing and comforting in a time of crisis, the verse in this enchanting collection will keep you company, entertained, and uplifted, on every day during the months of spring.
(Macmillan Children's Books, paperback, £14.99)
Corpse Talk: Dead Good Storytellers
The most spectacular storytellers of all time take starring roles in the fifth 'dead entertaining' book from Adam and Lisa Murphy in their award-winning graphic novel series which brings youngsters history straight from the corpse's mouth!
Written and illustrated in an ingenious comic-strip format – and packed with comedy and intriguing facts – Corpse Talk comes from the increasingly successful The Phoenix Presents series, published by David Fickling in partnership with The Phoenix comic.
In this new outing, our versatile TV chat show host Adam Murphy digs up the dry bones of history to interview some of the world's most famous authors and learn more about their fascinating novels. Then all youngsters need do is turn the page and read each four-page comic adaptation of the collection of scintillating stories.
From Jane Eyre and The Count of Monte Christo to War and Peace, Frankenstein, Great Expectations, and Sherlock Holmes, these terrific tales are retold through rich, atmospheric graphic art which is sure to capture the eyes and minds of young readers, and inspire them to one day read the complete books.
There are over 120 pages of cheeky humour, discoveries and surprises to enjoy in this educational and yet hugely entertaining book which has been rather aptly compared to 'having history injected into your brain.'
Clever, comical, informative and brilliantly illustrated, this wonderful series achieves what many youngsters thought almost impossible… it makes learning laugh-out-loud fun!
(David Fickling Books, paperback, £9.99)
First Names: Nelson Mandela
Nansubuga N. Isdahl and Nicole Miles
The world is – and has been – home to some amazing people… so what fun it would be to get up close and personal with them!
This exhilarating and quirky non-fiction series from David Fickling Books invites young readers to get on first name terms with some of our planet's cleverest and most inspirational personalities through the lens of fun, lively and highly illustrated biographies.
The spotlight in First Names focuses on famous people from history like Emmeline Pankhurst, Amelia Earhart, Abraham Lincoln and Harry Houdini as well as more modern names like Elon Musk, the billionaire, mega-brain entrepreneur, that some readers may not know.
The aim is to let children discover who these people really were and not just what they achieved, and to see these famous names as ordinary people who grew up to do extraordinary things.
In the latest book in the series, written by Nansubuga N. Isdahl and illustrated by Nicole Miles, we meet Nelson Mandela, the world's most famous freedom fighter, who went from wanted terrorist to international hero and President of South Africa, thanks to twenty-seven years in jail!
We see him growing up in the rural village of Qunu, surrounded by family, and learn why he didn't wear shoes until he was 16, why he didn't use a toothbrush until he was 21, why he was arrested for travelling on a tram, and why one of his prison cells came with a servant… and a pool!
All the titles in this brilliant series aim to be entertaining and factually accurate, and are designed to educate and inspire. Lively black and white illustrations, provided by a range of excellent comic artists throughout each book, help to tell the story, with each personality featured chipping in to add their own comments.
So forget all those stuffy, dull history books and find out about the people who made (and, in some cases, are still making) things happen. High energy, informative and entertaining, these books make learning fun and deserve pride of place on every child's bookshelf.
(David Fickling Books, paperback, £6.99 each)
Scoop McLaren: Waves of Mystery
Helen Castles and Beatriz Castro
There's evil about in Higgity Harbour and two determined young detectives are on the case!
Welcome to the world of detective and newspaper editor Scoop McLaren and her trusty reporter friend Evie in a thrilling new mystery-cracking, all-action series from Helen Castles, a real-life roving reporter for an Australian newspaper in New South Wales.
Full of fun, adventure and clever detective work, the series follows the two fearless girls as they strive to keep the residents of their seaside village informed while using their sleuthing skills to solve some incredible (and tricky!) mysteries along the way.
Thirteen-year-old detective and reporter Scoop McLaren loves writing and has created her own, increasingly successful online newspaper called Click! Her dad (who runs his own newspaper too) taught her that delivering the news is an extremely important job because people rely on them to keep them properly informed.
People also come to Scoop when they need help because apart from being an editor, she's pretty good at investigating and solving mysteries, and her roving reporter and best friend Evie also happens to be an accomplished Girl Scout and has a brown belt in karate, making her a handy person to have around.
In this exciting new mystery, Scoop's childhood friend Fletcher enters the semi-final of the Higgity Harbour Monster Wave Supreme Grommet Title competition only to find strange things are happening. It looks like someone is trying everything to stop Fletcher from winning! With Evie by her side, Scoop investigates all avenues. Can she track down and rescue Fletcher to solve this monster wave of a mystery once and for all?
Expect mischief, mayhem, red herrings, and lots of brilliant detective work as Scoop and Evie sail into uncharted waters!
(New Frontier Publishing, paperback, £5.99)
Sheryl Webster and Helen Shoesmith
Hats off to a little bird whose one act of defiance sparks a worldwide protest!
Author Sheryl Webster and illustrator Helen Shoesmith deliver a call to arms to young eco-warriors in a clever, thoughtful and funny picture book which reminds us all about the power we have when we work together.
When a man cuts down little bird Rosa's tree because his lettuces won't grow in the shade, she steals his hat and uses it to makes herself a new nest at the top of his house. No matter how many times, he tells her to leave, Rosa refuses to budge. And when news of her protest sweeps through the animal kingdom, it inspires other angry animals all over the world to start moving into people's homes as well!
Watch little faces light up as they see sloths on sofas, giraffes in beds, monkeys in bathtubs and lions in loos as Webster uses her imaginative powers to speak loudly and passionately about the importance of sharing our planet with increasingly endangered wildlife.
With exciting new artist Helen Shoesmith's exquisitely coloured and richly detailed illustrations to bring nature and the animal world to life, and tips in the back of the book about saving animal homes, this is the perfect introduction to conversations about the environment.
Everybody worries… and that's OK!
Internationally acclaimed doodle artist Jon Burgerman, a UK-born, Brooklyn-based artist famed for his instantly recognisable drawings, doodles, characters and murals, puts children's fears into a calming perspective in this reassuring and practical picture book.
Combining helpful tips endorsed by clinical psychologists with fun rhyming couplets and an array of colourful illustrations, Everybody Worries helps children to open up about their feelings and get anxiety under control.
Featuring Burgerman's trademark, eye-popping colour palette and a cast of anarchic characters, this playful story encourages children to share their worries and learn that it helps us all to feel better and brings us together.
With its gentle tone, supportive messages, and quirky cast of characters, this is the ideal book to soothe little ones during stressful times, and the perfect springboard to encourage important conversations about the current pandemic.
(Oxford University Press, paperback, £6.99)
Lionel the Lonely Monster
Can you really be Best Friends Forever with a monster?
Meet a lonely and sad monster called Lionel who wants to make friends, but discovers that's a much harder task than he had imagined.
Author and illustrator Fred Blunt has some timely messages about the power of kindness and not judging others by their appearance in his funny, warm and wonderful new picture book.
Lionel the monster finds it hard to make friends. Children are frightened of him because, well, he's a monster and grown-ups hardly even notice him. Then one day he meets a little dog who isn't frightened, and isn't too busy, and who just wants to play. Lionel has never had so much fun! But what will happen when Lionel takes the little dog back to its owner? Is he destined to be lonely forever?
Bursting with joyful fun, jokes, chaos and eye-catching, child-friendly artwork, and with a moving story to tug at your heartstrings, pink monster Lionel proves to be simply irresistible… and is destined to make new friends with readers young and old!
To what lengths will your toddlers go to find Brian the sausage dog's bottom?
There are over six and a half feet of fold-out fun in author and illustrator Rob Jones' ingenious board book which combines the joy of search-and-find with some subtle lessons about home and animal life.
Brian is a very long sausage dog. In fact, he's long that he's lost his bottom. Where could it be? Is it in the living room with Alan the hamster? Could it be in the kitchen with hungry Dave the tortoise, or maybe it's in the bathroom with Derrick the duck? Can you help him find it?
There are five rooms to search and five friends to meet in this amazingly long concertina book that keeps getting longer and longer. Children will love searching through each room, asking 'Where's Brian's bottom?' until they finally stop chasing his tail!
And then turn to the reverse side of the fold-out story to find out what happens in Brian's house while he and his friends are sleeping. What differences can you spot?
As well as being entertaining, the book teaches youngsters all about the different rooms in a house, about different animals and the sounds they make, and helps to develop their sense of curiosity.
Visually exciting, wonderfully interactive and destined to be your little's ones favourite book for a very, very, very long time!
(Pavilion Children's Books, board book, £6.99)
Let's Go! On a Plane and Let's Go! On a Digger
Rosalyn Albert and Natalia Moore
Little ones love to be on the go and here are the perfect books to set their engines running!
This fun and vibrant series of board books, which are ideal for preschool age children, come from the stable of Catch a Star, an imprint of New Frontier Publishing which was established in Australia in 2002 with the motto 'to inspire, educate and uplift.'
Each book features a mode of transport and uses Rosalyn Albert's simple, engaging text alongside Natalia Moore's vibrant illustrations to encourage toddlers and early learners to explore the great outdoors as they begin the early years of discovery.
In Let's Go! On a Plane, youngsters are invited to go on an aeroplane… up into the sky where buzzy bees and butterflies like to fly so high, and in Let's Go! On a Digger, little ones join three friends as they go on a digger, dig up lots of mud, scoop it high into the air and drop it with a thud!
With their fun rhymes, sturdy pages and appealing illustrations, these user-friendly books are a hands-on winner with adventurous (and noisy!) toddlers.
(Catch a Star, board books, £6.99 each)