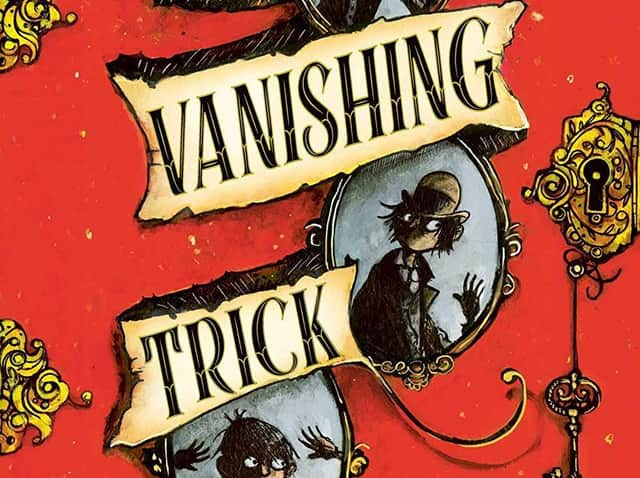 The Vanishing Trick
Join a Victorian orphan boy as he battles an evil conjuror, take an unforgettable road trip to Hollywood, visit Witch Point in Wales (if you dare!), and meet a little mole who makes a mountain out of protecting his home in a super selection of new children's books.
Jenni Spangler and Chris Mould
What are the ingredients of your favourite adventure story?
If it's a big helping of mystery, lashings of magic, a side serving of fascinating folklore, and a liberal sprinkling of spine-tingling danger, then escape into Jenni Spangler's enchanting tale set in a deliciously dystopian Dickensian world.
Spangler, who says she loves to take real and familiar places and events and add 'a layer of mystery and hocus-pocus,' lets her imagination take full flight in this thriller-chiller middle-grade odyssey set against a stunningly portrayed Victorian backdrop.
Nothing is as it seems in this gloriously eerie and original adventure as we join orphan boy Leander – small, skinny, scruffy and uneducated – who is making his way in the world using only his wits and some unreliable thieving skills.
Madame Augustina Pinchbeck travels the country conjuring the spirits of dearly departed loved ones... for a price.
Whilst her ability to contact ghosts is a game of smoke and mirrors, there is real magic behind her tricks too – if you know where to look. Through a magical trade, she persuades children to part with precious objects, promising to use her powers to help them.
But Pinchbeck is a deceiver, instead turning their items into enchanted Cabinets that bind the children to her and into which she can vanish and summon them at will.
When Pinchbeck meets orphan Leander, she promises to give him a job and a home in return for his mother's precious locket and he leaps at the chance.
But, of course, her bargain isn't a fair one and instead she enchants the locket, turning it into one of her Cabinets and trapping him inside. When Leander makes friends with Charlotte and Felix, who have also been trapped by their evil captor, he finds himself in a race against time to break Pinchbeck's spell before one of them vanishes forever…
Spangler conjures up a truly magical reading experience full of fast-paced action, unexpected twists and turns, spine-tingling tension, and a cast of vibrant and superbly portrayed characters, including the devilish and dastardly Madame Pinchbeck.
Chris Mould supplies brilliantly imagined illustrations of the lead players, capturing perfectly the gothic thrills of the story which is filled with mysterious illusions, a dazzlingly sinister atmosphere, and rich historical detail.
Beautifully packaged and utterly captivating, The Vanishing Trick will have readers hooked from first page to last!
(Simon & Schuster, paperback, £6.99)
That Time I Got Kidnapped
If the lockdown blues are starting to bite, pack up your troubles and take an unforgettable Greyhound bus trip across the States!
Get ready to laugh out loud as teacher-cum-writer Tom Mitchell – author of the hilarious, fast-paced crime-caper How to Rob a Bank – sweeps us away on a brilliant coming-of-age odyssey with an authentic American vibe that will have youngsters reaching for the stars… and stripes.
Fourteen-year-old Jacob is thrilled when he wins not just an all-expenses-paid trip to Los Angeles but also the chance to feature in the next Marvel movie, shooting in Hollywood. But after missing his connecting flight in Chicago, he tries to complete the journey along Route 66 by Greyhound bus… and there he meets Jennifer.
Jennifer is an American teenager on the run with a mysterious package she's guarding with her life… law enforcement are on her trail and an enigmatic figure known only as 'the Cowboy' is also hot on her heels.
Jacob soon finds himself on the road-trip of a lifetime as Jennifer's reluctant sidekick and unwitting partner in crime. On the run, caught up in a game of cat-and-mouse, and feeling more and more like the lead player in a re-run of Bonnie and Clyde, can Jacob make it to LA in time… and in one piece?
Mitchell has become a master of funny, filmic, visually exciting action and this tale of mishaps, misunderstandings, friendship and self-discovery will hit the spot with adventure-loving youngsters ready to enjoy early teen books.
(Harper Collins Children's Books, paperback, £6.99)
Witches, curses, secrets and supernatural…
If your youngsters like stories that send a shiver down your spine, but warm your heart as well, then this super-spooky story set during a sizzling heatwave and played out against the magnificent backdrop of Wales' famous Sgwd yr Eira (Snow Waterfall), will go straight to the top of their To Be Read list.
With a contemporary cast and vibe, but an atmosphere steeped in fable, Wilde stars a girl with the blood of witches running in her veins and comes from the pen of Eloise Williams, the inaugural Children's Laureate Wales, who admits she always wanted to grow up to be a witch but instead grew up to be a writer and lives by the sea in very West Wales.
Being different can be dangerous. Wilde is afraid because strange things happen around her. Birds follow her and she doesn't know why. She longs to be normal and not weird, and hopes things will be different now she has been kicked out of her boarding school.
But moving to live with her aunt Mae at Witch Point in the wilds of mid-Wales – a place that legend says is cursed – seems to make it worse. Wilde is desperate to fit in at her new school, but things keep getting stranger.
In a fierce heatwave, her class is rehearsing for a school play telling the old, local legend of a witch called Winter. But then 'The Witch' starts leaving pupils frightening letters and cursing them. Can Wilde find out who is doing it before everyone blames her? And as birds gather and lies sting, can she break the curse of the witch called Winter, or will she always be the outsider?
Williams has the magic touch when it comes to writing children's books… wrapped up in this thrilling, sinister and stunningly atmospheric story are important messages about belonging, coming to terms with difference, and accepting who and what you are.
Layered through with humour, secrets, mystery and magic, Wilde is both through-provoking and entertaining… and a reminder that family, friendship and togetherness are the bedrock of our lives.
(Firefly Press, paperback, £6.99)
Sometimes the most unexpected and unlikely friendships can be the most rewarding…
Step into the lives of four very different young people in Filipino-American writer Erin Entrada Kelly's funny, poignant and prestigious Newbery Medal-winning Hello, Universe, an outstanding middle-grade novel which Netflix is currently in the process of adapting into a feature film.
With a narrative divided between two boys and two girls from the same neighbourhood, Kelly's compelling and compassionate novel celebrates bravery, being different, and finding your inner hero.
In one day, four lives weave together in unexpected ways. Virgil Salinas is shy and kind-hearted and feels out of place in his crazy-about-sports family. Valencia Somerset, who is deaf, is also clever, brave, and secretly lonely, and she loves everything about nature.
Kaori Tanaka is a self-proclaimed psychic, whose little sister, Gen, is always following her around. And Chet Bullens wishes the weird kids would just stop being so different so that he can concentrate on basketball.
They aren't friends, at least not until Chet plays a prank that traps Virgil and his pet guinea pig Gulliver at the bottom of a well. This disaster leads Kaori, Gen, and Valencia on an epic quest to find the missing Virgil.
Sometimes four can do what one cannot. Through luck, quick-thinking, bravery, and a little help from the universe, a rescue is performed, a bully is put in his place, and friendship blossoms.
With its eclectic cast of misfits, an irresistible thread of humour running through its warm-hearted centre, and messages of hope, determination, resilience and friendship, this is a beautiful story tailor-made for middle-graders looking for inspiration in a world that too often seems dauntingly tough.
(Piccadilly Press, paperback, £6.99)
How does one tiny mole stop three enormous diggers?
Let your tiny tots take inspiration from a little mole with big ideas in a romping, rhyming picture book from talented writer and illustrator Alex Latimer who is based in Cape Town, South Africa.
With a gallery of bold and super-colourful illustrations featuring a mountain of moles, holes, diggers and dinosaurs, this cute and cuddly story about clever thinking and brave deeds will delight readers both young and not-so-young.
When a fleet of three huge diggers arrive one day on Mole Hill, it's up to Mole to stop them in their tracks and save his home from destruction. But can one tiny mole defeat such big, mean machines? He might just succeed if he manages to trick the silly trucks into believing that they could end up extinct like the dinosaurs buried in his hill. Where there's a mole there's a way!
A picture perfect way to take on the big guys… and win!
(Oxford University Press, paperback, £6.99)