London's No.1 Dog-Walking Agency by Kate MacDougall: a delightful mix of canine capers and human psychology - book review -
Bored with her back-office job at Sotheby's auction house in London in 2006, Kate MacDougall decided that working with man's best friend could be her ticket to a new career.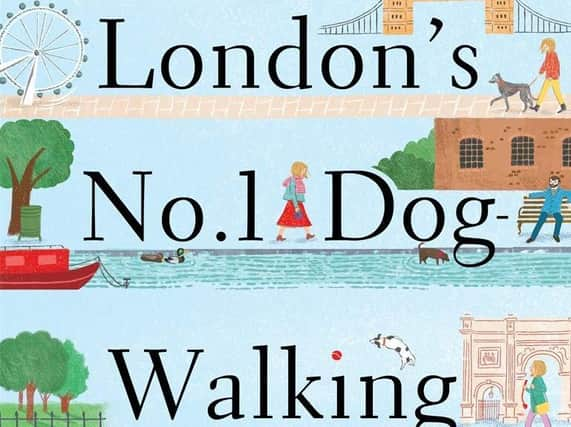 But while she knew that a dog-walking business wouldn't be a stroll in the park, she hadn't reckoned on her trickiest customers being the dogs' owners!
Welcome to the enchanting memoir of a young woman who launched her own business as a dog walker for London's busy, well-heeled dog lovers in the days before it had rolled over from the United States and become an integral part of fashionable city life.
London's No.1 Dog-Walking Agency – a delightful mix of canine capers and human psychology – is a warm and affectionate letter to London and dogs, and an astute and entertaining observation of the triumphs and disasters of love, life and growing up.
In 2006, twenty-something Kate MacDougall knew her heart wasn't really in her job at Sotheby's. Tall, 'congenitally uncoordinated' and butterfingered, she was known as 'clumsy' Kate and when she accidentally smashed two (admittedly ugly and thankfully not priceless) porcelain pigeons, she knew it was time for a career change.
All around her, friends were finding their dream jobs and whooshing up career ladders so when she walked out of Sotheby's and into the then-nascent gig economy, Kate knew she was taking a risk. Her mother had seen the office job as just a 'holding pen' until a husband and children came along but Kate wanted more from life than that.
And it was a chance meeting with a man walking a rather cute cocker spaniel for a famous actress that sparked the idea of launching a dog-walking business… despite the reservations of her live-in boyfriend (and future husband) Finlay – lovely, kind and funny but doesn't like dogs… at all.
And so London's No.1 Dog-Walking Agency was born and for the next nine years Kate embarked upon an entirely new and very much improvised career walking some of the city's many pampered and over-protected pooches.
There was Frank, the (female) Jack Russell whose owner had never been able to tire her out, not even after a ten-mile hike up the Cairngorms, and Winston, the Labrador more like 'a hyperactive toddler,' who wasn't allowed to get wet and muddy, even after his owners split up and then enlisted Kate in their custody battle.
Then there was Stanley, a cross between a lurcher, wolfhound and something found in the Arctic whose only interest was food, and the chic trio of Islington couples whose immaculately arranged dog-walking schedule was thrown out when one of them fell for the dog walker Kate had employed.
And amongst all this, there was Kate herself… fending off her mother's longing for wedding bells, and trying to work out exactly what she wanted from life and how she would get there.
MacDougall – who is now a freelance writer, specialising in dogs, the countryside and lifestyle, and lives in Oxfordshire with her husband, three children and two dogs – lifts the lid on the endurance, patience, diplomacy and sheer dogged determination that are needed to run a successful dog-walking business.
Adapting to clients' needs – both canine and human – is no easy task and the problems she encounters prove to be a fascinating reflection of the complex domestic attitudes and social politics of life in the big city.
Stars of this funny, furry and deeply introspective account are undoubtedly the dogs, with adorable rescue mutt Stanley – 'a hearty and wholesome melting pot of dogs' who strides round the kitchen like a Colossus with a big grin on his hairy face – stealing both the show and our hearts from his first appearance.
Throughout her dealings with the obsessive owners, corporate couples, dysfunctional families and wealthy loft dwellers, MacDougall does her own portion of growing up, learning more about life and discovering who and what is most important to her.
As the author admits, the dogs were 'a muddy, messy joy' while the owners were the real challenge, 'a giddy mix of the over-protective, the clueless, the eccentrics and the perfectionists.' In fact, she surmises, 'a degree in human psychology would have been far preferable to any sort of animal qualification.'
Full of truths both personal and universal, city life nostalgia, and some unforgettable canine super-stars, London's No.1 Dog-Walking Agency is blissful reading for dog lovers and people watchers.
(Blink Publishing, hardback, £14.99)