Last ticket to ride, a monster mystery and kitchen nightmares by various authors - book reviews -
Get on track for a train journey to adventure, enjoy cliffhangers and thrills galore in a fabulous fantasy series, meet a baker's boy who never wanted to earn his dough by making bread, and have fun with a cheeky monkey in search of a playmate in a sparkling selection of January children's books.
Thursday, 7th January 2021, 3:45 pm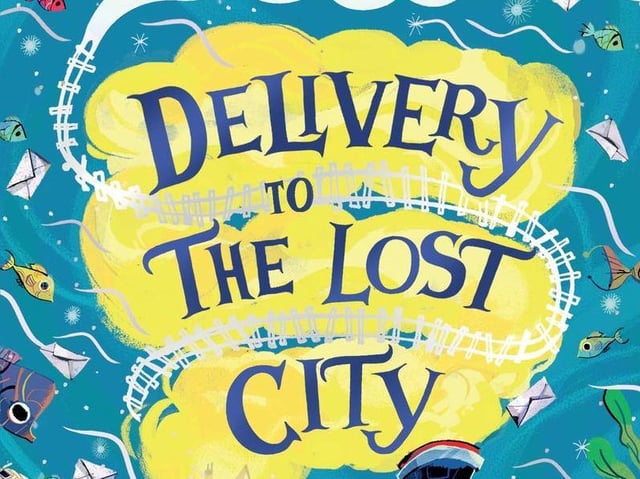 Delivery to the Lost City
Delivery to the Lost City
P.G. Bell and Flavia Sorrentino
Climb aboard and hold on tight… the Impossible Postal Express train is back on track and ready to whisk you away for a third, final and fantastic adventure!
Science, thrills and full-throttle fun are never far down the line when the madcap world of magic and mayhem – immaculately conjured up in Welsh author P.G. Bell's award-winning The Train to Impossible Places series – is back full steam ahead, and ready to take youngsters on another rip-roaring ride.
Bell's wildly imaginative and entertaining series, richly illustrated by Flavia Sorrentino, was created from his young son's demand for a new, made-up bedtime story from his dad. Having requested a new instalment every night for a week, the story of science-mad Suzy Smith's journey on the Impossible Postal Express train began to evolve and Bell started writing it down.
And now it's time to join Suzy and her adorably bizarre friends – including a one thousand-and-ten-year-old grumpy troll, a moody brown bear called Ursel and an undersized post boy in an oversized uniform – for their last all-action adventure which features the same irresistible blend of amazing characters, fantastical places, and carriage-loads of laugh-out-loud humour.
When the Impossible Postal Express magically arrives out of the family fridge to collect Suzy, she sets off on her most difficult delivery yet.
A mysterious talking book is stealing words and causing chaos across the whole of the Impossible Places! The book must be returned to a city that has been lost for thousands of years. But without a map to get there, Suzy and her friend Wilmot's journey plunges them into grave danger.
And with time running out, it might not just be the knowledge in the Impossible Places that is lost for ever… Suzy and Wilmot could be too.
Bell steams in with another extraordinary, exhilarating and inventive story, beautifully illustrated by Sorrentino… a whistle-stop, action-packed ride in which the spirit of adventure and a spirited girl are the driving forces, where the impossible really does become possible, and where the journey takes you to places you never expected.
An unmissable last ticket to ride!
(Usborne, paperback, £7.99)
Vega Jane and the Secrets of Sorcery
David Baldacci and Tomislav Tomic
King of crime fiction David Baldacci moves into full fantasy mode for an enthralling adventure series featuring monsters, magic, danger and mystery.
Vega Jane and the Secrets of Sorcery is the first thriller in a cracking series which began life several years ago with the award-winning YA novel, The Finisher, and has now been edited for middle grade readers and illustrated by Tomislav Tomic.
Star of the show is Vega Jane, a girl whose thrilling quest takes her beyond her known world into a dangerous realm full of magic.
Vega Jane is fourteen when she is secretly given a map that reveals a mysterious world and dangerous creatures beyond the walls of Wormwood, a place no one has ever left, or wanted to… until now.
The map makes her question everything she has ever been told about the place she calls home. Her friend Delph and her dog, Harry Two, are the only ones Vega trusts. Trapped by secrets and lies, they want freedom and truth.
But she will have to fight for freedom, and the truth may cost Vega her life.
Using his enviable literary skills and natural talent for drama and visual excitement, Baldacci unleashes a hurricane of action and adrenalin in a blistering adventure for Vega that will take enthralled fans to breaking point.
Get ready for suspense, cliffhangers and thrills galore as readers are drawn inexorably into a strange and dangerous world, willing the intrepid Vega to stand up to her enemies and survive a series of deadly challenges.
A mesmerising and female-empowering thriller from a master storyteller…
(Macmillan, paperback, £7.99)
Albert Johnson and the Buns of Steel
Albert Johnson never wanted to earn his dough by making bread so his master baker dad cooks up a cunning plan… the perfect recipe for a kitchen nightmare!
The brilliant Albert Johnson and the Buns of Steel is the latest super-readable Little Gem from innovative publisher Barrington Stoke… and it comes from the top team of award-winning author Phil Earle and super-talented illustrator Steve May.
Dad is a master baker and Albert is expected to one day follow in his footsteps. There's just one problem... Albert doesn't care about baking, he only cares about football, tennis, cricket and any other sport you can think of.
When his dad invents the 'Doughmaster 5000' to help out around the bakery, it seems all their problems have been solved. But disaster is never far away and soon dad's miracle solution is a rampaging nightmare!
With just a pair of football boots, a tennis racket and a cricket bat to hand, can Albert really come to the rescue and fix this mess?
The Little Gems series brings together leading authors and illustrators, and a host of clever design and finishing techniques like dyslexia-friendly fonts, to create easy-to-read, first chapter books in a chunky format ideal for little hands, and with some extra reading, jokes and activity fun hiding inside the jacket.
And this sparkling new story – brimming with Earle's signature wicked wit and May's anarchic illustrations – delivers slapstick giggles and guffaws on every page.
(Barrington Stoke, paperback, £6.99)
A cheeky monkey has trouble finding a playmate in a clever, colourful and high-energy picture book from award-winning author and illustrator Zehra Hicks.
Monkey wants to play but Monkey's games are a little too energetic for the other animals who are immersed in their own activities. And when you wake a sleeping lion, it can mean only one thing… trouble!
Hicks tugs at our heartstrings with her gentle, playful, extravagantly illustrated story which puts learning to make friends and play together, and the human need for friendship, in full focus.
(Hodder Children's Books, hardback, £12.99)
I Love You With all my Heart
Mummy love is forever and doesn't end when you do something naughty!
That's the message that speaks loud and clear in a beautiful, heartwarming picture book from author and illustrator Jane Chapman which is guaranteed to soothe troubles and bringing much-needed comfort.
Little Bear has broken Mummy's favourite sunflower. What if her mum won't love her any more? Luckily, Mummy knows just what to do. 'Put your paw on your heart,' she smiles, 'and you'll feel my love going on and on for ever!'
Chapman's delightful story of unconditional love, which is accompanied by a gallery of simply gorgeous and tenderly created illustrations, is ideal for bedtime reading, offering reassurance and warmth, and banishing fears and worries.
(Little Tiger Press, paperback, £6.99)
The Curious Case of the Missing Mammoth
Ellie Hattie and Karl James Mountford
Look out, there's a woolly mammoth on the loose!
Author Ellie Hattie and illustrator Karl James Mountford take off on a riotous flight of imagination in in a fabulously entertaining picture book brimming with fascinating facts, fabulous illustrations and lift-the-flap fun.
Follow Oscar on a fantastical night-time adventure through a magical museum of curious creatures to find the mammoth before the clock strikes one! Is he munching sandwiches with Diplodocus Dave in the Dinosaur room, joining an aerobics class with the Extinct and Endangered Species or talking to a dodo in the lift?
The Curious Case of the Missing Mammoth delivers mammoth-sized mayhem and mischief on every page as young readers explore all the weird wonders of the museum with Oscar and learn lots of facts along the way. And with intriguing flaps to lift, this is the perfect interactive picture book to explore, entertain and educate.
(Little Tiger Press, paperback, £7.99)
Animal World: I Can Learn
Lauren Crisp and Thomas Elliott
Learning about animals and their colours is set to put little ones in a spin with this inventive and educational board book.
With tactile moving spinners to encourage children to think, turn and learn, discovering the basic colours is more exciting and hands-on than ever thanks to a brilliant I Can Learn! series from Little Tiger Press.
The series lets youngsters explore colours, shapes, counting and many other first concepts through special features such as tactile elements, sound buttons, and flaps, reinforcing learning and strengthening hand-eye co-ordination.
In this innovative book, spinning discs help children to gain the skills and confidence to connect the colour of one animal to another and, just as importantly, promote learning through fun.
From a yellow giraffe and a cuddly brown bear to a bright red parrot and a terrific orange tiger, this is a charismatic cast of characters that you can count on to learn both your colours and your creatures.
(Little Tiger Press, board book, £8.99)
Noisy Tractor: I Can Learn
Lauren Crisp and Thomas Elliott
And in the same I Can Learn series, little ones will love pressing a tractor's squishy parts to hear an entertaining range of sounds, from hooting horn and crunching gravel to revving engine and squelchy tyres!
The soft, silicone buttons on the tractor are easy to use and children will love following the tractor on a busy day on the farm in this interactive board book which comes with engaging rhymes and colourful illustrations.
Touch and go-go-go on a fun-filled farmyard adventure!
(Little Tiger Press, board book, £10.99)
What Are Unicorns Made Of?
Amelia Hepworth and Louise Anglicas
Enjoy a rainbow of colours in a board book filled with the sweetest delights!
Do you believe in unicorns? Of course you do! But have you ever wondered what they are actually made of? Are they filled with jelly beans and do they have marshmallow manes?
This fantastical board book has all the answers, and with a touch-and-feel rainbow mane on the cover and a pop-up unicorn at the end, this is the perfect book to share with the youngest members of the family.
Eye-catching illustrations, and a fun-filled, rhyming text starring adorable unicorns of every size and hue, and manes made of marshmallow and strawberry ice cream, guarantee that What Are Unicorns Made Of? will go down a treat with your little ones!
(Little Tiger Press, board book, £7.99)
The Touch Book: A sensory book to explore
When it comes to touchy-feely books, here's a hands-on winner!
The Touch Book is part of Little Tiger Press's educational and entertaining My World series, inspired by the Montessori education system which focuses on practical, hands-on learning that engages imaginative young minds and helps children to reach their full potential.
And this beautifully produced and illustrated book encourages children to be confident, considerate and curious as they begin to explore their world.
An assortment of textures engage with the natural world and encourage children to interact imaginatively with their environment by literally getting a feel for animals, nature, and everyday objects like a crinkly cup, a smooth glass, sticky tape, and even daddy's scratchy stubble!
So watch little eyes light up as youngsters squish the sea sponge, scrape the rough tree bark, and stroke the sheep's fluffy fleece while getting close up to the world around them.
Learning fun at the turn and touch of a page!
(Little Tiger Press, board book, £9.99)