Just Between Friends By Rosie Nixon:  A gripping story of intrigue, female friendship and the pitfalls of parenthood - book review -
When mums-to-be Aisha Moore and Lucy Raven meet at a local antenatal group, they quickly form a bond on the shared journey to parenthood.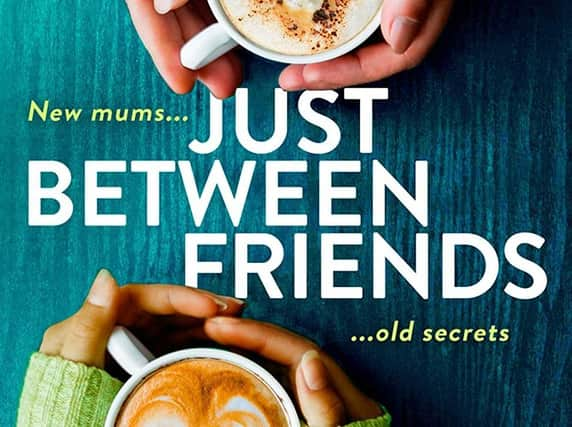 What Aisha doesn't yet know is that successful PR professional Lucy has a secret that could not just blow their friendship apart, but change both their lives forever.
In an intriguing change of direction from The Stylist and Amber Green Takes Manhattan – two entertaining novels set in the glittering world of fashion and glamour – Rosie Nixon, editor-in-chief of HELLO! Magazine, comes down to earth with a 'bump' in this funny and relatable tale of mystery and motherhood.
As a mother-of-two herself, Nixon is well versed in the dramas, discomforts and domestic dilemmas of pregnancy and birth, and Just Between Friends, she reveals, has been an epic three-year 'passion project' with plenty of twists and turns in the writing process.
The result is a gripping story of intrigue, female friendship and the pitfalls of parenthood which will have mums, both new and well-seasoned, nodding their heads knowingly and chuckling their way through this character-driven, compelling and emotion-filled odyssey.
Thirty-something Aisha Moore is eight months pregnant and feeling 'like an overweight elephant in women's clothing.' As a first time mum, she's thrilled but also a little scared, and eager to make some 'mum friends' before confronting 'the actual birth bit.'
She also has a nagging worry about her IT manager husband Jason who hasn't quite got his head round her pregnancy, doesn't tell her how much he loves her any more, and can't seem make it to the baby group classes with her because he's always either indispensable to his colleagues, or working overtime.
Lucy Raven, who works full-on in the fast-paced world of PR, is also having her first child with partner Oscar Bright. It's a pregnancy that she once feared would never happen, although the circumstances aren't quite what she had hoped for.
After a string of boyfriends who never hit the mark over the years, Lucy finally found 'The One' in handsome Oscar but with his history, she has secrets fears that he might not be fully invested in fatherhood.
When the two women meet at the church hall baby group, they quickly become friends and before long they are confiding in each other. But there is one very important thing Lucy hasn't told Aisha… and while a baby may turn your life upside-down, a secret this big could change everything.
Nixon fields a suitably diverse cast of expectant parents and unusual family set-ups, not least lovable same-sex couple Susie and Lin – one 'having the baby' and one 'just having baby food' – as we share Aisha and Lucy's secrets, hopes, fears and uncertainties.
Along the way, there are plot twists to enjoy, hilarious moments of new baby 'poomageddon,' and all those familiar discoveries, blunders and challenges of first-time motherhood.
Written with a wry sense of humour which can only come from the personal experiences of childbirth, and with the complex nature of relationships at its heart, Just Between Friends is a baby class act!