Island hopping, time travel and the golden girl of gymnastics by various authors - book reviews -
Travel to some of the world's most magical islands, join two boys on an adventure in Ancient Greece, discover the amazing story of gymnast Simone Biles, and hoist the mainsail with a ship full of pirates with a sunshine collection of summer children's books.
Wednesday, 3rd June 2020, 12:30 pm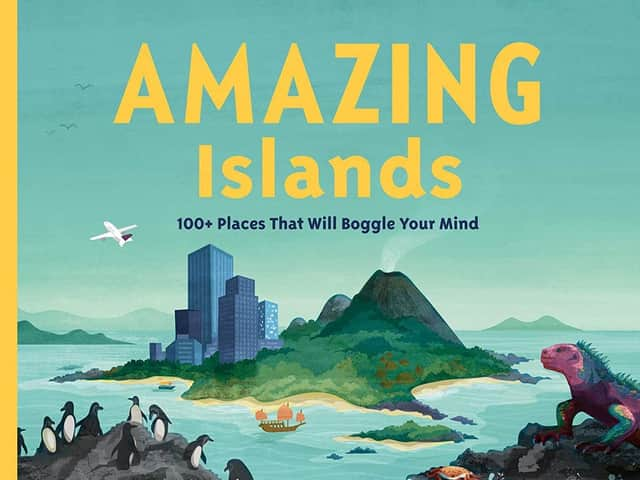 Amazing Islands
Travel to some of the world's most magical islands, join two boys on an adventure in Ancient Greece, discover the amazing story of gymnast Simone Biles, and hoist the mainsail with a ship full of pirates with a sunshine collection of summer children's books.
Amazing Islands: 100+ Places That Will Boggle Your Mind
Sabrina Weiss and Kerry Hyndman
If you fancy a bit of island hopping, open the pages of this brilliant book and discover over one hundred of our planet's most magical islands!
Amazing Islands: 100+ Places That Will Boggle Your Mind comes from What on Earth Publishing which specialises in the art of telling stories through timelines. And for every question their informative books answer, they spark another one, helping to encourage young readers into a lifelong love of enquiring and discovering.
This intriguing, colourful, fact-filled book is the first in a new Our Amazing World series and is an entertaining celebration of island diversity, wildlife, history, treasures and cultures, with volcanoes, rainforests, Komodo dragons, prison colonies and more.
Written by Sabrina Weiss and illustrated by Kerry Hyndman, winner of the 2017 Blue Peter Book Award, Amazing Islands is a whirlwind tour of some of the smallest land masses in the world. From islands that have been taken over by animals, to disappearing islands, islands made of shells, artificial islands and even islands that were once prison colonies, this book takes you on a breathtaking tour.
Discover the Galapagos islands, home of giant tortoises, penguins and boobies of all colours. Or visit Jiangxin Park in China, a natural island with an awe-inspiring, giant bookshop. Islands can be home to giant cities, colonies of cats and crabs, they have been hideouts for pirates, and they have given rise to astonishing scientific discoveries.
The book contains lots of new science, history and geopolitics. Seven hundred million people (a tenth of the world's population) live on islands so they are important in our human history and as far as the environment is concerned, islands are susceptible to increasing threats due to environmental issues.
Also included is a world map, which plots all the islands found in the book, plus fold-out flaps with engaging lists of island facts, including the top ten biggest and ten smallest inhabited islands in the world.
The perfect book to put island life in focus…
(What on Earth Books, hardback, £14.99)
The Time Travel Diaries: Adventure in Athens
If a holiday abroad seems a distant dream this year, join two young adventurers on a fantastic, fast-moving adventure in Ancient Greece.
Adventure in Athens is the second book in Caroline Lawrence's gripping new time-travel series which began with two boys on a perilous mission to Ancient Rome and now sees them tackling powerful forces during the Golden Age of Athens.
Alex Papas and his Romanian best friend Dinu vowed never to time-travel again after scary experiences in Ancient Rome… but now it's summer and Alex, who is part Greek, and Dinu have been offered a luxury summer holiday in Athens, home to the greatest minds of the past. After a rooftop banquet the evening they arrive, everyone gets food poisoning and is told not to eat for 48 hours.
When Alex and Dinu feel better, they decide to stretch their legs. But the moment they step out of the hotel, a limo pulls up with their dangerous billionaire mentor Solomon Daisy who now has a new mission for them.
He wants them to go back to the Athens in 415BC… to a time when Socrates was alive and when Athens was at peace with Sparta. Just as well they have both been intensively learning ancient Greek!
Lawrence is a master of children's detective stories, and this enthralling series – full of fun, action, mystery and real history – is guaranteed to keep youngsters both entertained and informed as they follow two intrepid boys on their daring adventures in the past.
Rich in detail and with danger at every turn, this is ideal reading for middle-graders.
(Piccadilly Press, paperback, £6.99)
Trailblazers: Simone Biles: Golden Girl of Gymnastics
Illustrated by Luisa Uribe and Emma Trithart
In 2016, a remarkable young gymnast won four gold medals at the Rio de Janeiro Olympics… and stole the hearts of audiences across the world.
Discover the amazing story of the talented Simone Biles, a superstar athlete and world champion who literally leapt into the spotlight in Brazil four years ago with gymnastic performances that broke records, and turned the diminutive American girl into one of history's greatest trailblazers.
Written by American author Sally Morgan has penned more than twenty books for children on subjects including history, science and emojis, Trailblazers: Simone Biles is the new title in Stripes Publishing's fun and factual biography series inspired by the lives of pioneers past and present.
Packed with little-known trivia, fascinating facts and lively illustrations, these books celebrate the lives of forerunners in every sphere, from science and sport and business to activism, politics and the arts.
So how did Simone Biles become a superstar athlete, gold medallist and most decorated gymnast of all time? On a day trip to the local sports centre, Simone discovered her natural talent for gymnastics. She signed up for regular training sessions and was soon performing incredible routines at competitions.
Despite a challenging start in life in Columbus, Ohio, Simone was adopted by her grandfather in Texas and toughed it out during long hours of training at the gym. She went on to become one of the world's greatest athletes and the winner of four Olympic gold medals.
With a gallery of interactive illustrations and a compelling text full of facts, real history, technical information on gymnastics, and the achievements of one remarkable woman, this is the perfect book to make learning both fascinating and inspirational.
(Little Tiger, paperback, £6.99)
Flyntlock Bones: The Sceptre of the Pharaohs
Derek Keilty and Mark Elvins
Ahoy, me hearties… get ready to hoist the mainsail and join a ship full of pirates charting a course to danger and mayhem!
Youngsters will adore this super, swashbuckling comedy adventure from the top team of author Derek Keilty and illustrator Mark Elvins who are setting sail with the first riotous instalment of a seafaring trilogy.
Starring a gallery of wonderfully anarchic characters, a vividly imagined world of raucous pirates, and two budding young investigators determined to solve every mystery that comes their way, this is a glorious mix of detective work, danger, slapstick fun and outstanding illustrations.
So welcome to the Black Hound… a ship full of the cleverest pirate investigators you ever set eyes upon!
When Flynn applies for the job of ship's cabin boy, he doesn't expect the Black Hound to be a pirate ship, but soon he's setting sail for the Seven Seas on a tricky quest to recover ancient treasure bound by a magical curse.
But first he needs to get to know Captain John Hamish Watkins and his crew… Briggs the quartermaster, Fishbreath the cook, Master Hudson the ship's Bosun, the riggers Drudger, Snitch and Dedweard… oh and last but not least, Red, the girl rigger who becomes Flynn's friend and ally on board this unruly ship.
Flynn's first case is a summons for help from Miss Kristina Wrinkly, curator of the Gypshun museum. There's been a break-in and priceless ancient artefacts have been stolen, including the irreplaceable sceptre of the Pharaohs. Can he crack the curse and save the day?
Expect thrills, mystery, lots of pirate talk and madcap adventures as this exciting new writing and illustration team hit the high seas with waves of laughter, a deck full of comedy characters, and gallons of salty giggles!
(Scallywag Press, paperback, £6.99)
The Fabulous Cakes of Zinnia Jakes: The Crumbling Castle
Brenda Gurr and Nancy Leschnikoff
Who likes cakes? If you want to get your teeth into a tasty adventure, then meet the incomparable Zinnia Jakes, the nine-year-old girl who doubles as a secret pastry chef.
Zinnia Jakes and her fabulous cakes take starring roles in a fabulous foodie series from author Brenda Gurr, who spent her early childhood on a dairy farm in Western Australia, and illustrator Nancy Leschnikoff.
These perfectly baked books feature delicious heroine Zoe Jones, alias Zinnia Jakes, who secretly makes the tastiest and most wonderful cakes. Together with her magical cat, Coco, her best friend Addie and her aunty Jam, they get into incredible adventures.
When Zinnia gets a new pastry order for a special medieval crumbling cake, she has no idea where to start. Finding the right recipe isn't easy and it needs to be ready in less than a day for the school fair. The clock is ticking… will she deliver it on time and remain the undercover secret pastry chef everyone talks about?
With a mouthwatering recipe for medieval gingerbread to try at home, a mystery to solve, and lots of fun to enjoy, this quirky adventure is ideal for confident young readers who are eager to get a slice of the action!
(New Frontier Publishing, paperback, £5.99)
Sage Cookson's Sweet Escape and Sage Cookson's Snow Day
And if your tummy is till rumbling, dig into to another food-themed series from the book boffins at Australia-based New Frontier Publishing which has gone from strength to strength since launching its UK list in 2017.
Their motto is 'to inspire, educate and uplift children' and there is certainly plenty of food for thought in the new, easy-to-read Sage Cookson series, written by Sally Murphy and illustrated by Celeste Hulme.
Sage Cookson is a ten-year-old with a very unusual lifestyle. Her parents are television chefs with, unsurprisingly, a passion for food. They spend a lot of their time travelling Australia and afar, sampling the food, learning new cooking techniques and then sharing their new knowledge with their massive television audience. For Sage, this means embarking on exciting travels with her parents and getting a taste of the world.
In Sage Cookson's Sweet Escape, the first book in the series, Sage and her parents visit a chocolatier to film a segment for their TV show. But things go drastically wrong when the competitive spirit gets the better of the chocolatier!
And in the second book, Sage Cookson's Snow Day, Sage and her family are heading off to the snow, and she has promised that she will stay out of danger. But when her friend Kyle goes missing, it looks like adventure has come to find her once again!
With a super recipe included in each book, quirky, all-action stories about cooking, travel and adventure, and fascinating information on food, this is deal for seven-year-olds just getting to grips with chapter books, and a tasty treat for sharing with parents!
(New Frontier Publishing, paperback, £5.99)
Where the Sea Meets the Sky
Peter Bently and Riko Sekiguchi
Which child hasn't wondered what's at the place where the sea meets the sky?
Much-loved children's author Peter Bently and award-winning debut artist Riko Sekiguchi aim to broaden the horizons of the youngest readers with this enchanting, rhyming picture book filled with colour, adventure and discovery.
Sophie's mum says that no one can reach the horizon, and no one should try. But Sophie reckons it doesn't look that far! She sets off on an exciting journey, meeting all sorts of sea creatures on the way… walruses and whales, lobsters and starfish. But then Sophie meets someone a little more dangerous. Is there anybody who can rescue her?
This gorgeous story – packed with wonder, warmth, underwater adventures and Sekiguchi's stunning palette of illustrations – will delight both children and parents as our brave little sea otter sets out on her quest to find the place where the sea meets the sky but finds that however far she travels, home is never far away.
A picture perfect rhyming story!
(Hodder Children's Books, hardback, £12.99)
Hide and Seek Under the Sea
Rachel Elliot and Gareth Lucas
Children will love searching for the sea creatures behind the printed felt flaps in this bright and engaging board book.
The playful sea creatures have swum away to hide. Where can they be?
Find the seahorse behind the weeds, the octopus hiding inside the purple corals, the playful dolphin swimming behind the sailing boat flag and stripy orange clownfish playing under a sea anemone.
There is so much to learn and discover in this colourful underwater world which lets little ones get hands on with nature.
(Little Tiger Press, board book, £7.99)