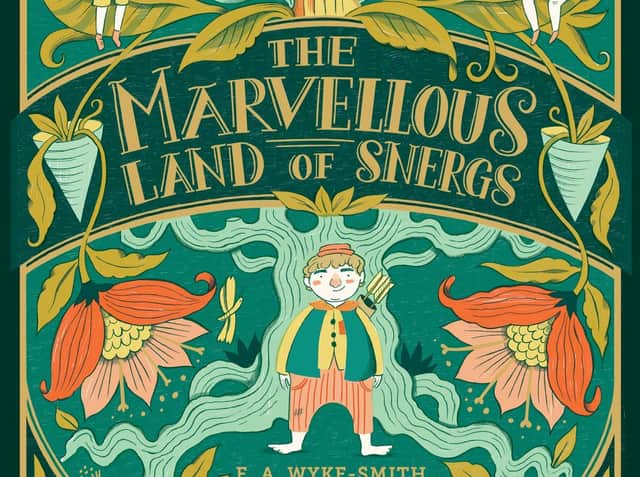 The Marvellous Land of Snergs
The Marvellous Land of Snergs
A forgotten children's classic story from almost one hundred years ago gets a fresh, funny and quirky new take in a delightful retelling by imaginative writer Veronica Cossanteli.
The Marvellous Land of Snergs, E.A. Wyke-Smith's fantasy tale from 1927 which is widely recognised as the inspiration for J.R.R. Tolkien's The Hobbit, springs to vivid life again in the capable hands of Cossanteli, author of The Extincts and The Halloweeds, and illustrator Melissa Castrillón.
The book, with its delightful contemporary twist, has been written with spirit of the original and has been supported by the family of Wyke-Smith, an English adventurer, mining engineer and writer.
At the Sunny Bay Home for Superfluous and Accidentally Parentless Children, Pip and Flora are in trouble. Running away with their new-found puppy, they discover the Marvellous Land of Snergs, a magical world of cinnamon bears and scrumptious feasts.
But the Marvellous Land of Snergs is also one of vegan ogres, disgraced jesters and dastardly Kelps, and is home to a villain dressed entirely in purple. Soon their only friend is forgetful but lovable snerg Gorbo. He will lead them home… if they can decide where home really is, and if Gorbo can remember how to get there.
Expect exciting adventures, strange but kindly creatures, bags of fun, and a compassionate moral message that teaches us not to judge on appearances. As Miss Watkyns, principal of the Sunny Bay Home for Superfluous and Accidentally Parentless Children, so rightly points out, 'There is more than one side to every heart. What matters is, which side do you allow to rule you?'
A clever story with a big heart!
(Chicken House, paperback, £6.99)
The World's Most Magnificent Machines
David Long and Simon Tyler
Mankind's love affair with technology and machines has spawned some exceptional – and sometimes bizarre – feats of engineering and ingenuity.
And now you can take a tour of some of the world's most amazing machines from the comfort of your armchair in a fascinating new book from historian, writer and Blue Peter award-winning author David Long.
This beautifully illustrated and thrilling round-up of 32 of the best magnificent machines from across history explores machines that were designed to drive faster, fly higher, carry more cargo or – in the case of space rockets – travel thousands of miles to places where no one has ever been before.
When Karl Benz built the world's first automobile more than 130 years ago, he couldn't possibly have imagined that one day there would be more than a billion motor vehicles zooming around on roads that stretch for millions of miles.
Not every idea has worked and a few have been outlandish, but the best have been inspired and inspirational, and in a few cases they have gone on to change the world.
From rockets that can fly at more than 20,000mph to a motorbike with only one wheel, from the longest ship ever built to the heaviest digger, and from the largest jet aeroplane to the world's first working motorcar and most expensive one, what machines like these have in common is that they all say a lot about the inventiveness and imagination of the people who conceived and created them.
Sumptuously illustrated throughout by Simon Tyler's atmospheric artwork, The World's Most Magnificent Machines offers a wealth of fascinating technical stats and finely drawn blueprints alongside Long's trademark humour, erudition and insight to the very human stories that went into making these marvellous machines.
A gift book made in mechanical heaven!
(Faber & Faber, hardback, £20)
Music: A Fold-Out Graphic History
Nicholas O'Neill, Susan Hayes and Ruby Taylor
Unfold a world of amazing music, and the extraordinary people who make music, in a stunning new book to mark next year's 150th anniversary of London's Royal Albert Hall.
With its unique 2.5 metre fold-out timeline through 60,000 years of music – from prehistoric lutes through Mozart and Beethoven to Louis Armstrong and Beyoncé – this is a musical armchair journey like no other.
Published in a partnership between What on Earth Books and the Royal Albert Hall, which was opened in 1871 to fulfil Prince Albert's vision of a central hall to promote the arts and sciences, this is a fabulous wide-ranging and diverse exploration of musical genres, times and topics.
Music: A Fold-Out Graphic History can be read as a book or folded out into a two-sided, 2.5 metre timeline, allowing readers to either dive into individual, fascinating stories or zoom out for the big picture. It covers music across the world and across time, from Confucius's favourite instrument in ancient China to the creation of Myspace and YouTube.
Learn about how different genres started including classical, folk, jazz, gospel, rock 'n' roll, country, punk, grunge and pop. Explore the histories of music linked to particular cultures or regions including indigenous American, Asian, and African music, Son Cubano and Caribbean styles, and Australian bush music.
Discover the stories of music maestros from around the world including Chinese musician Wei Liangfu, Handel and Bach, Stravinsky, Gershwin, The Beatles, Joni Mitchell, David Bowie, and Nina Simone.
Ideal for curious youngsters and musicians of any age, and with an accompanying Spotify playlist, all the family can listen along together.
(What on Earth Books, hardback, £14.99)
Budding ballerinas are called to the barre again in the second book of the thrilling Swan House Ballet School series which blends dancing divas with daring espionage escapades.
Billed as Ballet Shoes meets Murder Most Unladylike, these mystery adventures are the work of Welsh-born author Helen Lipscombe who admits that her own ballet career went down a plug-hole when she was only six.
But fortunately for young readers, she wasn't prepared to linger forlornly in the wings and her grand jeté into the world of children's fiction is proving to be a big hit with budding sleuths, and perfectly in step with all would-be ballerinas.
In Trouble in a Tutu, we meet up again with Milly Kydd who can't wait to be back at Swan House. As a secret school for spies, it's anything but ordinary. And when Milly, her famous ballerina mum, Eva Kydd, and her glamorous but eccentric Russian grandmother/babushka Bab head to the Nutcracker for a Christmas treat, their evening ends in disaster.
A dangerous trickster who calls himself 'the Mouse King' is playing a deadly game with Swan House and the ballet school is put on high alert. As Milly navigates her second term and becomes determined to unmask the villain, she starts to suspect there is more to the new Head of Ballet and his perfect daughter than meets the eye ... but is jealousy clouding her judgment?
Packed with themes of friendship, rivalry, jealousy and confidence, and the added extra of exciting twists and turns, pirouettes and pliés, Trouble in a Tutu is a triumphant return to Swan House, the place where students learn the disciplined art of ballet alongside the stealth skills of a spy.
The next act can't come soon enough!
(Chicken House, paperback, £6.99)
Pippi Longstocking Goes Aboard
Written by Astrid Lindgren and illustrated by Lauren Child
Nostalgia really is what it's cracked up to be in this utterly captivating, 75th anniversary gift edition of an adventure starring Astrid Lindgren's Pippi Longstocking, the eccentric girl who been bewitching readers down the decades.
Some storybook characters never age and Pippi – who just happens to be an amazing rebel role model – is back to win the hearts and minds of another generation thanks to her timeless, fun-filled escapades, a sparkling new translation by Susan Beard, and the striking collage artwork of award-winning author and illustrator Lauren Child.
Lindgren, who died in 2002, grew up at a farm in the south of Sweden. She began her writing career in 1944 after she won a children's book competition, with Pippi Longstocking appearing a year later. She published more than one hundred books in her lifetime and is still the most popular children's author in Sweden.
Various Oxford University Press editions over the years have ensured return appearances for this best-loved, irrepressible supergirl so that youngsters can enjoy Pippi's mischievous escapades and her addictive warmth and joie-de-vivre which never fails to enchant youngsters of every age.
In Pippi Longstocking Goes Aboard, first published in Sweden in 1946, we join Pippi at Villa Villekulla where she lives with a horse, a monkey, and a big suitcase full of gold coins. Pippi and her friends, Tommy and Annika, have the best time together, going to the fair, buying ALL the sweets in the sweet shop, and getting shipwrecked for the weekend. But the fun might stop all too soon if Pippi agrees to go back to sea with her father.
A glorious celebratory tribute to the strongest girl in the world in her 75th anniversary year, and a magical introduction to the weird and wonderful world of Pippi!
(Oxford University Press, hardback, £20)
Katherine Woodfine and Lizzy Stewart
Tchaikovsky's two-act ballet, The Nutcracker, which was first performed in St Petersburg in 1892, has become a perennial favourite… but it wasn't always the case.
Following that first performance, the ballet received mixed reviews from the critics but, after Walt Disney used some of the Nutcracker music in his animated film Fantasia in 1940, it became one of the best-loved ballets of all time.
And now young readers can discover the true story behind the ballet in this gorgeous picture book which has been beautifully retold for younger readers by Lancaster author Katherine Woodfine and brought to life by the dazzling illustrations of Lizzy Stewart.
The story of The Nutcracker is loosely based on the E.T.A. Hoffmann fantasy story The Nutcracker and the Mouse King and features a student ballerina called Stana who befriends a nutcracker that comes to life on Christmas Eve and wages a battle against the evil Mouse King.
Set in a snow-covered St Petersburg, here we meet Stana at Christmas time as her dreams have finally come … she has been chosen to play Clara, the lead role in Tchaikovsky's new ballet, The Nutcracker. But with all eyes looking at her, can Stana overcome her nerves, forget her haunting nightmare about the evil Mouse King and dance like she has never danced before?
This sumptuous and magical retelling – accompanied by pages of full colour illustrations and gorgeous double-page spreads – transports young readers on a journey far beyond the page and behind the wings of one of the world's most famous ballets.
A dream read for all young ballerinas!
(Simon & Schuster, hardback, £14.99)
David Roberts' Delightfully Different Fairytales
David Roberts and Lynn Roberts-Maloney
Over the last ten years, renowned illustrator David Roberts and his author sister Lynn Roberts-Maloney have sold nearly 60,000 copies of their delightfully different fairy tale series… and it's easy to see why!
The talented siblings have teamed an imaginative, highly original and captivating twist on classic stories with galleries of richly detailed illustrations which hark back to days gone by, or whizz forward a thousand years to a world of robots and flying saucers.
And now this stunning treasury of fairy tales with a difference – feminist, sparky and set in different decades of the 20th century – with glorious illustrations of funky clothes and recognisable settings, is set to be a very special gift this Christmas.
This beautifully produced and stylish collection of familiar fairy tales includes a feminist Sleeping Beauty, set in the 1950s (and 2950s), in a story populated entirely by women and girls (no princes needed here!), a groovy 1970s Rapunzel whose friend plays in a rock band, and a 1920s-set art deco Cinderella with flapper girls and a fashion-conscious fairy godmother.
Children will love the retro charm of Lynn Roberts-Maloney's enchanting and stylish reworkings while David Roberts' charismatic illustrations bring visual life and vigour to stories packed with danger, daring, humour and adventure.
Feminine power, unbreakable friendship, loyalty, drama and emotion all take leading roles in this unforgettable compendium and visual and verbal storytelling magic.
(Pavilion Books, hardback, £12.99)
Little Audrey's Daydream: The Life of Audrey Hepburn
Written by Sean & Karin Hepburn Ferrer and illustrated by Dominique Corbasson & François Avril
Long before film and fashion icon, and global humanitarian ambassador Audrey Hepburn became one of the world's most famous women, she dreamt of becoming a ballerina amidst the harsh realities of wartime Europe.
And now young readers can capture her spirit of determination and hope in difficult times in Little Audrey's Daydream, a dazzling and empowering picture book written by her son and daughter-in-law, Sean and Karin Hepburn Ferrer, and evocatively illustrated by François Avril and the legendary Dominique Corbasson who died in 2018.
British-born Audrey Hepburn, who died in 1993, was ranked by the American Film Institute as the third-greatest female screen legend in Golden Age Hollywood, and was inducted into the International Best Dressed List Hall of Fame, but she was also awarded the US Presidential Medal of Freedom in recognition of her work as a UNICEF Goodwill Ambassador.
And following in the footsteps of his mother's incredible humanitarian legacy, Sean Hepburn Ferrer and his wife Karen are donating all of their author proceeds from the book to EURORDIS, the Voice of Rare Disease Patients in Europe.
A beautiful, personal introduction to the life of Audrey Hepburn, this extraordinary story unfolds during her childhood in Holland, where her happy life of ice-skating and dancing changes with the harsh realities of the Second World War. Facing dire circumstances during the Occupation, Audrey and her family often don't have enough to eat but despite the challenges, Audrey never loses hope that her dreams can still come true and when the war ends, her real-life story of fame, family, and charity work unfolds.
Wonderful and whimsical, Little Audrey's Daydream is the perfect gift for all Audrey Hepburn fans, and a beautiful introduction to her amazing life for younger readers.
(Princeton Architectural Press, hardback, £14.99)
Jonny Marx and Lindsey Sagar
Here's a pea-super treat for little ones hungry for Christmas!
Jonny Marx provides the romping rhyme and Lindsey Sagar adds the sweet and tasty illustrations for a cracking Christmas countdown story that will delight young learners who are just beginning to practise their numbers.
Follow five excited little festive peas who can't wait to celebrate the countdown to Christmas and along the way enjoy merry peep-through pages, touchy-feely 'pea' board pieces and a feast-of-fun finale.
Perfect for reading aloud as Christmas celebrations reach boiling point!
(Little Tiger Press, board book, £6.99)
Can You Find Santa's Pants?
Becky Davies and Alex Willmore
It's almost Christmas but one thing is missing… Santa's underpants!
The festive season is 'pants' for Father Christmas in Becky Davies and Alex Willmore's bare-cheeked picture book which is packed with merry rhymes, mistletoe and mischief.
It's Christmas Eve, and Santa is putting on his snuggly red suit. But hang on... where are his pants? He can't deliver Christmas with a bare bottom! Youngsters will love searching through mountains of toys and piles of presents to find Santa's underwear and save Christmas.
Davies' Christmas cracker caper springs to glorious life as Willmore works his magic with his picture perfect gallery of gigglesome characters and anarchic antics. The perfect gift for your own little mischief-makers!
(Little Tiger Press, paperback, £6.99)
The Snowiest Christmas Ever!
Join a family of bears as they discover that getting snowed in is the best fun ever!
Author and illustrator Jane Chapman is on top form in a clever, cute and comical picture book that is ideal for the run-up to the Christmas season.
It's Christmas time and snowflakes swirl around the bears' cosy cabin. 'Yippee!' cheer the bear cubs. 'More snow! More snow!' Little cub Button wishes that it would snow forever and sure enough, the snow gets deeper… and deeper. But soon it's right up to the windows and Button starts to worry that her wish was a big mistake. Will it ever stop?
Filled with Chapman's warm and evocative illustrations, cute characters and humorous, fun-filled storylines, this is a reassuring celebration of wintertime, family life, and the loving hugs of a parent.
An affectionate and madcap story will delight readers both young and old.
(Little Tiger Press, paperback, £6.99)
Mandy Archer and Chris Jevons
Santa Claus is coming to town… or is he?
It's Christmas Eve, songs are echoing down the hall and a little Mouse is looking everywhere for Santa! There are partygoers popping up all over the place but still no sign of Santa. There's only one place he should be if he wants Santa to bring his presents… fast asleep!
With over 40 intriguing flaps to lift, Mandy Archer's enchanting rhyme, Chris Jevons' adorable illustrations, and a super-surprise ending, this funny, festive board book is brimming with atmosphere and charm… and while not guaranteed to keep children asleep, will certainly keep them entertained for hours.
(Little Tiger Press, board book, £8.99)
The Night the Reindeer Saved Christmas
Raj Kaur Khaira and Kasia Nowowiejska
If you always imagined reindeers used their 'manpower' to pull Santa's sledge, you'd better think again.
Find out how Santa Claus met his team of decidedly female reindeer in a funny, festive and feminist picture book from the top team of author Raj Kaur Khaira and illustrator Kasia Nowowiejska.
Full of fun, some fascinating facts and a diverse cast of characters, The Night the Reindeer Saved Christmas was inspired by the little known fact that Father Christmas's reindeer are female, as only female reindeer keep their antlers during the winter.
It's almost Christmas Eve and the rockets on Mr Claus's sleigh have exploded! With just hours to go, Mr Claus sets out to find a creature that can help him deliver Christmas gifts across the world. The polar bears are strong, but they're too sleepy. The narwhal whales are fast, but the presents get too wet. The reindeer might just be the perfect creature to help, especially when Mr Claus discovers that the females with their antlers have a secret... they can fly!
Packed full of Nowowiejska's brilliantly busy and brightly coloured illustrations, this charming picture book is not just a happy Christmas celebration but a perfect example of how female power can often fly in the face of seemingly insurmountable odds.
(Studio Press, paperback, £6.99)
Who Said Merry Christmas?
Who put the ho ho ho into Christmas?
Enjoy a board book full of festive guessing games and touchy-feely magic as illustrator Yi-Hsuan Wu has fun with a cast of adorable characters.
Did Mrs Claus say tweet and did the snowman roar? Little ones will love solving the mystery as they lift the peep-through flaps and touch the pages to find out which Christmas character really makes each noise.
With funny pairings, touchy-feely pages and a surprise mirror ending to put little readers in focus, this gorgeous book will be a hands-on hit in the run-up to Christmas!
(Little Tiger Press, board book, £6.99)