Fabulous fowls, a storm heroine and life in the Stone Age By various authors - book reviews -
Discover the amazing pecking order of the wonderful world of chickens, join a girl on a thrilling rescue at sea, discover everyday magic in a strange place called Little Snoddington, and step back in time nearly 20,000 years with a springtime selection of new children's books.
Wednesday, 7th April 2021, 3:45 pm
Updated
Thursday, 8th April 2021, 11:25 am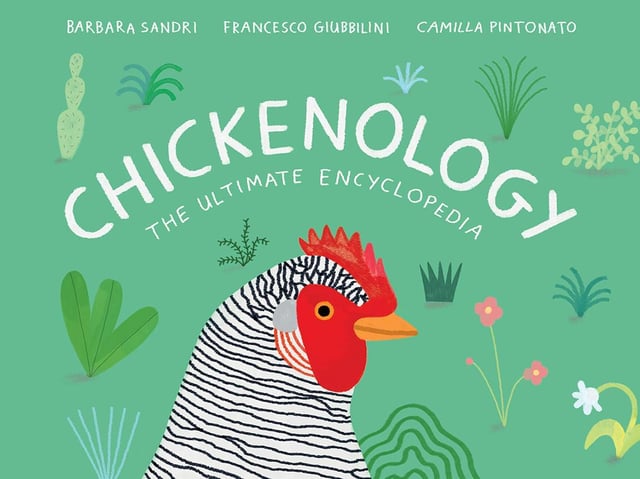 Chickenology: The Ultimate Encyclopedia
Chickenology: The Ultimate Encyclopedia
Barbara Sandri, Francesco Giubbilini and Camilla Pintonato
To some they are simply creatures that peck around farmyards and lay the eggs we love… but chickens have their own pecking order and come in all sizes, colours, personalities and temperaments!
Welcome to the wonderful world of chickens in a brilliant and innovative book that explores the surprising diversity and charisma of one of the most familiar and universally loved birds that grace our planet.
Authors Barbara Sandri, Francesco Giubbilini and Italian illustrator Camilla Pintonato work their chickenology magic on this fascinating and informative tour of all things chickens and eggs (not necessarily in that order!)
Discover the incredible variety of chickens with different origins, breeds, and feather patterns, delve into chicken anatomy and evolution, and even learn the basics of chicken care as youngsters and grown-ups meet a host of feathered friends.
Did you know some chickens are so small they can perch in the palm of your hand, and others have feathers that look like a beard? Chickens can learn to count up to four and have excellent hearing… many even like to listen to music!
Chicken feathers, meanwhile, can feature many colours, shades, and geometric patterns. Plus, chickens don't need a raincoat… their feathers protect them from the cold and water, even in the middle of winter.
And chickens make many different noises. The henhouse is never a peaceful, quiet place: hens, roosters, and chicks can make lots of different noises, depending on their sex, age, situation, and what they want to communicate.
Meet the Sebright, one of the most elegant, most suave chickens, thanks to its fine white feathers edged in black. This small breed of chicken is named after the nobleman Sir John Saunders Sebright who managed to create the crossbreed in his splendid Besford Court in Worcestershire.
The Silkie is a very old breed, characterised by black skin and the silky feathers that give it its name… they look more like cat's fur than chicken feathers. And Silkies have good protective instincts and trust humans, so much so that today they are often chosen for hen-therapy projects.
And Ayam Cemani chickens are black from tip to toe, as indicated by their name in Javanese. Their eyes, comb, ear, wattles, and even their internal organs and skeleton are black. In popular Indonesian tradition, they symbolise healing and are even said to possess supernatural powers.
With a playful text and enchanting illustrations by rising star Pintonato, this quirky, visual and comprehensive encyclopedia presents chickens in their perfectly feathered glory!
(Princeton Architectural Press, hardback, £14.99)
Can one young lighthouse girl help to save the crew of a boat one stormy night at sea?
Author, filmmaker and animator Peter Bunzl, whose award-winning Cogheart series won an army of young fans, makes a spectacular debut for much-loved publishers Barrington Stoke with a thrilling and truly magical adventure story inspired by the stories of real-life heroines.
Bunzl looks to the real Grace Darling of the Farne Islands off the coast of Northumberland, and a girl called Ida Lewis of Rhode Island in America, who both risked their lives in daring sea rescues in the 19th century, as his springboard for this terrific tale of magic and myth.
Deryn's father is the lighthouse keeper on Featherstone Island, keeping the lantern lit to protect passing boats from the treacherous rocky coastline.
But when an emergency arises and her parents have to travel to the mainland for help, Deryn is left alone to keep watch over the lighthouse, and she finds herself in a terrible situation when the lamp runs out of oil during a wild storm.
With a fishing boat in peril on the sea, and time running out to rescue those on board, Deryn seeks help from an unusual source. Will she be able to keep the lantern lit through the dark, dangerous night?
Illustrated by Anneli Bray, and with cover artwork by Evan Hollingdale, Featherlight is a moving, mystical story which blends fantasy, folklore and history and is set against the compelling backdrop of churning seas, amazing nature and breathtaking heroism.
A stunning and atmospheric tale from a master storyteller…
(Barrington Stoke, paperback, £6.99)
Everyday Magic: The Adventures of Alfie Blackstack
Welcome to a strange place called Little Snoddington where nothing is normal, life is full of mischief… and every day is magic!
Award-winning author Jess Kidd has turned her talented hand to children's books and come up with a debut middle-grade adventure that will have youngsters gasping, groaning and giggling with delight as an orphan boy and his friend takes on the might of a cunning coven of witches.
Nine-year-old Alfie Blackstack's parents have met a very unfortunate end… his zookeeper mother was eaten by a lion and his ornithologist father disappeared in a leaky boat. Now he's living in the super creepy Switherbroom Hall with his mad-haired Aunt Gertie and warty Aunt Zita. But the thing is, Alfie's aunts aren't just weird… they're witches!
When the circus arrives in town, lonely Alfie makes his first ever friend, the fearless Calypso Fagan. But when Calypso's little sister Nova disappears, they must face the terrifying Head Witch in a race to find Nova and stop the next Witch War.
Expect circus tricks and action galore, mystery, suspense, and a madcap cast of characters – including familiars, imps, ghosts, and good and bad witches – as Kidd delivers a joyful escapade full of word play, friendship, and a totally bewitching brand of black magic.
Ideal for fans of The Witches, Nevermoor and Lemony Snicket…
(Canongate, paperback, £6.99)
24 Hours in the Stone Age
Lan Cook and Laurent Kling
Have you ever wondered what it would be like to live in the long-ago Stone Age?
Well now you can step back in time nearly 20,000 years in the pages of a brilliant new book from Usborne, one of the world's leading independent children's book publishers with a remarkable track record of innovative, creative and informative titles.
24 Hours in the Stone Age lets youngsters learn fascinating facts about daily life for cave-dwellers through Lan Cook's easy-to-read adventure-packed story and Laurent Kling's colourful, child-friendly, comic book-style illustrations.
With Auri, a young cave-dweller, as our guide, youngsters find out how to start a fire, build a shelter and make stone tools, how cave art was created, discover edible plants like rosehips, wild garlic, nettle leaves and elderberries which could be found in the wild, and come face-to-face with some of the dangers of everyday Stone Age life… not least cave wolves, hyenas and woolly mammoths!
Written in consultation with leading experimental archaeologist, Dr James Dilley who specialises in prehistoric technologies, 24 Hours in the Stone Age is the first in a new series and is the perfect fun and informative book to spark children's curiosity.
With a helpful glossary and index at the back, and colour, adventure and discovery on every page, there could be no better introduction to life in the Stone Age.
(Usborne, hardback, £7.99)
Leo's Map of Monsters: The Spitfang Lizard
Kris Humphrey and Pete Williamson
If there are any reluctant readers out there looking for an easy-read, thrilling adventure, then book in to Leo's epic fantasy world!
Imaginative author Kris Humphrey and top flight illustrator Pete Williamson have teamed up for this exciting series starring a hero boy on a mission to guard his village from monsters and it's proving to be a monstrously good read.
It's Leo's job as the Guardian's apprentice to protect the village from the monsters that lurk in the surrounding forest. Whenever a monster gets too close to the village walls Leo must venture out, using his slingshot of magical stones and magical map to first find the monster and then do battle with it.
In his new adventure, Leo has to track down a deadly Spitfang Lizard before it reaches the village. He is given one piece of advice… first they spit, and then they bite. And if a Spitfang's throat swells up… run!
There's action, fun and intrigue on every page of this brilliant story as Humphrey and Williamson unleash their imaginative skills on a series that retains a warm heart throughout and offers some fascinating facts in the back of the book.
Spiffing Spitfang reading!
(Oxford University Press, paperback, £6.99)
Buck 'n' Bronco Hit the Road
Meet two theme park mascots on the hunt for a new home in a hilarious Wild West romp from comic genius and award-winning author Guy Bass.
Youngsters are guaranteed a laugh-a-minute tale as Bass and his illustrator team-mate Steve May combine their talents for a terrific adventure packed with the author's trademark puntastic one-liners and May's glorious gallery of madcap characters.
Buck 'n' Bronco are mascots at the Happy Ranch theme park and it's their mission to 'Bring the Happy' to your day! But when Happy Ranch is demolished to make way for a futuristic new park, Buck 'n' Bronco find themselves without a home and without a job.
While Buck thinks it's time for them to spread their wings and take the show on the road, Bronco wants nothing more than for their life to be exactly as it was. They head out on the road, determined to prove they have still got what it takes but are they doomed to be yesterday's mascots?
Buck 'n' Bronco Hit the Road – a high-energy, gigglesome adventure packed with as many twists, turns and loop the loops as the Rockin' Roller – comes from innovative publisher Barrington Stoke and is produced in a super readable format especially suitable for struggling, reluctant or dyslexic readers.
With heartwarming themes of friendship, mutual support, shared adversity and the importance of being prepared to embrace change, Bass and May's inspirational and anarchic comedy hits the spot perfectly for readers young… and not-so-young!
(Barrington Stoke, paperback, £6.99)
The Best Ever Book of Funny Poems
'A good laugh heals a lot of hurts,' wrote American author Madeleine L'Engle, so forget the cares of the pandemic and tickle your funny bone with this brilliant collection of poems.
The Best Ever Book of Funny Poems is a brilliantly amusing anthology of the most giggle-worthy children's poems from one of the nation's most celebrated children's poets, Brian Moses, who spends much of his time visiting schools, running workshop sessions and performing his poetry.
Explore chucklesome poems about pets, funny creatures, school, family, fantasy and fairy-tales, dinosaurs and dragons, space… and some wonderful poems that are just plain SILLY!
With poets such as Brian Bilston, Sue Hardy-Dawson, Pie Corbett and Paul Cookson next to Liz Brownlee, Mike Jubb, James Carter and Rachel Rooney, this is the ultimate hysterical collection of rib-tickling poems that are perfect as a gift and guaranteed to make you laugh out loud.
(Macmillan Children's Books, paperback, £6.99)
Lauren Ace and Jenny Løvlie
The journey of four boys from childhood to adulthood becomes a tale of friendship, sharing and self-discovery in a beautiful picture book from the creators of the Waterstones Children's Book Prize winner, The Girls.
Lauren Ace, who has worked in publishing for ten years, and illustrator Jenny Løvlie combine their talents once again for a resonant story about the wonderful adventure of life and the close and lasting bonds we form along the way.
Four boys meet by the sea... Rey, Nattie, Bobby and Tam splash together in the water and play on the shore. They all have different ways of expressing themselves and as they grow up, they hold on to their friendship. As we follow their journeys from boys to men, they take different paths. But even if their friendships are occasionally put to the test, they listen to and support each other no matter what.
With its diverse cast of characters, Løvlie's exquisitely detailed illustrations to enjoy, and Ace's warm and emotional story, this is the ideal companion book to the prize-winning The Girls and the perfect gift to inspire both children and adults.
(Caterpillar Books, hardback, £11.99)
Wendy Meddour and Carmen Saldaña
Who needs to be the best when you're loved whoever you are?
Award-winning author Wendy Meddour and illustrator Carmen Saldaña use a cute and colourful gecko as the star of a clever and eye-catching picture book which aims to make youngsters think as well as smile.
Howard thinks he's the most exceptional creature in the rainforest… that's because no other creature is as exceptionally camouflaged as him! But when he learns that the rainforest is full of other camouflaged creatures, he begins to wonder… 'Who will like me if I'm just… an average gecko?'
Thankfully Howard meets Dolores (another average gecko) and he discovers that you don't have to be exceptional to be loved… and those that love you will never think you're average at all.
Saldaña, who loves animals and is inspired by everything in nature, puts vibrancy, colour and character into Meddour's heartwarming tale.
With plenty of rich detail to spot on every page and an entertaining introduction to other camouflaged creatures, this captivating story uses humour to boost children's self-confidence and aid their well-being.
(Oxford University Press, paperback, £6.99)