Dark magic, a football mad girl and a fox called Finney By various authors - book reviews -
Escape into a fantastical world of self-discovery, head off to the turquoise seas of Zanzibar, meet a football-mad girl in a race against time, and enjoy a funny, foxy tale with a star player named after Preston football legend Tom Finney in a springtime collection of children's books.
Monday, 1st March 2021, 12:30 pm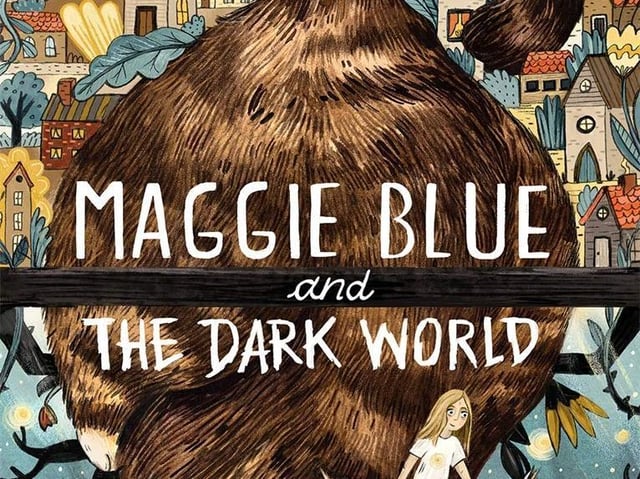 Maggie Blue and The Dark World
Maggie Blue and the Dark World
Finding light in a dark world has never been more relevant than it is today and Anna Goodall's coruscating middle-grade debut novel burns brightly for youngsters struggling to cope with the pandemic.
Inspired by her interest in animals (including talking ones!), other worlds, families and friendship, Goodall delivers a thrilling and thought-provoking story starring a troubled, angry 12-year-old girl thrust into a terrifying adventure and discovering the power of friendship, courage and simply being yourself.
Maggie Blue is an outsider, both at home and at school, and has always been happy to stay under the radar. The only people who seem to notice her are her eccentric aunt Esme, with whom she lives, and the carefree, gorgeous Ida, the school bully who takes great pleasure in being mean to Maggie.
Maggie's only friends are the irascible Hoagy, a stray cat who can talk to her, and Miss Cane, the new guidance counsellor at school, who shows Maggie some rare kindness. But then Ida disappears and, despite an extensive hunt, no one seems to know what happened to her… well, nobody except Maggie.
Maggie followed Ida into the woods and saw the girl being taken through a window into another world by Miss Cane, the counsellor, who has transformed into a wolf. Knowing that people won't believe her story, Maggie is determined to save Ida, whatever the cost.
With only Hoagy and his sarcasm for company, Maggie finds herself entering a dark world full of danger, a place where happiness is a commodity which can be stolen from people to be used as currency, and to which Maggie is connected in a way she never believed was possible.
There is a tangible current of emotion coursing through this thrill-a-minute, fast-paced story as the lonely, lost and lovely Maggie's adventure in the chilling, mercenary Dark World becomes a journey of self-determination and self-discovery.
The baddies are super-bad and the whole cast of characters are magical and fantastical as Goodall spins out a ripping yarn that proves to be as bizarre as it is beautiful, and which cleverly explores the devastating impact of greed and cruelty on society.
With the grumpy, one-eyed Hoagy providing the wit, humour and much-needed friendship to courageous Maggie, and a stunning cover illustration by Sandra Dieckmann, this is the perfect gift package for every child that craves an all-round, cracking adventure story!
(Guppy Books, hardback, £12.99)
Wilbur Smith with Chris Wakling
Head off to the white beaches and turquoise seas of Zanzibar with a daring teenage boy as the master of adventure, Wilbur Smith, delivers the second book of his all-action Jack Courtney Adventure series for middle-grade readers.
Thunderbolt once again stars the youngest member of the world-famous Courtney family which has been at the centre of 88-year-old Smith's novels since 1964, chronicling their lives from the 1660s through to the 20th century.
The series, co-written with author Chris Wakling, was inspired after Smith saw the action being taken by young people in the battle against climate change and this fantastic new adventure asks questions about conservation, child soldiers and modern-day pirates as well as addressing the timeless themes of love, betrayal and family which are the hallmarks of his novels.
Fourteen-year-old Jack and his friends Amelia and Xander are in Zanzibar diving for lost treasure to support Jack's mother's coral protection project. Going further than usual on their last day, their dive boat is lured into a trap and captured by Somali pirates.
Determined that his mother shouldn't pay a ransom for their release, Jack won't give up his attempts to escape. Transferred to a militia training camp for boy soldiers, the trio's only hope is the resourceful Somali boy Mo who befriends them.
Can they outwit the ruthless General Sir and his merciless troops in this gripping, nail-biting, and danger-filled adventure?
Smith and Wakling are on top form as they bring young readers an exciting and powerful story brimming with fast-paced action, unexpected twists and turns, an extraordinary backdrop and a cast of extraordinary characters.
Another Wilbur Smith classic for a new generation…
(Piccadilly Press, paperback, £6.99)
The Dog That Saved the World (Cup)
Phil Earle and Elisa Paganelli
A four-legged friend, a football-mad girl and a quest to save the world (cup)… there could be no better way to kick off an adventure story!
Much-loved, down-to-earth author Phil Earle and illustrator Elisa Paganelli work their special magic on a moving story about a girl whose life is marked by poverty but who is determined to beat the odds and achieve her longed-for goal.
The only thing that Pickles the dog loves more than football is his best friend, and owner, Elsie. She's smart, kind, funny and AMAZING at football… even though she's not as good as Pickles because she hasn't got four legs!
But even though Dad works hard to provide for them, life off the pitch is tough. It's their team of three against the world and right now it feels like their side is losing. With the announcement that the World Cup is coming home to England and that Elsie's team might have the chance to play in a half-time match at Wembley Stadium, it's the happiest they've ever been.
But when disaster strikes, their dreams are shattered and it looks like it's up to Pickles to save the world (cup)…
There is so much to enjoy in this inspirational, uplifting and insightful story which is published in Barrington Stoke's trademark dyslexia-friendly format.
And with Pickles the dog narrating, a feisty young female star who is on the ball in more ways than one, an honest and sensitive exploration of poverty and homelessness, all crowned by Paganelli's beautifully emotive artwork, this is the perfect read for both regular and reluctant readers.
(Barrington Stoke, paperback, £6.99)
Flyntlock Bones: The Eye of Mogdrod
Derek Keilty and Mark Elvins
Ahoy, me hearties… get ready to hoist the mainsail and climb aboard a ship full of pirates charting a course to danger and mayhem!
Youngsters will adore this super, swashbuckling comedy adventure from the top team of author Derek Keilty and illustrator Mark Elvins as they set sail with the second riotous instalment of a seafaring trilogy.
Starring a gallery of wonderfully anarchic characters, a vividly imagined world of raucous pirates, and two budding young investigators determined to solve every mystery that comes their way, this is a glorious mix of detective work, danger, slapstick fun and outstanding illustrations.
So welcome back to the Black Hound… a ship full of the cleverest pirate investigators you ever set eyes upon.
A priceless golden chalice has been stolen from Fergus McSwaggers, fearsome chief of the squelchy Bog Islands... and he wants it back! Can cabin boy Flynn, Red, the girl rigger who also happens to be Flynn's friend, and the unruly crew of the Black Hound solve their most dangerous case yet?
First they will have to battle deadly ice pirates, outsmart squabbling clans, and face the scariest beast of all the Seven Seas… the monstrous, cat-like Mogdrod!
Expect thrills, mystery, lots of pirate talk and madcap adventures as this exciting writing and illustration team hit the high seas with waves of laughter, a deck full of comedy characters, and a barrel-load of grog and salty giggles!
(Scallywag Press, paperback, £6.99)
Toto the Ninja Cat and the Mystery Jewel Thief
Dermot O'Leary and Nick East
Head off for mischief and mayhem with a magical moggie who sleeps all day and fights crime at night!
Popular TV broadcaster Dermot O'Leary returns with his amazing ninja cat, Toto, for another gigglesome, gob-smacking adventure starring the feline heroine who was inspired by two stray cats rescued from an olive grove in Italy by O'Leary and his wife.
'One of them, Toto,' he reveals, 'has been blind from birth, but we quickly realised she had ninja-like reactions. Like a lot of cat owners (or cat servants), we like to imagine our pets having secret lives when we're out or asleep. So before I knew it I was writing about Toto and her brother Silver's nocturnal adventures around London.'
And following on from Toto's hit adventures, The Great Snake Escape, The Incredible Cheese Heist and The Superstar Catastrophe, O'Leary and illustrator Nick East are back with another terrific tale starring the fearless feline and her long-suffering brother Silver.
The cats live in a townhouse in London. Toto is almost totally blind, and learned to trust her senses from a ninja cat-master who taught her back in Italy where they were born. By day, Toto and Silver seem to be ordinary cats, but by night, they love to have adventures.
Toto and her friends are due to be looking after the French ambassador on a day of sightseeing, finishing at the Tower of London to see the animal world's crown jewels: a sacred diamond cat collar. But when they arrive, the collar has disappeared and, what's worse, it looks like Toto's boss Larry is responsible, with Toto as his accomplice!
Toto is almost arrested, but she escapes to try and get to the bottom of the mystery and clear her name.
With lots of laugh-out-loud moments, reassuring and gentle themes of friendship, inclusivity and winning in the face of adversity, and East's gallery of hilarious black and white illustrations, this is ideal for newly confident readers to curl up with or reading aloud with parents.
Animal magic for all the family!
(Hodder Children's Books, paperback, £6.99)
Funny Bums, Freaky Beaks and Other Incredible Creature Features
Alex Morss, Sean Taylor and Sarah Edmonds
Celebrate the amazing diversity of life on Earth – and some of the remarkable creatures that exist on our planet – in this exciting, fully illustrated compendium.
From puzzling toes to weird ears and odd noses to extraordinary eyes, the most unusual and unexpected body parts of the animal kingdom are explored through a humorous, accessible narrative and the stunning illustrations of Sarah Edmonds, a freelance illustrator on projects with publishers, museums, national parks and charities.
Marvel at the long pointy noses of giant elephant shrews, take a close look at the gecko's wrinkly toes with their hundreds of folds, laugh at the eastern spotted skunk with the smelliest bum of all, and admire the mass of wrinkles on the neck of a wild turkey.
These weird and very individual body parts might seem strange to us humans but, we learn, they are just perfect for the needs of this intriguing array of stars from the natural world.
Written by Alex Morss, an independent ecologist, journalist, and campaigner, and author, poet and playwright Sean Taylor, this beautifully created and visually dynamic book carries important messages that everybody and everything is strange and wonderful in its own way, and that difference should be celebrated.
With a section on how to help wildlife near your own home, and what can be done to protect the world's endangered species, this charming book is the ideal gift for young readers who love nature, wildlife and are curious about Earth and its most off-beat creatures.
(Welbeck Children's Books, hardback, £12.99)
Simon Philip and Sheena Dempsey
Just because you look ordinary doesn't mean you ARE ordinary…
Dive into another spellbinding outing with the wizardly and wonderful Fred whose extraordinary adventures (and misadventures!) are providing kids with the last laugh when it comes to mixed-up magic!
Full of the wit and anarchy of comedy king Simon Philip, and with a glorious gallery of black and white illustrations by Dave Pigeon's Sheena Dempsey to add to all the knockabout fun, the third book in this Wizarding Wonder series is sure to tickle the funny bones of all young readers.
Fred may look ordinary, but sometimes people who look ordinary turn out to be not very ordinary at all… because it just so happens that Fred is a wizard. The only problem is that Fred is totally, absolutely, mind-boggingly terrible at magic!
In his new adventure, Fred is invited to stay at the world-famous Magic Camp for Wizards of Astounding Genius, which has to be a mistake, surely? Will being surrounded by incredible magicians make Fred's rubbish spells look even worse, or will he discover he has more tricks up his sleeve than he realises?
If your youngsters like Harry Potter, Ben Miller and Steven Lenton, this madcap magical adventure is sure to be a perfect fit on their bookshelves… but prepare for guffaws galore as they tuck into a feast of frantic antics and magical mayhem!
(Simon & Schuster, paperback, £6.99)
Alana Washington and Charlotte Caswell
If it's a funny, foxy tale you're after, meet Finney who's simply bursting with great ideas!
Youngsters needing some writing inspiration should look no further than this prize-winning picture book which stars a fox named after Preston North End football legend, Sir Tom Finney, and comes from the flourishing stable of UCLan Publishing which involves publishing students from the University of Central Lancashire at every stage of the process.
Finney's Story – which also gives a nod to the publisher's logo – was created by author Alana Washington and Blackpool illustrator Charlotte Caswell.
Finney the Fox wants to write a book and he has hundreds of ideas for his masterpiece. The only problem is that all his original ideas seem to have already been used. Or have they? With a little help from a friend, Finney sets out to find his own fresh and original story… and discovers that it's closer to home than he thought!
Children will love Finney's discovery that we are all uniquely different… and that we all have our own individual stories to tell. Packed with inspirational messages, laugh-out-loud humour and Caswell's bold, colourful and eye-catching illustrations, Finney's Story has a special brand of child appeal.
And with a QR code to access a free audio reading of the book by actress Sarah-Ann Kennedy, this is the perfect introduction to writing for the next generation of budding authors!
(UCLan Publishing, paperback, £7.99)
Helen Mortimer and Katie Cottle
A special friendship starts to buzz when two classmates discover that their families share a passion for bees.
Author Helen Mortimer and award-winning illustrator Katie Cottle combine their talents on a beautiful picture book which explores diversity, sustainability and the close bonds of inter-generational relationships.
When Omar brings in some honey cake that reminds him of his beekeeping grandpa in Syria, it gives his teacher an idea and soon the whole class is absorbed in making their town more bee friendly.
Meanwhile, Omar and Maisie, whose grandad also keeps bees, discover a shared family passion around bees as their friendship blossoms.
Alongside this gentle exploration of the importance of beekeeping, working for the whole community and making little wins for our big planet, Mortimer's enchanting story celebrates the joys of friendship and family.
With a gallery of beautifully created illustrations, fascinating facts on bees, and a mouthwatering recipe for honey cake to enjoy, this is learning, inspiration and entertainment in one clever, colourful package.
(Owlet Press, paperback, £7.99)
I Can Learn: My First Shapes Busy Day
Lauren Crisp and Thomas Elliott
Discovering shapes is hands-on fun with this innovative and interactive board book from Little Tiger Press's bright and bold I Can Learn series.
The series lets youngsters explore colours, shapes, counting and many other first concepts through special features such as tactile elements, sound buttons, and flaps, helping to reinforce learning and strengthen hand-eye co-ordination.
In this clever new book, tactile spinning discs encourage children to think, turn, and learn. By using the moving spinners, little ones learn about the shapes we see every day, and gain the skills and confidence to identify the same shapes that are found in other items.
Learning is fun when you make your own discoveries!
(Little Tiger Press, board book, £6.99)
Joy Cowley and Kimberly Andrews
Join a little boy as he follows a lyrical, lilting river journey to the sea from his home in the snow-topped mountains of Canada.
Joy Cowley, one of New Zealand's best-loved children's writers, sings out her story of a wonder-packed adventure through mountain waterfalls, creeks, river beds and industrial landscapes all the way to the salty winds and crying seabirds of the wild, blue and beautiful ocean.
Cam the mountain boy has always wanted to see the sea and one spring morning he decides to follows the river from its trickling source in the mountain snow all the way to the coast. The river leads him through forest, farms, and towns to the vast, endless sea.
Cowley's beautiful, melodic story – brimming with atmosphere and descriptive power – is exquisitely brought to life by illustrator Kimberly Andrews' dramatic evocation of a wonderfully contrasting North American landscape full of rich detail and muted, earth-toned colours.
A magnificent celebration of the spirit of adventure and the diversity of nature…
(Gecko Press, paperback, £7.99)
Schoolboy rabbit Simon discovers that having a new baby brother in the house is proving to be more of a worry than a joy!
Welcome to a another hilarious escapade starring Simon the cheeky rabbit… the cuddly creature who won everyone's heart in the bestselling Poo Bum, first book in a series which has proved a big hit all over the world.
The books are the work of US-born author Stephanie Blake whose passion for writing and illustrating began in childhood when she created books for her brothers and sisters as birthday presents. After moving to France, she discovered other writers and artists whose work continued to inspire her stories and drawings. She now is the author and illustrator of dozens of highly successfully books in France, many of them children's favourites.
In Blake's new rabbit adventure, there's a new baby in Simon's house and it's not making him happy. 'When's that stupid baby going back to the hospital?' Simon asks his parents. But the baby is there to stay… forever. Simon needs lots more hugs now but he is still scared about all the scary wolves outside the house, the wolves that want to eat him up. Will his parents still protect him now they have a stupid baby?
Blake's instantly recognisable bold and expressive illustrations will delight young readers and the funny, poignant story – which offers gentle reassurance that mums and dads love their children even when a new sibling arrives – is guaranteed to strike a chord with both children and parents alike.
(Gecko Press, paperback, £6.99)
Bear & Mouse: Birthday Party
Nicola Edwards and Maria Neradova
It's party time for best friends Bear and Mouse… and everyone's having fun!
Help your little one celebrate their birthday with this gorgeously illustrated and designed interactive board book which is part of a lively, interactive series from author Nicola Edwards and illustrator Maria Neradova.
With adorable illustrations and an enchanting text, these clever books introduce little ones to first experiences in a fun and friendly way and encourage them to join in the activities with Bear and Mouse by pushing slides and lifting flaps.
And here we find the pals celebrating a special day! It's Bear's birthday and Mouse is throwing a party with all their friends.
From the arrival of the partygoers and unwrapping the presents to blowing out the candles and waving goodbye, there is so much to share and learn along the way in this hands-on, birthday adventure!
(Little Tiger Press, board book, £6.99)