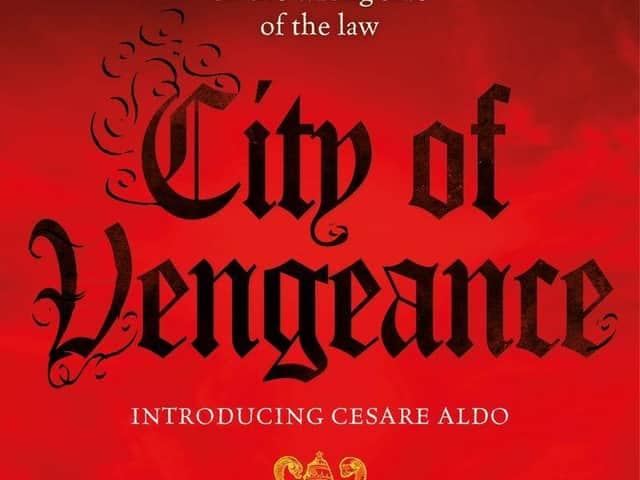 City of Vengeance
The busy, bustling streets of 16th century Florence are home to some of Europe's most lavish treasures, stunning artwork and dazzling palaces…
But there is also menace and danger on the narrow streets and ancient bridges, and criminal investigator Cesare Aldo is not afraid to peer into the city's darkest corners where corruption and death are only ever a heartbeat away.
If history, mystery and the eternal mystique of Renaissance Florence set your soul on fire then head back in time with an unmissable and atmospheric new historical crime series from one of this year's most exciting debut authors.
Harnessing his love affair with the golden city of Florence, some fascinating slices of real history, and a career as an award-winning screenwriter and TV dramatist, D. V. Bishop brings us a remarkable, sleuthing soldier for all seasons, and a world of excessive wealth, abject poverty, power and intrigue, all drawn with breathtaking precision and authenticity.
The shadowy figure at the heart of this thrilling new series is Aldo, a former soldier with the skills of an assassin and the sharpest of brains, who declares that he takes no pleasure from killing but accepts that sometimes it's 'necessary.'
Principled, competent and fiercely self-disciplined, Aldo is fearless in his pursuit of justice but he has a perilous secret that could end his career – and possibly his life – if it was ever revealed… Aldo is a homosexual.
In the bitterly cold winter of 1536, Cesare Aldo, an officer of the Otto di Guardia e Balia, Florence's most feared criminal court, is escorting Jewish moneylender, Samuele Levi, from Bologna back to the city state that they both call home.
The task for Aldo – a man who rarely rests because 'sleeping made men easy targets' – is to return Levi unharmed, and only the ex-warrior's wily skills ensure that he and his charge escape an ambush on the road by brutal robbers.
But Aldo is convinced that the attempted robbery was not a random attack and within hours of arriving back in Florence, Levi is murdered in his home…a death with wide and dangerous implications in a city powered by immense wealth.
Meanwhile, Aldo's fellow officer, Constable Carlo Strocchi, an honest man from a rural area still learning to 'tolerate' the city, is investigating the barbaric murder of Luca Corsini, a young man who dressed in women's clothes, was Aldo's informant, and who whispered Aldo's name before he died.
Aldo, who is convinced the two killings are linked, is given just four days to solve the murder of Levi and catch the assassin before the feast of Epiphany… or suffer the consequences. As he starts to investigate, Aldo uncovers a plot to overthrow the volatile ruler of Florence, Alessandro de' Medici, but there are those who don't believe him.
If the duke does fall, it will endanger the whole city but Meo Cerchi, a corrupt rival officer of the criminal court, is determined to expose details about Aldo's covert sexuality which could lead to his ruin.
Can Aldo find justice for murdered Luca Corsini, and stop the conspiracy before anyone else dies… or will his own secrets destroy him first?
Bishop's love and knowledge of Florence shine through in this first outing with the complex, cunning and compelling Aldo as our intrepid law enforcer is plunged into a seething, simmering web of lies, subterfuge, Medici politics and bitter rivalries.
And Aldo is certainly a man perfectly fitted for his time and his place… a resilient and relentless seeker of justice, whether that is in imposing villas and grand palaces, or the humble wooden homes and stinking alleyways of a vibrant city teeming with deadly ambitions and ruthless power brokers.
Written with a finesse and authenticity which augurs well for a series with all the hallmarks of historical fiction masters like CJ Sansom and Ken Follett, City of Vengeance delivers a trip to Florence that you won't forget!
(Macmillan, hardback, £14.99)