Christmas with the Teashop Girls By Elaine Everest: Warm-spirited and nostalgic world of wartime - book review -
As a wave of German bombing raids hit the south coast of England in autumn of 1940, the war is now dangerously close to home for staff at the Lyon's Teashop nestling on the seafront in Margate.
Thursday, 29th October 2020, 12:30 pm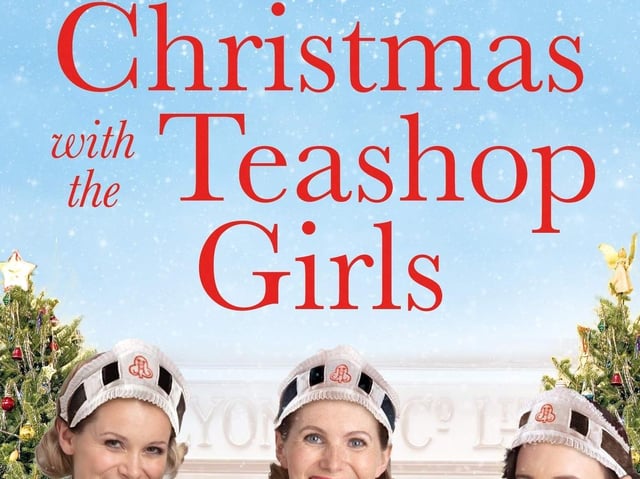 Christmas with the Teashop Girls
As a wave of German bombing raids hit the south coast of England in autumn of 1940, the war is now dangerously close to home for staff at the Lyon's Teashop nestling on the seafront in Margate.
For the three good friends who work as famous Nippy waitresses in the cafe, the war years are bringing changes which they could never have imagined when they grew up together in this corner of the Kent coast.
Welcome back to the dangerous but warm-spirited and nostalgic world of wartime so vividly imagined by Elaine Everest whose bestselling series, The Woolworths Girls and The Butlins Girls, have made her one of the nation's most popular saga queens.
Expect drama, secrets, romance and friendship as Everest, who grew up listening to stories of the war years in her home town of Erith, brings us a gripping Christmas visit to her Teashop Girls series which goes behind the scenes of the iconic Joe Lyon's teashops which were a familiar sight in many towns during the Thirties, Forties and Fifties.
These smart establishments were also noted for their neatly uniformed waitresses who were fondly known as 'Nippies' because of their speed as they moved around the workplace. And here we meet the three close pals from the Margate branch as they dig in for more heartbreak and hardships during the deadly Blitz.
In September of 1940, the ravages of war have reached across the Channel to the south coast of England but life and work goes on for manager Rose Neville and her staff at the Lyon's Teashop in Margate.
Despite the harsh realities of rationing, the Nippies do their best to provide a happy smile, a hot cup of tea and a small measure of normality for their customers but when another heavy bombing raid targets the Kent coastline, Lyon's is badly hit, throwing the future of the cafe into jeopardy.
The central figure in Rose's life is her dashing fiancé Captain Ben Hargreaves, and she and her mother Flora are making plans for the couple's Christmas Eve wedding. But Rose will also be taking on the care of two young step-daughters and she needs to get on the right side of her feisty and wealthy mother-in-law, Lady Diana McDouglas.
Meanwhile, Rose's close friend from the teashop, Lily Douglas, will soon be leaving hospital with her new baby daughter Mary but unmarried, and still not ready to reveal the identity of Mary's father, Lily may face tough times ahead.
However, there is a glimmer of light for Rose when her half-sister Eileen makes contact and it seems that Rose's dreams of having a sibling are coming true at long last. But Rose's friends begin to suspect that something is not right between Eileen and her husband… just what are they hiding?
As the Christmas Eve wedding draws near, the bombings intensify in Kent and London, putting everything and everyone Rose loves in danger. Only one thing is for sure… it will be a Christmas she never forgets.
Everest's festive-laced foray into the lives of Rose, Lily and Katie brings with it some moments of terrifying menace – and not just from the German bombing raids – but amidst all the uncertainty and surprises, both welcome and unwelcome, it's love, loyalty, family and friendship that will see them all through the darkest days.
With fears heightened for loved ones fighting overseas, and worries and personal dramas unfolding on the home front, this is a truly addictive story and, as always, local history and the community spirit which held people together is evoked with the warmth, rich period detail and superb characterisation that we have come to expect from this master storyteller.
A Christmas treat for all saga fans, and the perfect escape in the year of coronavirus.