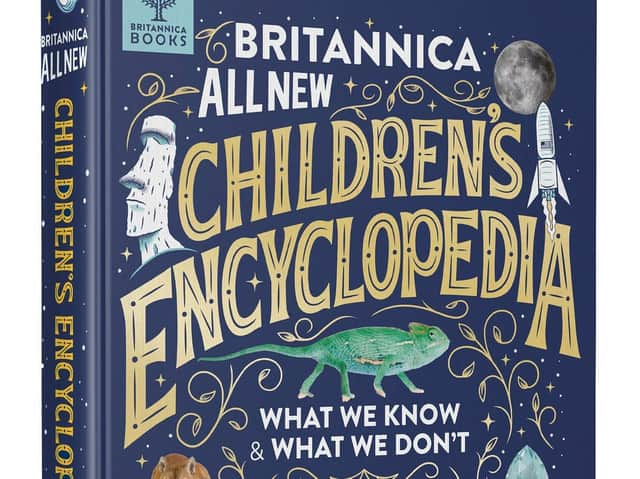 Britannica All New Children's Encyclopedia
In the 21st century, every child deserves to have knowledge at their fingertips… and that doesn't necessarily mean turning to the internet.
A book is a source of information that can be used, treasured and form an intrinsic role in any library collection, and no one knows that better than the team behind the famous Encyclopaedia Britannica, one of the world's most trusted sources of knowledge.
So what better than an encyclopaedia specially designed for children? Britannica Books is a new reference imprint for young readers, published in an exciting partnership between What on Earth Publishing and Encyclopaedia Britannica.
Their mission is to inspire children's curiosity and passion for learning, offering engaging non-fiction books that you can trust, with experts behind every page, and the Britannica All New Children's Encyclopedia is the first book to launch under the imprint, setting a new standard for exploratory learning, with stunning illustrations, depth of information and engaging and accessible content.
Whether it's Earth, space, animals, history or science you want to learn about, this beautifully designed, 416-page compendium of knowledge – edited by renowned author, lecturer and non-fiction storyteller Christopher Lloyd and with a foreword by J. E. Luebering, Editorial Director of Encyclopaedia Britannica – is a must-have addition to every family bookshelf and library collection.
With more than one hundred expert consultants from around the world, and over 1,000 images –including specially commissioned illustrations and stunning photography – this single-volume child-friendly encyclopedia takes Britannica's reputation for authentic, trustworthy information and brings it to a whole new audience.
Unlike old encyclopedias that are structured from A to Z, this book takes youngsters on a journey from the beginning of time to the present day, and even into the future! It explores a wide range of topics and is divided into eight chapters by subject… Universe, Earth, Matter, Life, Humans, Ancient & Medieval Times, Modern Times, and Today & Tomorrow.
Covering more than 170 topics, the experts bring together hundreds of astonishing facts that are guaranteed to captivate even the most digitally dependent children, while special features highlight some of the most intriguing facts and unsolved puzzles in science, archaeology, history and engineering.
And as well as providing a well-rounded and fascinating overview of what's known about each topic, the cutting-edge new approach also emphasises those aspects that are not yet known… mysteries that readers of the book could go on to solve in the future.
Simply bursting with facts and fun, the Britannica All New Children's Encyclopedia offers home learning for all the family to enjoy.
(Britannica Books, hardback, £25)