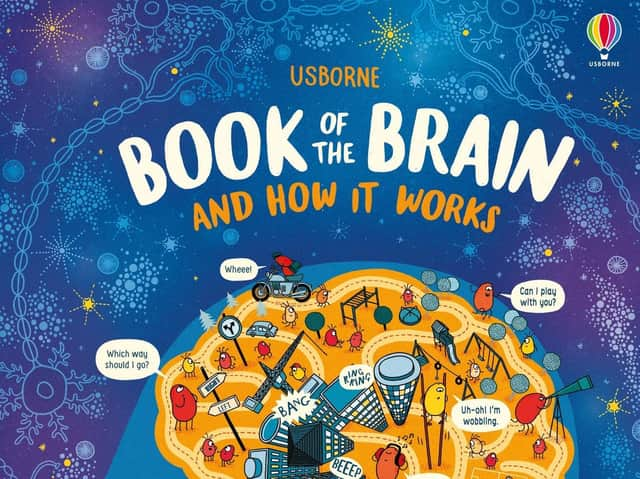 The Usborne Book of the Brain and How It Works
The Usborne Book of the Brain and How It Works
Betina Ip and Mia Nilsson
Did you know that your brain does 1,001 different jobs… and lots of them all at once!
Take a journey through your brain and discover its fascinating workings and capabilities – from helping you to sleep to enabling you to learn – in this fact and fun-filled book from Usborne, Children's Publisher of the Year 2020.
Author and neuroscientist, Dr Betina Ip, has taken the complex topic of how our brains work and made it both fun and accessible for younger children to help them understand brain function, whether that's recognising their emotions or learning how to look after their brains.
Using a visual, child-friendly concept and the stunning, full-colour illustrations of Mia Nilsson throughout, simple but beautifully illustrated metaphors are used to explain the different jobs that our brains do, and how they use brain cells to accomplish them.
From neurons, the senses and sleep to the memory store, making decisions, electrical messaging and the 'learning garden,' this book of easy-to-understand biology brings the wonder of brains and brain science to life.
A 'no-brainer' choice for home learning, school shelves… and curious youngsters!
(Usborne, hardback, £12.99)
Hélène Rajcak and Damien Laverdunt
If you thought palaeontology was as dry as old bones, then take a walk in the footsteps of the first fossil researchers and discover a vibrant prehistoric world!
This exciting large-format book is brimming with fascinating facts, all revealed through comic panels and full-page illustrations, and offering an extraordinary insight into the studies of palaeontology itself.
Discover the earliest animal life on Earth as you explore the story of a spiny sea worm without tail or head, a walking fish, a peaceful sea dragon, and the Archaeopteryx, the oldest ever bird whose fossilised discovery proved the link between birds and dinosaurs.
Both entertaining and informative, Fossils From Lost Worlds shows how science is a process of thinking and rethinking, questioning and learning. Through an illustrated timeline of animal reconstructions, important personalities and key discoveries, readers can track beliefs and theories that have brought our knowledge to where it is today.
With humour, elegant and richly detailed illustrations, a truly wonderful range of fossils and prehistoric creatures to enjoy, and an addictive sense of adventure throughout, this is learning made fun… and funny!
(Gecko Press, hardback, £14.99)
Lift the Flap First Questions and Answers: What is a Virus?
Katie Daynes, Dr Caitriona Cox and Kirsti Beautyman
As school gets back into full swing, it's important that even the youngest children understand how and why our lives have been taken over by a tiny germ that we can't even see.
In the new addition to Usborne Publishing's Lift-the-Flap First Questions and Answer series, authors Katie Daynes and Dr Caitriona Cox, a medic who combines clinical work with bioethics research, tackle the whole question of viruses in an accessible and reassuring way for children, parents, teachers and carers.
What IS a virus, how do viruses spread, why should everyone keep washing their hands, how does a vaccine work, and what can we do to stay well are just some of the frequently asked questions explored in this easy-to-understand, lift-the-flaps book.
All these questions and more are answered in a friendly, engaging and helpful way, accompanied by Kirsti Beautyman's quirky illustrations and all the fun of lifting the flaps.
Dr Cox says of the book, 'Science education is incredibly important across all ages, but helping children to make sense of the pandemic through understanding viruses is particularly vital.'
And this invaluable book is the go-to source of information… without causing alarm or concern in children.
(Usborne, board book, £9.99)
The Mystery of the Golden Pyramid
Adela Norean and Aaron Cushley
A talking dog, a jewelled casket and a quest for stolen treasure!
Mystery, excitement and adventure are never far away in this fabulous picture book – brimming with flaps to lift and holes to peep through – from the vivid imaginations of author Adela Norean and Belfast illustrator Aaron Cushley.
When Sophie walks into the bedroom of her new home, she discovers an extraordinary dog called Ari waiting to take her on a magical Egyptian adventure full of puzzles, pharaohs, pyramids and precious amulets. Lift the flaps and peep through the holes to help her save King Nebra and solve the mystery of the golden pyramid.
Norean's spectacular, all-action mystery story is brought to glorious and colourful life by Cushley's extraordinarily rich and detailed illustrations, and with its eye-catching and luxurious gold-foiled cover, this is the perfect gift book for your own little Ancient Egyptian adventurers!
(Little Tiger Press, hardback, £12.99)
Ruffles and the Red, Red Coat
When a toddler doesn't like something, they really, really don't like it!
Laugh along with adorable puppy Ruffles in a brilliant new series from David Melling as this award-winning and acutely observant author and illustrator perfectly captures all those tricky, troublesome two-plus tantrums and triumphs of toddler life.
Ruff! Ruff! Hello, Ruffles! Ruffles is a typical pre-schooler who experiences all the highs and lows of life as he learns about the world around him. There are lots of things he likes…and lots of things he doesn't like!
He loves scratching, digging and chewing but he does NOT like wearing his coat on rainy days. No, no, no, no, no! But when Ruffles wants to splash in puddles with his best friend Ruby, he soon learns that some things are definitely worth wearing your coat for.
Melling blends an easy-to-read, fun-filled tale – using repetition and visual humour – with multi-coloured, emotive animal illustrations which are guaranteed to strike a chord with your own mischievous pups!
(Nosy Crow, hardback, £9.99)
Simon Philip and Magda Brol
Being small doesn't mean that you can't make a BIG difference!
Travel back to the Stone Age with a clever and comical picture book from tip-top team author Simon Philip and illustrator Magda Brol whose message about making your voice heard comes over loud and clear.
Esme is a small cave girl who is energetic, curious and very friendly. She also has the kind of voice that's great for keeping big things with sharp teeth away but isn't so great for keeping secrets, like the plans for Morris the mammoth's birthday surprise. But when the birthday surprise is in danger of not being finished on time, it is Esme's booming voice that brings people together, makes sure the job is done, and allows the party to go with a real swing!
Philip packs his warm-hearted, inspirational story with comical parallels to our familiar, contemporary world whilst encouraging ideas of shared endeavour, community spirit and the rewards of inclusion.
Add on Brol's lively and endearing illustrations and you have a story that will speak volumes to readers of every age.
(Oxford University Press, paperback, £6.99)
Meet Ig Pig and Og Frog… they're super cool, crazy loud and the very best of friends!
Well, they were until Bog (the Other Frog) came along and then everything fell apart…
Newly minted author and illustrator Sophie Burrows makes a spectacular debut (and a splash!) with this super-sparkling and thoroughly heartwarming picture book about the trials and tribulations of friendship… and jealousy.
Ig and Og are a team of two and the best of friends. They do everything together, including splashing in the lake, eating big juicy worm burgers, making massive mud men and playing in a totally rocking rock band. Until Og meets someone else… Bog the Other Frog! And Ig starts feeling VERY left out.
Find out how Ig deals with jealousy and observe how he learns that tantrums don't yield the right results in this irresistibly joyful and playful tale from a wonderful new talent in the world of children's books.
Using comedy, chaos and a gallery of high-energy, colourful illustrations to relay messages about the precious nature of friendship and the importance of making space for others to join your circle of friends, Ig Pig and Og Frog! is destined to be a family favourite.
(David Fickling Books, paperback, £6.99)
Barry Timms and Ged Adamson
Share laughter and larks in a magical rhyming romp as top author and illustrator team Barry Timms and Ged Adamson let their imaginations take flight… with a very special unicorn!
Timms' addictive wordplay and Adamson's visual wizardry combine in the most delightful way as we meet a lovable unicorn in a story that is NOT about a unicorn, or well… OK, maybe it is!
But THIS unicorn has a horn that can turn into the most incredible things… a magic wand, a helicopter, a triple pancake flipper, a balloon blower, a trumpeter and even a space rocket flying to the moon.
Little ones will love joining the hilarious adventure and will be amazed by their brilliant new friend who might – or might not – be a magical unicorn.
With a funny and sweet friendship at its heart, this quirky, fabulously illustrated story will appeal to both girls and boys and, like all Nosy Crow paperback picture books, comes with a free 'Stories Aloud' audio recording. Just scan the QR code and listen along!
(Nosy Crow, paperback, £6.99)
A to Z: an Alphabet of Animals
Harriet Evans and Linda Tordoff
Learning your letters has never been so much animal-shaped fun!
This brilliantly inventive lift-the-flap book offers pre-schoolers a bright and intelligent experience as they lift the flaps on every page and meet a multi-coloured cast of animals, from a snappy alligator to a happy zebra.
Harriet Evans' simple text is perfectly paired with stunning illustrations from talented artist Linda Tordoff, and the sturdy flaps are ideal for little learners getting to grips with their letters.
With all the fun of discovering which animals are hiding behind the different letters of the alphabet, inquisitive youngsters will be in a flip, flap frenzy to get their hands on this colourful book… and soon reciting their ABC!
(Caterpillar Books, board book, £7.99)