Book review: The Pyx by John Buell
First published in 1959 and later made into a Canuxploitation film starring Christopher Plummer, Canadian novelist John Buell's critically acclaimed debut novel, The Pyx, is reprinted for the first time in 25 years.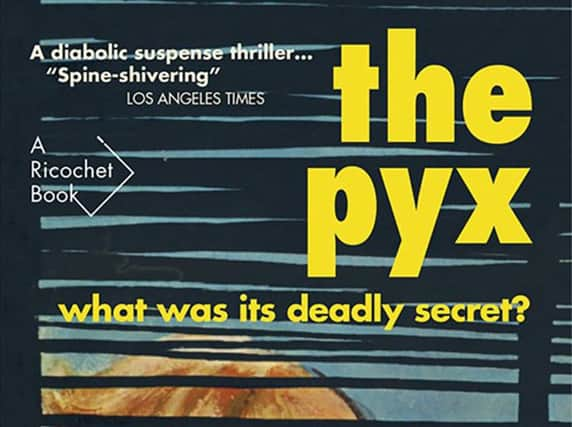 Buell, a full-time professor and part-time writer who penned five novels, three of which were adapted to film, died in 2013 aged 86. His third novel was translated into many languages and his work reviewed in major newspapers and highly praised by prominent American writers like Edmund Wilson and Anthony Boucher, and yet he continues to remain a relatively obscure Québécois writer.
The Pyx, published when he was 32 years old, is an eloquent, suspenseful crime novel exploring the mysterious death of an expensive call girl who fell from a penthouse terrace… and a homicide detective's relentless search for the truth.
Told through flashbacks and statements given to Henderson, the dogged, resourceful detective assigned to the case, Buell's shocking and poignant story takes a stark look at the damaged victims of prostitution and drug addiction.
Trapped in a sordid, utterly destructive existence, these women were enmeshed in a 'semi-civilized and part-psychotic fringe underworld where pleas and tears from beautiful young flesh were part of the kicks.'
The novel begins with a striking description of the body of Elizabeth Lucy plummeting from the night sky and landing on the sidewalk 'like a block of wood hitting the cement.' With helpful witnesses in short supply and no evidence to suggest foul play found in the 'too clean, too unlived in' luxurious penthouse, the original determination of suicide seems a rational conclusion.
However, the 'violence of her dying, the place, and the silence and the evasion following it' makes Henderson determined to unearth how and why she came to such a tragic end.
The victim, a beautiful young woman in an evening dress whose 'warm, gold-rust hair' is best described as being 'the colour of candle-light filtering a sunset,' turns out to be as interesting as her beguiling appearance.
Her sparse, uncluttered apartment, which she shares with another 'entertainer,' has 'a strict anonymity,' similar to a hotel room, and very little is truly known about her. The one telling item is the hypodermic syringe found in her handbag.
This discovery sends Henderson on a bleak and perilous investigation into the unhappy life of Elizabeth and the events leading up to her gruesome death. Mixing with an interesting array of characters who knew her, from the wily, hard-bitten operator who governed her, and the broken, fragile man she befriended, to the sadist who sought to dominate her, Henderson exposes a startling, harrowing story of lost innocence, sexual enslavement, twisted revenge, dependence and redemption.
Included in this Ricochet Books edition is an introduction by writer Sean Kelly, one of Buell's former students, whose notes on the text and personal recollections of his teacher add valuable insight to the man and his work.
Dark and tragic, The Pyx is a rewarding tale with dramatically powerful scenes, rich, expressive language, and a sensitive, thoughtfully sketched female protagonist who is 'out of the reach of human love' and who maintains a haunting presence throughout this enthralling novel.
(Véhicule Press, paperback, £9.95)