Amazing science, a reluctant demon and pirate ghosts by various authors – childen's book reviews
Discover the answers to many of our planet's most intriguing puzzles, meet a demon tasked with saving the underworld, feel the magic burn in an epic rescue adventure, and enjoy fun with two little friends with big ideas in a summer holiday selection of children's books.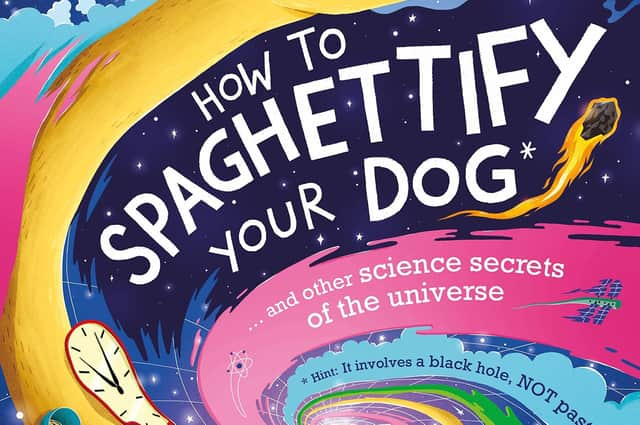 How to Spaghettify Your Dog
Hiba Noor Khan and Harry Woodgate
Science is full of amazing (and often funny!) facts... and has the answers to many of our planet's most intriguing puzzles.
From the mind-blowing butterfly effect to the bizarre behaviour of quantum physics, and from the reason why black holes gobble up everything near them to the more prosaic mystery of what farts are made of, this brilliant new science book uncovers the jaw-dropping secrets of the universe.
How to Spaghettify Your Dog – written by author and former physics teacher Hiba Noor Khan, and spectacularly illustrated by Waterstones Book Prize winner Harry Woodgate – is bursting with fascinating physics facts that will explain everything you want to know, and more, about the curiosities of our cosmos.
Have you ever wondered how to slow down time, what would happen if the Earth stopped spinning, or whether you'd be OK if you fell into a black hole? Well, wonder no more. Through the busy, brightly coloured pages of How to Spaghettify Your Dog, young readers become acquainted with the phenomenal laws of physics... from the tiniest building blocks of our body, to the universe superglue that we call gravity and the enormous stars that burn in our skies but are light years away.
And what makes the book so much fun to explore is the way that Hiba Noor Khan breaks down complex science topics into fun, digestible chunks. Featuring easy-to-follow experiments, Woodgate's child-friendly and eye-catching illustrations, and plenty of laugh-out-loud moments, this hands-on book will not just demystify physics and bring science to life, but inspire a new generation of scientists to make their own forays into the wonderful world of science.
(Bloomsbury Children's Books, paperback, £8.99)
Daring adventures aren't just for those who think they're super-brave! In the first book of her magical and inspirational Meesh the Bad Demon graphic novel series, Los Angeles-based story artist Michelle Lam draws on her Chinese American childhood experiences to bring youngsters stories brimming with fantasy and fun.
The star of this epic series is a reluctant twelve-year-old demon called Meesh who becomes leader of a band of outcasts tasked with saving the underworld. Bullied by the other demons, Meesh is more likely to be reading magazines from Plumeria City – the fairy realm – and fangirling about fairy princesses than going about anything in the least demonic. But when disaster strikes and all of demon-kind is threatened, Meesh must journey to other worlds in search of help. As luck would have it, she meets a fairy princess right away but things in the fairy realm aren't so perfect either. As Meesh makes surprising new friends and unites a band of outcasts, she learns there is much more to being a demon than she ever realised. And learning to love herself might just uncover the secret to saving her home.
Youngsters will love joining Meesh in her amazing, magical world and following her exciting adventures as she faces up to the conundrum of how far she will go to save her home... and find herself in the process.
With an eclectic cast of demons, werewolves, fairy princesses and unicorns to enjoy, Lam's gallery of adorable characters and fantastical illustrations bringing the story to devilish life, Meesh and her gang are set to become everyone's favourite good-bad guys!
(Faber Children's Books, paperback, £9.99)
Dead Good Detectives: Ghost Rescue
Jenny McLachlan and Chloe Dominique
Feel the magic burn again in the epic conclusion to bestselling author Jenny McLachlan's action-packed duology which boasts ghosts, giggles galore and simply spooktacular adventures!
Epic, exciting, and extraordinarily funny, the Dead Good Detectives stories – brimming with the fabulous black and white illustrations of Chloe Dominique – were inspired by the author's visit to an alleged 'pirate graveyard' in Dorset where headstones had engravings of skulls and crossbones.
It was just 'the bones' needed to set McLachlan's prodigious imagination whirring and the result is gorgeously ghostly tales that deliver the perfect balance of comedy, capers, thrills, spills and some fascinating nuggets of history.
Sid Jones has always known she is different, but after accidentally freeing a 300-year-old pirate from the dead (using a gel pen and a chocolate bar!), it opened the door to the Halfway House, a magical inn full of lost souls from across the ages, all trapped there by a sinister landlord. And now that Sid knows she has ACTUAL magic, she is using it to free more ghosts. But then a mysterious sickness strikes the people of Fathom. Can Sid and best friend Zen solve the mystery, save the town and free the ghosts?
With magical mysteries to solve, strange spooks, spine-tingling fun, and a cast of adorable characters, this Dead Good Detectives duology is more than just a dead good read… it's a gripping, rip-roaring, unmissable adventure!
(Farshore, paperback, £7.99)
The Best Sleepover in the World
Jacqueline Wilson and Rachael Dean
When bestselling author Jacqueline Wilson's funny and touching book, Sleepovers, was first published in 2001, many of her (now grown-up readers) told her that it was their favourite of the over one hundred stories Wilson has written.
The much-loved tale introduced us to school friends Amy, Bella, Chloe, Daisy and Emily who were looking forward to planning sleepovers for their birthdays... except new girl Daisy, who had a non-verbal sister Lily, and was dreading her own sleepover because Chloe was proving to be VERY unfriendly.
And those all-too-familiar worries about bullying, disabilities, siblings and friendships are explored again in this long-awaited, heartwarming sequel starring the same friendship circle and Chloe's new grand plan to hold the best sleepover in the world.
Daisy's worst ever enemy Chloe is desperate to win back her friends so she announces she's going to have the best ever sleepover. Chloe's party is going to have a swim in a luxury pool, a special makeover for every guest, and a real live meeting with a social media superstar. All Chloe's old friends are invited, even Daisy's best friend Emily, but Daisy is left out. Daisy's sister Lily has learned Makaton – a unique language programme that uses symbols, signs and speech to enable people to communicate at her new special school – and she signs to Daisy that she wants a sleepover. Will family and friends somehow make Lily's party the best sleepover in the world?
Rachael Dean's beautifully emotive illustrations bring Wilson's sensitively written and inspirational story to life as readers enjoy following the girls through another rollercoaster chapter of family and friendship dramas, and the triumphs and disasters of the new sleepover plans.
With her gift for understanding and acknowledging the fears that so often beset children, and the subtle messages of help and guidance that flow from the pages, this is Wilson on her very best – and most entertaining – storytelling form.
(Puffin, hardback, £14.99)
Huxley and Flapjack: Race to the Rescue
Alan MacDonald and Francesca Gambatesa
Having a best friend is one of life's great joys so meet Huxley, an irrepressible koala with BIG ideas, and his best friend, Flapjack, a rather jumpy penguin, who have the happy knack of discovering a new adventure every day. In truth, Flapjack the worrier would much rather stay at home, but for Huxley, their days together sparkle with possibility and the chance of those exciting new adventures! Lucky Huxley has some pocket money to spend, and where better to spend it than at the grand opening of Jollygoods, a new department store in town. But after a mix up with a robber, Huxley is mistaken for a thief. Can Huxley – with a LOT of help from Flapjack – catch the real robber before Huxley is well and truly framed? Will there be trouble ahead, and will they still make it home in time for tea? Francesca Gambatesa's adorably cute and colourful illustrations are perfectly matched with this funny, frantic and action-packed romp from prolific children's author Alan MacDonald. With its celebration of friendship, all-action story, and inspirational messages about the importance of righting wrongs, this delightful first chapter book is a must for adventure-loving youngsters.
(Little Tiger Press, paperback, £6.99)
The Tyrannosaur's Feathers
Jonathan Emmett, Dr Adam S. Smith and Stieven Van der Poorten
Tyrannosaurus rex may be the king of the dinosaurs, but that doesn't stop know-it-all Velociraptor telling him he looks old-fashioned and needs a makeover! Youngsters will love watching as everyone's favourite dinosaur, T.rex, gets a whole new look – including an improved posture, some restyled body parts and a coat of shaggy feathers – thanks to the latest evidence from the world's current experts in palaeontology. World-renowned dinosaur expert Dr Adam S. Smith and award-winning author Jonathan Emmett – the duo that brought us The Plesiosaur's Neck – work more of their prehistoric magic on this fun and fact-filled picture book which blends laughter with fascinating science, and features the wonderfully detailed illustrations of Stieven Van der Poorten. Combining their skills, the team brings youngsters an amusing and informative overview of how new discoveries have transformed our understanding of T.rex's appearance since this giant prehistoric predator was first unearthed over a century ago. With its mixture of a playful commentary between the T.rex and a velociraptor and fact-filled information sections exploring the science behind the theories, this is the perfect way to make learning fun.
(UCLan Publishing, paperback, £7.99)
River Rescue: A Peanut, Butter & Crackers Story
Welcome back to the cute and cuddly pet series that puts animals, nature and fun in the spotlight! Author and illustrator Paige Braddock showcases pets – and particularly rescue pets – in these adorable books which are the ideal first introduction to the world of graphic novels, and are perfect for youngsters who wonder what their pets might be up to when no one is around! Rescue pets Peanut (a very excited puppy), Butter (a laid-back cat) and Crackers (a slightly nervous dog), are off camping but getting lost was never part of the plan. It was meant to be fun in a camper van in the great outdoors but when indoor cat Butter discovers that their human forgot to pack a litter tray, he's sure there must be one in the forest... how else do cats go to the toilet?! Together with puppy Peanut, he sets out to find one... only to get lost. And things go from bad to worse when Butter and Peanut fall into a river! Can Crackers pull off a river rescue and help his two friends get back home? Animal-loving children cannot help but fall for Braddock's exciting and heartwarming visual storytelling which encourages respect for animals and nature, and gently confronts some familiar childhood worries and fears. And with lots of delightful bonus extras, including how to draw, behind the scenes and a short story, there is so much to enjoy!
(Nosy Crow, paperback, £6.99)
Woodland Magic: Operation Owl
Julie Sykes and Katy Riddell
Meet the tiny little people on another big mission to keep the countryside safe! Operation Owl is the fourth story in a magical and timely illustrated adventure series from Julie Sykes, bestselling author of the Unicorn Academy series, and talented young illustrator Katy Riddell. Brimming with drama and with a powerful environmental message, the stories focus on The Keepers, a secretive tribe of little people who live in the middle of the Whispering Woods. Their task is to care for the countryside and rewild it when humans (or Ruffins as they call them) are careless with it. Autumn is a busy time in the Whispering Wood and on their very first venture into the Big Outside as fully trained Keepers, Cora and Jax come across a barn owl caught in a tree by a discarded fishing line. Determined to help free it, Jax climbs on to the owl's back to loosen the line but the owl takes to the air... with Jax on board. Will Cora ever see him again and if she does, will they make it home for the Harvest Celebration? With its alluring mix of animal rescue, nature conservation, exciting adventures, fascinating facts and fun activities, this magical, warmhearted series is a must for all young and enthusiastic eco-warriors.
(Piccadilly Press, paperback, £5.99)
Can You See the Stars Tonight?
The danger to wildlife from light pollution comes home to roost in a delightful debut picture book from illustrator, and now author, Anna Terreros-Martin. Passionate about animals and wildlife, Terreros-Martin works her magic on this tale of a little girl on a mission to discover why the baby puffins (puffligs) near her home are not heading off on their important winter flight paths. When pufflings start getting lost, one of them flies in through an open bedroom window and Nora and her own pet Puffin try to understand why they are not flying out to sea. But, after an adventure to Puffin Island with Nora's daddy, they learn that the moon and stars aren't bright enough to guide the pufflings safely on their way because they are confused by the bright electric lights in the town. Can Nora and Puffin make a difference and save these tiny birds, and can they make the night sky shine again? Brimming with fascinating facts and the cutest of characters, this timely, heartwarming tale celebrates friendship, teamwork, bravery and determination, and proves that you're never too small to make a difference. Brought to life by Terreros-Martin's emotive artwork, and with its inspirational environmental messages about endangered species and the threatened natural world, this beautiful book is ideal for sharing with children at home, nursery and school.
(David Fickling Books, paperback, £7.99)
Trying to be just like Dad is an endearing and instantly recognisable trait of the very early years of a child… and there could be no more lovable character than cheeky toddler lion Lionel to highlight some of those developmental steps. French author and illustrator Eric Veillé has fun with the third book in a mischievous and gently educational board books series starring an over-enthusiastic, impulsive little lion who likes to push boundaries to their absolute limit. In his latest escapade – translated from the French by Daniel Hahn – Lionel can do everything Dad does... Dad combs his hair, and so does Lionel. Dad scratches his arm, and so does Lionel. Dad sings very, very loud and so does Lionel. But when Lionel throws all the toys in the air and they come down THUNK on Dad's head... Dad yells 'Ow!' and so does Lionel! Dad takes a break and has a think, then comes rushing back for a big hug... Dad is very, very happy, and so is Lionel! With Lionel's naughty grin and his dad's eternal patience, and Veillé's charming illustrations putting Lionel in the picture, this clever, comical adventure of early learning and gentle guidance provides a great role model for parenting, and will have all the family giggling and guffawing through Lionel's mischievous misadventures!
(Gecko Press, board book, £7.99)
It's never too early to share books with your baby... and here's the perfect concertina board book for those engaging tummy time sessions. Leading Māori author and illustrator Gavin Bishop's delightful, fold-out book, Look, brings the joy of artwork to the very youngest babies. Featuring big bright faces, and familiar toys and objects, the book is ideal to place around baby on the floor for both tummy time and to place around them when they are learning to sit up. The illustrations in this sturdy and eye-catching two metre fold-out book are drawn in bold lines with a striking minimalist colour palette and as the baby grows, the simple images – including a dog and objects that babies love to hold and explore like soft toys, a ball, keys, and an enticing pair of spectacles – are perfect for introducing first words and concepts. The perfect gift for a new baby or baby showers.
(Gecko Press, board book, £9.99)