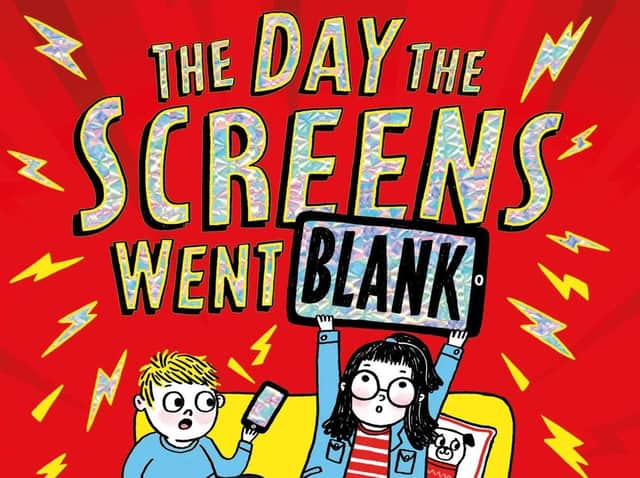 The Day the Screens Went Blank
The Day the Screens Went Blank
Danny Wallace and Gemma Correll
Can you imagine a world with no screens?
How would you manage if all the technology in the world suddenly just… STOPPED!
After twelve months of pandemic, imagining a world without a lot of things we all took for granted will certainly hit the spot with many youngsters… and comedy king, author and presenter Danny Wallace's hilarious no-tech tale is guaranteed to tickle a few funny bones.
So meet two plucky children as they set off on a madcap cross-country rescue mission without the aid of any screen technology, and discover that maybe living without the latest tech isn't such a dreadful thing after all.
When ten-year-old Stella wakes up to discover a world full of blank screens, her family, town, and in fact the whole world seems to have been thrown into chaos. And what about poor Grandma who is stranded at the other end of the country?
Cue a rollicking madcap road trip, full of driving disasters and family fall-outs as they set off on a rescue mission. And the strange thing is that despite all the mishaps and misunderstandings, the family find that being away from screens means that even though they might not be able to rely on technology any more, they can always rely on each other.
Wallace's brilliant new 'what-if' adventure – brought to life by the perfectly matched anarchic illustrations of Gemma Correll – is packed full of his trademark laugh-out-loud comedy but also contains uplifting and timely messages about the insubstantial nature of technology, and the importance of real human communication.
Waking up to the unimaginable with a smile on your face!
(Simon & Schuster, paperback, £7.99)
Activists Assemble: Save Your Planet
The world can sometimes seem a scary place to live…
Forests are being burnt to the ground, the oceans are filling up with plastic, so much of the air we breathe is polluted, habitats and wildlife are under threat, and ice on mountains is melting in the Arctic and Antarctic.
Worries and fears about our planet, and the impact of human behaviour, are widely discussed today and many wonder how we can cut down on waste and pollution, and live our lives without harming the planet.
But in a call to arms by award-winning journalist Ben Hoare, children can now seek out an understanding of these important issues and motivate themselves to become champions of our precious and fragile planet.
Activists Assemble: Save Your Planet – packed with colourful, detailed and lively illustrations by Jade Orlando – contains everything a young activist needs to know about major current environmental issues, why they occur, and how they can be resolved.
Discover how and why the world is getting hotter, the consequences of deforestation, and the impact of too many vehicles. Become a real-life super hero and help to protect the environment… from quick and easy fixes to changes that could have a long-term global effect.
From David Attenborough and 15-year-old Kabir Kaul to Greta Thunberg and Bella Lack, meet the famous faces leading the way in the worldwide crusade to be more environmentally friendly and take the quiz to find out just how green you truly are... and could be.
And there is the added bonus of an activity section giving readers details of how to further explore environmentalism, test their eco-hero knowledge, start important conversations using 'discussion time' questions, and even a space to write down their own thoughts and observations.
The perfect introduction to environmentalism for home or school… and an inspirational guide for a new generation of eco-warriors.
(Macmillan Children's Books, paperback, £8.99)
InvestiGators: Take the Plunge
If corny one-liners, chaos, comedy and calamities are your child's idea of reading heaven, introduce them to the deliciously daffy detective duo… the InvestiGators!
Written and illustrated by John Patrick Green – whose impressive CV includes work with Disney, Nickelodeon, Dreamworks, Scholastic and DC Comics – this full-colour, laugh-out-loud graphic series is ideal for reluctant readers.
Brimming over with glorious puns, lashings of toilet humour, and plenty of references to pop culture, Green's high-energy, snap, crackle and pop story will have youngsters snorting and sniggering from the first appearance of the alligator investigators right through to their final frenetic flourish.
Mango and Brash are the InvestiGators… sewer-loving agents of S.U.I.T. (Special Undercover Investigation Teams) and the scourge of supervillains everywhere! In their new adventure, S.U.I.T. headquarters is under attack, and Mango and Brash are going undercover and underground disguised as city sewer workers to unclog a sticky situation.
But when their search for the criminal Crackerdile backfires, the toilets they travel through back up – and the InvestiGators take the blame for it! Can Mango and Brash restore their good name and put the real culprit behind bars before the whole city is in deep water?
With sewers as their preferred travel route, expect lots of U-turns and U-bends when these two super-spies fight crime, armed only with groan-worthy puns and gigglesome gags.
Simply bursting with youthful energy, crazy comedy, vibrant artwork and breathtaking creativity, InvestiGators is a visual and verbal delight… and guaranteed to please even the most reluctant reader!
(Macmillan Children's Books, hardback, £9.99)
If the thought of an icy mystery sends shivers of joy up your spine, then join a daring detective duo on a perilous mission in the wilds of the Adirondacks in America.
Kat Wolfe on Thin Ice is the third book in passionate conservationist Lauren St John's thrilling Wolfe and Lamb Mysteries Series starring intrepid pet-sitter and amateur detective extraordinaire Kat Wolfe and her best friend Harper Lamb.
Here we find the two girls eager to join their parents on a winter vacation in a mountain cabin in the USA. But a series of misadventures result in them being in the wrong place at the wrong time… alone.
And when Kat discovers that an argument she witnessed in New York City holds the key to a major crime, she's certain that it's only a matter of time until the culprits come looking for her. With a snow storm moving in and no way out, all that stands between the girls and disaster are a team of eight huskies and one impossible raccoon.
Can Kat and Harper save the day… and themselves?
Get ready to share the winter holiday of a lifetime as Kat and Harper fall helter-skelter into an enthralling, environmentally friendly mystery full of intrigue, danger, snow and huskies!
An inspirational and addictive adventure from a master storyteller!
(Macmillan, Children's Books, paperback, £7.99)
Walker: The Mystery of the Missing Millions
The dog detective team are back and they're on the scent of a gang of cunning crooks!
If you haven't already met Walker, the boy detective with a Dr Dolittle ability to talk to animals, then join him on his latest case as he follows his nose and his 'leads' alongside a canny crew of canine sleuths.
All ten-year-old Walker wants is a dog, but his mother is allergic. So he has set up his own business walking everyone else's dogs. And it works better than he could have imagined when he finds he can talk to dogs and understand what they say to him! Soon he is getting drawn into mysteries that only the dogs can solve.
When crooked billionaire, Arlington Wherewithal goes to prison, his wife, Jazaminta, asks Walker to look after his dogs. But then Walker finds out that a gang is trying to make Jazaminta tell them the hiding place of Arlington's missing millions.
Walker tries to help, but when he gets too close he gets kidnapped! Can Walker, his friend Anje, and the dogs save themselves, stop the crooks and solve the clues to finding the missing millions?
The fur certainly flies in this fast-paced adventure as author and illustrator Shoo Rayner delivers dog-flavoured fun and frantic antics on the road to collaring the thuggish thieves. And with the bonus of a special art lesson at the end of the book, Walker's adventures look set to run and run.
(Firefly Press, paperback, £6.99)
Karen Swann and Padmacandra
Dance with the dolphins and sing with a whale in a lyrical and lovely picture of soaring imagination from the inspired debut pairing of author Karen Swann and poet and artist Padmacandra.
Brimming with visual and verbal beauty, and featuring a fantastical adventure that takes readers on a thrilling voyage across the world's oceans, The Tale of the Whale is – at its warm heart – a call to action to save our seas from the blight of plastic pollution.
'Where land becomes sky and the sky becomes sea,
I first saw the whale, and the whale first saw me.
And high on the breeze came his sweet-sounding song
'I've so much to show you, if you'll come along.'
Swann's magical and mesmerising journey of wonder and discovery, from misty seaside shorelines to ice-capped seas, is not just a joyful tale about the friendship between a child and a whale but also a story that speaks loudly about our responsibilities towards the environment and a heartfelt plea to end plastic pollution.
With Padmacandra's stunning and atmospheric maritime illustrations, specially created in an eye-catching palette of colours, this empowering book is a must for bookshelves both at home and at school.
(Scallywag Press, hardback, £12.99)
Concentrating in class isn't always easy and that's when trouble starts!
Author and illustrator Rose Robbins, who has an autistic brother, teaches autistic young people, and is a young ambassador for Inclusive Minds, is on a mission to help children understand what it means to have special needs.
And after two sensitively created picture books about living with an autistic sibling – Talking is Not My Thing and Me and My Sister – the talented author and illustrator has turned her imaginative focus on youngsters with ADHD.
And taking centre stage is restless, disruptive Abigail who is frustrated because she can't concentrate in class. Abigail can't focus on writing, gets bored and does naughty things so she is sent to the cooling down room. Next we see her at a music class but she can't make any of the instruments work. And just when things are about to go wrong yet again, the teacher discovers exactly what to do to win her attention. Abigail can sing very loudly and she ends up finding a special voice of her very own!
With its gentle, explanatory story, packed with adorable animal characters and lively, expressive illustrations, Loud! sends out clear messages about the importance of understanding special needs, particularly the challenges of ADHD, and proves that everyone can triumph whatever their problem might be.
This poignant and moving story – enhanced by Robbins' light touch and use of humour – is the perfect way to start conversations about neurodiversity and how children work better when engaged with a subject they enjoy.
A revealing and gentle story with an upbeat and uplifting message for both children and parents…
(Scallywag Press, hardback, £12.99)
Love Our Earth: A Colourful Counting Story
Head off a thrilling global adventure and discover all the wonders of planet Earth!
It's never too early to get to know our magnificent natural world and this youthful, joyful and celebratory picture book about caring for the planet comes with lots to look out for, and a fold-out surprise at the end.
Meet planet Earth as you travel across mountains, rivers, jungles and oceans. Spot and count the host of friendly and fascinating animals along the way, and say hello to the smiling flowers, trees and hills.
Created in collaboration with EarthDay.org, Love Our Earth springs to colourful life with warm, playful illustrations from Jane Cabrera and a gentle read-aloud text. And with it super-surprise fold-out ending, and simple tips on how to look after our amazing planet, this is the perfect introduction to the wonders of life on Earth for pre-schoolers.
(Macmillan Children's Books, paperback, £7.99)