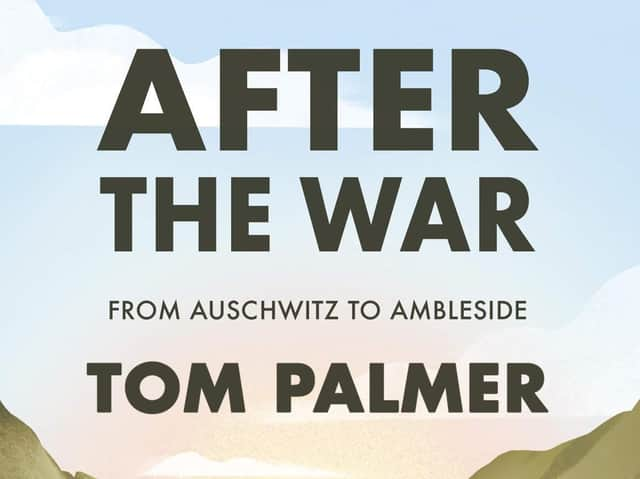 After the War: From Auschwitz to Ambleside
After the War: From Auschwitz to Ambleside
Tom Palmer and Violet Tobacco
The story of three Polish teenagers brought to Windermere after the war to help rebuild their shattered lives lies at the heart of a moving new novel from master storyteller Tom Palmer.
Inspired by the incredible true story of the Windermere Boys (recently given a new focus in a film written by Simon Block and directed by Michael Samuels), and based on the experience of child survivors of the Holocaust who were brought to the Calgarth Estate next to the lake, this is a beautiful, sensitive tale of friendship, courage and belonging.
In the summer of 1945, the Second World War is finally over and Yossi, Leo and Mordecai are among three hundred children who arrive in the Lake District. Having survived the horrors of the Nazi concentration camps, they have finally reached a place of safety and peace, where they can hopefully begin to recover.
But Yossi is haunted by thoughts of his missing father and disturbed by terrible nightmares. And as he waits desperately for news from home, he fears that Mordecai and Leo – the closest thing to family he has left – will move on with their lives without him.
And will life in the beautiful Lake District be enough to bring hope back into all of their lives?
After The War: From Auschwitz to Ambleside – written with a grace and simplicity that makes the story of these brave survivors even more powerful – speaks loudly to a new generation of children who must find it difficult to conceive of their unspeakable suffering.
Inspirational, heartbreaking, and a must read for children (and adults) of all ages.
(Conkers, paperback, £6.99)
If you thought all Regency romances were full of very proper young ladies, step into the very improper world of the cute and canny Kat Ann Stephenson!
A Most Improper Magick is the first thrilling instalment of Stephanie Burgis' fun adventure series starring a lovable young lady who likes to break the rules of society, work a little magic, and prove that girls weren't really made to sit at home and sew.
At twelve years old, any proper young lady should be practising her embroidery and keeping her opinions to herself. But Kat Ann Stephenson is no ordinary young lady. Her late mother was a notorious witch and Kat has just discovered that she has inherited her magical talents.
Despite her Stepmama's stern objections, she is determined to learn how to use them so she chops off her hair, dresses as a boy and sets off to save her family from ruin… even if she does only get to the end of the front garden!
And it's just as well that Kat has learned some magic arts because she is now the newest target of an ancient and secretive magical order. With her eldest sister Elissa's intended fiancé, the sinister Sir Neville, showing a dangerous interest in Kat's magical potential, her other sister, Angeline, wreaking romantic havoc with her own witchcraft, and a highwayman lurking in the forest, even Kat's reckless heroism will be tested to the limit.
If she can learn to control her new powers, will Kat be able to rescue her family and win her sisters their true love?
Burgis, who grew up in America but now lives in Wales, delivers a spellbinding mix of comedy, romance, mystery and danger in this gorgeous middle grade Regency romp which has all the familiar tropes of a genteel Georgian adventure but with the added fun of a daring heroine, even more feisty and fearless than the proud Elizabeth Bennet.
A rollicking good story for all unordinary readers!
(Piccadilly Press, paperback, £6.99)
Knight Sir Louis and the Dreadful Damsel
If it's crazy fun you're looking for this summer, mount your steed and join the charge with the first book in a hilarious, illustrated new series from BAFTA award-winning sibling duo, The Brothers McLeod.
Knight Sir Louis and the Dreadful Damsel has been dubbed Monty Python and the Holy Grail for middle grade readers… and it's easy to see why! Brimming with inventive storytelling, laugh-out-loud adventures, and madcap illustrations, this is a masterclass in crackpot comedy.
Knight Sir Louis is the bravest knight at King Burt's Castle Sideways. He has defeated hungry dragons, evil goblins and horrible wizards (but please nobody mention wasps, Knight Sir Louis is absolutely NOT afraid of them).
Along with his trusty mechanical steed Clunkalot, and mystical sword (known as Dave), Knight Sir Louis and his friends are sent to do battle with the Damsel of Distresse, who has been terrorising the land. But nothing is as it seems.
Knight Sir Louis finds himself dealing with strong enchantments and powerful magic (as well as potatoes) and the machinations of his soon to be arch-enemy-nemesis… the Stripy Knight.
With an assurance that no potatoes were harmed in the writing of this book, The Brothers McLeod (otherwise known as Myles and Greg) dish up a raucous romp full of super-silly sword play, bone-crunching action, and hilarious heroes.
Sublimely funny and seriously entertaining, this is the ideal way to get your youngsters hooked on reading… and medieval mischief!
(Guppy Books, paperback, £6.99)
Sam Wu is Not Afraid of Space
Written by Katie Tsang and Kevin Tsang, and illustrated by Nathan Reed
The brilliant Sam Wu series of funny and frantic illustrated books has been wowing an army of young readers, and now our bravest ever scaredy-cat hero is back for his final, fantastic adventure!
The books, which are ideal for reluctant readers who like their stories to come with lots of madcap antics and eye-catching illustrations and graphics, are the work of husband and wife team Katie and Kevin Tsang, and were inspired by Kevin's own childhood experiences of feeling scared and anxious.
Sam Wu is not afraid of many things. Definitely not ghosts, sharks, the dark, spiders or EVEN zombies! But space, well… he's definitely not afraid of black holes, meteors and imploding stars!
So when Sam gets the chance to go to Space Camp with his friends in the summer, he has never been more excited. He's desperate for everyone to love it as much as he does, and together win the Space Camp Challenge trophy!
But not everybody at Space Camp is ready to be a team player and for Sam it's starting to look like winning the trophy might be as difficult as landing on the moon!
Sam Wu is Not Afraid of Space offers fun, mischief, adventure and plenty of reassurance for youngsters who are worried about staying away from home for the very first time.
Fabulously illustrated throughout with Nathan Reed's warm and witty artwork, and with an inspirational South Asian hero and his diverse group of friends, this is both comfort and comedy reading for younger children.
(Egmont Publishing, paperback, £5.99)
And sorry is the buzzword in another enchanting picture book… this time from the ever-inventive author and illustrator Duncan Beedie.
Starring two children from an ancient tribe still getting their tongues round the concept of communication by language, Oof Makes an Ouch! is the last word in playful humour, bold illustration and all-round good ideas.
Oof and Pib know hardly any words… in fact they only know how to say their own names. But it doesn't stop them from being the best of friends and doing everything together.
But then Oof starts inventing all sorts of catchy NEW words, and Pib feels so jealous that he does something to threaten their friendship forever. Can Pib come up with a word of his own to make things right again?
With Beedie's trademark blend of vibrant colour and rich detail on every page, and a clever, comical – and yet emotionally resonant – story about the power of friendship, self-expression, and forgiveness, this is the ideal book to both entertain and educate.
(Templar Publishing, paperback, £6.99)
Polly Profiterole's Little Town: Good Enough to Eat
Maggie May Gordon and Margarita Levina
Imagine living in a town that's good enough to eat?
Australian poet and author Maggie May Gordon gets her creative juices flowing on this tasty offbeat picture book about a canny cook who builds a town out of cakes, tarts, flans, burgers and puddings!
Polly Profiterole lives in a town that has no school, no bank, no church… and only one shop. And Polly's Pancake Parlour is that one and only shop. Polly is starting to feel decidedly fed up because no one wants to build shops in their little town in the middle of nowhere. Then one day she wakes up with a great idea… she's going to bake a town full of shops, and her husband Percy is going to build it!
Gordon's mouth-watering baking bonanza – which dishes up a Hot Bread Bank, a Choc-Chip Church and a Treacle Tart Toy Shop – will have everyone's tummies rumbling, while Margarita Levina's rainbow palette of illustrations are the icing on the cake.
(Little Steps Publishing, paperback, £6.99)
The Monstrous Tale of Celery Crumble
Sorry seems to be the hardest word!
If your naughty little youngsters have an aversion to saying sorry, introduce them to a tasty little dish called Celery Crumble who has been cooked up by inventive author, illustrator and graphic designer Ben Joel Price.
Celery Crumble is a naughty girl who likes to play tricks. She just won't say sorry, no matter how horrid she has been. She's warned that if she behaves like a monster, then she'll become a monster. But her reply is always 'Sorry, Not sorry!' Then one morning she wakes to find that she has grown boils on her back, claws on her toes and a witchy, stripy tail. Will Celery finally learn how to say sorry and curb her mischievous ways?
Price's comical, cautionary tale starring the deliciously naughty Celery will strike an all too familiar note with exasperated parents eager to reinforce valuable messages about treating others how you want to be treated yourself.
With striking illustrations featuring Price's distinctive gothic style, and a monstrously clever story, Celery Crumble is best served just before a toddler tantrum!
(Oxford University Press, paperback, £6.99)
The Mega Magic Teacher Swap!
Rochelle Humes and Rachel Suzanne
If your little ones are growing anxious about starting school or changing classes, here's a story to set their minds at rest.
The Mega Magic Teacher Swap! is the follow-up to TV presenter Rochelle Humes' bestselling debut picture book, The Mega Magic Hair Swap, and is a fun and magical story with a reassuring message at its warm heart.
When best friends Mai and Rose return to school for a new year, they don't want to leave Mrs Bee, the best teacher ever! With a wish and some help from My Little Coco, Mai and Rose find themselves back in Mrs Bee's class.
But they quickly discover that it's less fun without their friends, and they've already learnt these subjects before. When they meet their new teacher, Ms Daly, they quickly find out that change can be a good thing… and they even make a new friend!
Humes' story is full of magic, warmth and fun, and is the perfect antidote to new school or class fears, and all brought to life by Rachel Suzanne's joyful and colourful illustrations.
Change doesn't have to be scary!
(Studio Press, paperback, £6.99)