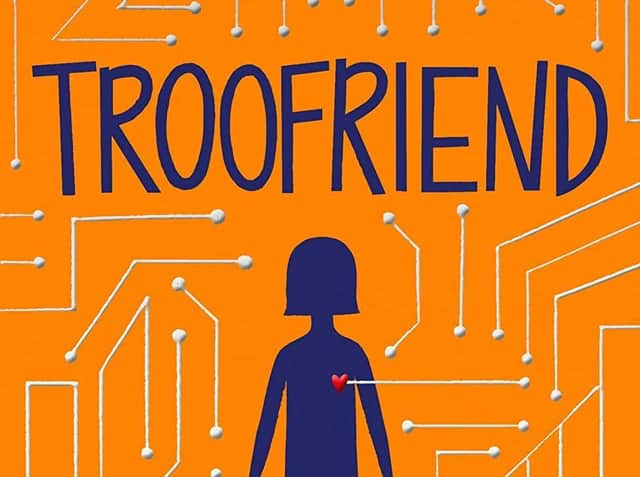 Troofriend
Meet the perfect best friend who doesn't argue and tidies your room, discover a whole world of amazing words, get hands-on with the magical marionette Pinocchio, and share laughs with a hair-raising dad in an eclectic selection of new children's books.
Imagine having a perfect best friend who tidies your room, never argues with you… and even keeps your parents quiet!
If that sounds too good to be true, you would be right, as powerfully illustrated in a timely and resonant new middle-grade novel from Kirsty Applebaum whose extraordinary debut thriller, The Middler, was shortlisted for the Waterstones Children's Book Prize 2020.
TrooFriend, a clever and compelling story narrated by a robot called Ivy, asks readers to consider that contemporary conundrum – Artificial Intelligence – and whether it should ever take the place of human friendship.
Sarah is far from pleased when her busy parents give her a brand new Jenson & Jenson TrooFriend Mark IV. She wants a dog not an android, but soon Sarah realises that a TrooFriend doesn't bully, doesn't lie, steal or envy, and can be used to show off with on Bring Your Own Tech To School Day. Why should it matter that Ivy isn't human? A real best friend isn't that useful after all.
But if Ivy isn't human, how can she be scared of the dark? Why does she covet Sarah's things so much? It's just her programming… right? Or is it something else entirely?
As robot buddy Ivy starts developing human characteristics and feelings, trouble begins to brew as well, and now she has plans to run away with her human…
There is a thrilling sci-fi edginess to this topical and sinister story which blends humour and drama with serious ethical questions about the use of artificial intelligence and its effects on human behaviour.
With all the action taking place through the prism of Ivy's computerised brain, we can witness the subtle changes in her perception and absorption of human emotions, her increasingly independent thoughts, and the tensions that bubble to the surface in her relationship with Sarah.
Full of gripping drama, playful dialogue and intriguing concepts, TrooFriend is a thrill read for youngsters, and the ideal book for class discussions on the role of artificial intelligence in the modern world.
(Nosy Crow, paperback, £6.99)
Literally: Amazing Words and Where they Come From
Patrick Skipworth and Nicholas Stevenson
Sometimes one word can tell a story… but did you know that every word also has a hidden story of its own?
In their stunning new book, author Patrick Skipworth and illustrator Nicholas Stevenson combine knowledge and illustrative design to deliver a whole world of amazing words which reveal the rich history and cultural diversity of the English language.
Did you know that English words come from all over the world and that their meanings have changed along their journey? Our word 'zero' comes from the Arabic word for empty space and 'companion' is from the Latin for with bread.
From France to Japan, India to Brazil, East Africa to Hawaii, English words are rich with global connections. And though many of the words we use each day have journeyed far in time and space, they still carry within them the stories of their beginnings.
Among the intriguing word origins explored are karaoke (Japanese), guru (Sanskrit), ukulele (Hawaiian), jaguar (Tupi); royalty (Norman French), kookaburra (Wradjuri); worm (Old English), mummy (Persian), caribou (Algonquin) and safari (Swahili).
This wonderfully entertaining and informative book comes from What on Earth Books which aims to publish non-fiction books to engage children's natural curiosity and passion for learning by offering readers diverse perspectives on the world.
Filled with Stevenson's ingenious, painterly artwork, which adds a delightful twist to the story behind each word, Skipworth's exploration of language reveals the diverse origins of English words and their layered meanings.
With simple descriptions and dazzling, evocative and witty illustrations, Literally connects the English language to indigenous languages and cultures across the globe, and highlights the interconnected nature of all people.
A fascinating introduction to the rich history and cultural diversity of our language…
(What on Earth Books, hardback, £11.99)
The Adventures of Pinocchio
Written by Carlo Collodi and illustrated by MinaLima
Join the mischievous marionette Pinocchio as he sets out on a perilous journey to find his father… and experience life as a 'real boy.'
The enduring tale of wooden puppet boy Pinocchio is one of the world's best known children's stories and has been a favourite classic since it was first published in 1883.
Written by Italian political satirist Carlo Collodi, The Adventures of Pinocchio have captured the hearts and imaginations of youngsters through every generation, and now the memorable cautionary tale gets a spectacular retelling in a fantastic interactive book by Harper Design.
This stunning interactive deluxe gift edition is packed with beautiful, full-colour artwork and seven hands-on features created by MinaLima, the award-winning design studio behind the graphics for the Harry Potter film franchise.
The story features Geppetto, a poor puppeteer who uses an enchanted piece of wood to carve a marionette boy he calls Pinocchio. The impish Pinocchio does not want to be a puppet… instead, he yearns to become a real boy. Soon, his curiosity, mischievousness, and naivety lead him away from his father's shop and into a series of dangerous encounters with vicious puppet masters, cunning animals, and other magical characters. Along this action-packed journey, the magical puppet learns how much turmoil, heart, and hard work it takes to become a real boy.
With a nose that grows larger with each lie he tells, Pinocchio has become an enduring icon in children's literature, and his tumultuous story is brilliantly reimagined here with specially commissioned artwork and exclusive interactive features, including a Pinocchio puppet with clothing, additional finger puppets, a small theatre for a puppet show, a court deck with Pinocchio behind sliding bars, and a fold-out shark revealing Pinocchio and Geppetto inside.
This keepsake illustrated edition is a wonderful addition to Harper Design's imaginative series of illustrated children's classics and is guaranteed to be treasured by families for years to come.
(Harper Design, hardback, £25)
Every second on our planet, something happens…
It might be one aeroplane taking off and another landing, four babies being born, 8,000 scoops of ice cream being enjoyed… or it might even be cows burping three million litres of gas!
Every Second, an imaginative, inventive and illustrated book from French author and illustrator Bruno Gibert – reveals remarkable things about our world through numbers, facts, and some rather strange surprises.
This striking portrait, brimming with Gibert's bold, distinctive and colourful artwork, makes statistics fun and accessible to both children and adults. Every second, somewhere across the globe, one wedding is celebrated, two people die, 15,000 plastic bottles are produced and 1,600 are recycled, 200,000 text messages are sent, 500 pairs of shoes are sold and 2,050 chickens hatch from their eggs.
Illustrated with clear and memorable infographics, and blending wry humour with fascinating facts, Every Second reveals the incredible things that happen each and every second in our world, and offers schools and parents the perfect launch pad for discussion about a wide range of issues, from conservation to science.
Unique, entertaining and informative, this clever book is ideal as a gift book or as an invaluable teaching tool.
(What on Earth Books, hardback, £12.99)
Gavin Puckett and Chris Jevons
The lockdown means that many of us are having bad hair days… but one little boy's dad is making everyone's hair stand on end!
Enjoy laughs on every page in a madcap picture book full of romping rhymes and brilliant Barnets from author Gavin Puckett, winner of the Greenhouse Funny Prize, and Harrogate-based illustrator Chris Jevons.
Dad is always much smarter than the rest… his clothes are immaculate and his hair is shiny, wavy and sleek. But after a long session in the bathroom, Dad has got a Mohawk and it's so tall that it's scraping on the ceiling. Perhaps Gran will know what to do, or perhaps Mum can sort things out before things get really hair-raising!
Endearingly funny, clever and playful – and with Jevons' gloriously multi-coloured illustrations adding to the party atmosphere – My Daddy is Hilarious! celebrates families and parental relationships with wit and warmth, and is the perfect gift for Father's Day.
(Faber & Faber, paperback, £6.99)