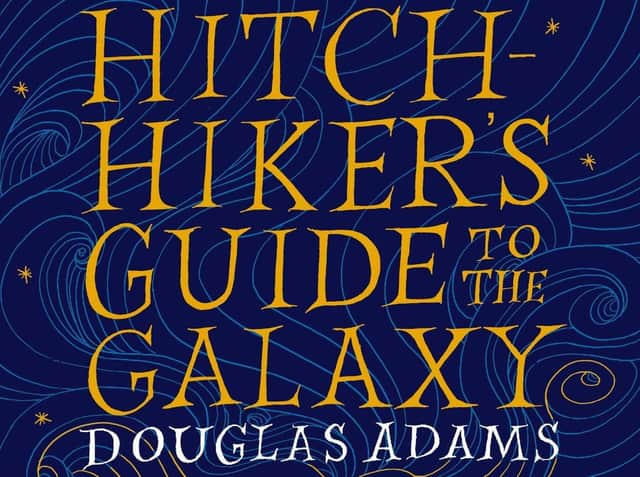 The Hitchhiker's Guide to the Galaxy Illustrated Edition
The Hitchhiker's Guide to the Galaxy Illustrated Edition
Written by Douglas Adams and illustrated by Chris Riddell
Take a classic science fiction book written by a master of comedy, a gallery of illustrations by a renowned former Children's Laureate… and what do you have?
The answer is, of course, a magnificent 42nd anniversary edition of Douglas Adams' dazzling pop-culture masterpiece, The Hitchhiker's Guide to the Galaxy, published in perfect time for the commemorative fan-created Towel Day on May 25, and to mark 42 being the answer to the Ultimate Question of Life, the Universe, and Everything.
Described by comedian, actor, writer, and television personality David Walliams as 'one of the greatest achievements in comedy. A work of staggering genius,' The Hitchhiker's Guide to the Galaxy makes a spectacular return in a beautifully produced gift edition brimming with the breathtaking black-and-white illustrations of multi-award-winning artist Chris Riddell.
Created by Douglas Adams, who tragically died suddenly in 2001 aged only 49, The Hitchhiker's Guide to the Galaxy was originally a 1978 radio comedy broadcast on BBC Radio 4, but it was later adapted to other formats, including stage shows, novels, comic books, a 1981 TV series, a 1984 video game, and 2005 feature film.
It went on to become an international multi-media phenomenon but the novels are the most widely distributed, having been translated into more than thirty languages by 2005.
Star of the tales of intergalactic misadventures is Arthur Dent who is having an ordinary Thursday lunchtime until his house gets demolished. The demolition of the Earth by a Vogon constructor fleet to make way for a new hyperspace express route follows shortly afterwards, and Arthur's best friend announces that he's an alien.
At this moment, they are hurtling through space with nothing but their towels and a book inscribed in large, friendly letters: DON'T PANIC. The book is The Hitchhiker's Guide to the Galaxy and the weekend has only just begun…
There could be no better way to introduce a new generation of young readers to Adams' mega-selling classic… a sensationally illustrated edition, perfectly illuminating an imagined world which sends logic into orbit, plays havoc with physics, twists time, and, most importantly, is very, very funny!
Simply out of this world…
(Macmillan, paperback, £12.99)
Katie Tsang and Kevin Tsang
When you count fire-breathing dragons among your friends, adventures are always going to be epic!
Husband and wife team Katie and Kevin Tsang, authors of the Sam Wu is Not Afraid young fiction series, are back with another red-hot escapade in the second book of their thrilling Dragon Realm fantasy series featuring dragons, danger and daring deeds.
And children will certainly be fired up when they share more missions seemingly impossible alongside Billy Chan and his friends who have stumbled upon warrior dragons trapped inside a secret mountain and joined forces to fight a deadly enemy.
Twelve-year-old Billy met Dylan, Charlotte and Ling-Fei at a summer camp in middle-of-nowhere China and together they discovered an age-old secret… four powerful, clever and fearsome warrior dragons are hidden deep within a huge mountain behind the camp.
The dragons are trapped in an epic battle with the evil Dragon of Death and they need the children's help to set them free before terrible evil is unleashed on the earth.
Now Dylan has been kidnapped by the Dragon of Death and it's up to them to travel through time and back to the dangerous Dragon Realm to save him.
Luckily they have their own dragons to help, but they will need to collect eight magical pearls if they are to amass enough power to destroy the Dragon of Death and her followers for good.
So begins an epic quest that will take them to the depths of the Frozen Wasteland and the imperial palaces of Ancient China. But can good triumph over evil?
Dragon Legend is a fabulous, fun-filled escapist adventure for young readers who love fantasy, fiery action, friendships and humour, and all set against the fabulous backdrop of Chinese mythology and legends.
With the tension ratcheting up at every turn of the page, a brilliantly imagined cast of characters, and a thrilling brand of storytelling wrapped up in mystery and magic, this is a dazzling, daring series from a truly delightful duo!
(Simon & Schuster, paperback, £7.99)
The Incredible Record Smashers
Jenny Pearson and Erica Salcedo
What better time to enjoy a story that is packed with huge helpings of heart, humour and kindness?
Get ready for a record-smashing, feel-good adventure from the Costa Award-shortlisted Jenny Pearson in the second book of her fizzing, fabulous debut series which is based on a wonderful mix of all the children she has ever taught.
The Incredible Record Smashers – a warm and funny celebration of family beautifully brought to life by Kid Normal illustrator Erica Salcedo – is the brilliant follow-up to last year's The Super Miraculous Journey of Freddie Yates and another tender and yet laughter-filled story that is guaranteed to pluck at your heartstrings.
Lucy is a fixer of broken things. But there's one thing she can't fix and that's her unhappy mum… until she comes up with an incredible plan.
Along with her best friend, Sandesh, Lucy is going to smash a world record. Because she's convinced that starry Paul Castellini – Record Smashers TV host and singing legend – is the answer to her mum's mental health problems.
But breaking a world record when watermelons, kumquats, two baddies and a 30cm shatter-resistant school ruler are involved isn't quite as easy as Lucy thought. Can she learn that sometimes happiness doesn't come with a plan?
Using her trademark sensitivity, humour and wisdom, Pearson explores single parent families, the love between a mother and daughter, and the challenges facing a child who has a parent or guardian with mental health issues.
There are some tender, tear-jerking moments in this beautiful story but also adventures and laughs galore as we join Lucy on her journey through despair and joy.
(Usborne, paperback, £6.99)
Losing a parent can be one of the cruellest and most bewildering life events for a child…
It's a tough subject to tackle in a middle-grade novel but Cath Howe works her trademark empathy, insight and gentle charm on this touching tale of a boy who is struggling to cope with the death of his mother.
Author of the high-acclaimed novels Ella on the Outside and Not My Fault, Howe uses an incredible lightness of touch to deliver a beautiful, heartwarming, and uplifting story about grief, anxiety and loneliness without losing sight of her young audience.
Super rich, super shy and super lonely, Lucas is all alone. He's stuck at home with the new au pair and just his cats for company. Since his mum died, Lucas and his dad don't seem to understand each other at all… it's almost as if they are speaking different languages.
With a long, hot summer facing him, Lucas is dreading the drama club that his dad has signed him up for. Instead of sitting at the piano and letting the music flow out of him, he's got to mix with other children. He doesn't know how to be around new people and he can't stand performing in public.
But the people Lucas meets at the club force him to open up and start talking, and when disaster strikes, Lucas has to step in and help. Can his new-found friends teach Lucas how to be himself?
Written with sensitivity and authenticity, How to Be Me is perfectly pitched for youngsters suffering grief and loneliness after a close family bereavement, providing an important starting point for discussions about death and acceptance.
(Nosy Crow, paperback, £6.99)
If the pandemic has limited your horizons, step into the pages of this exciting book and discover a hope-filled adventure set in the wide open, wild spaces of North America.
Roderick O'Grady, an actor and playwright who has worked in London and New York, brings us the moving story of one girl's encounter with the legendary Bigfoot in an enchanting debut novel set against a background of family and environmental change.
Bigfoot Mountain, which evokes a remote and endangered mountain landscape, is a thrilling and thought-provoking story of courage, protecting nature, and finding your way in the world.
Minnie is alone, high up in her favourite tree, looking out over a distant forest fire. She and her stepfather Dan are stuck with each other, living in their small cabin at the foot of the mountain after Minnie's mother died.
When Minnie and her friend Billy discover four giant footprints on a mountain trail, Dan puts it down to hoaxers. But Minnie knows better.
Kaayii, a young Sasquatch, is sitting at the top of a tree watching the smoke from a raging forest fire that has forced him and his clan to move to this side of the mountain. He's not sure about the humans living down by the sea below.
Soon, their parallel worlds will unexpectedly entwine … can they help each other and heal their families?
Minnie is a hero of our times… a bold, courageous girl who dares to make her voice heard and ask important questions as the world around her takes a perilous course.
Written with a large helping of humanity and heart, alive with beauty, discovery and adventure, and with intriguing internal maps, forest trails and nature guide illustrations, Bigfoot Mountain is a timely and resonant reminder that we all have a duty of care towards our precious, endangered planet.
(Firefly Press, paperback, £6.99)
A boy held prisoner, an ivory chess set and a mystery that dates back centuries…
Make your 'move' to the wild beauty of the Outer Hebrides and immerse yourself in a tale of danger, bravery, Norse mythology and a historic chess set as Inverness-based author Barbara Henderson sweeps us away on an enthralling adventure.
The Chessmen Thief is a thrilling flight of storytelling imagination inspired by the legendary and immensely precious Lewis Chessmen, a group of distinctive 12th-century chess pieces, carved from walrus ivory and discovered buried on the Isle of Lewis in the Outer Hebrides in 1831.
Kylan was the boy with a plan and now he is the boy with nothing. From the moment 12-year-old Kylan hatches a plot to escape from his Norse captors and return to Scotland to find his mother, his life becomes a dangerous game.
The precious Lewis Chessmen – which he helped to carve – hold the key to his freedom, but he will need all his courage and wit to triumph against Sven Asleifsson, the cruellest Viking in the realm. One false move could cost him his life…
Henderson delivers an epic adventure… an across-the-board winner filled with gripping action, vivid characters and the enduring mystery surrounding the Lewis Chessmen, their creation in Norway, and how they ended up buried in the Hebrides before being discovered on Lewis in 1831.
Authentically imagined, atmospheric, and accompanied by Sandra McGowan's intriguing illustrations, this is history, mystery and legend in one exciting package.
(Pokey Hat, paperback, £7.99)
A Song of Gladness: A story of hope for us and our planet
Michael Morpurgo and Emily Gravett
A world in harmony, and nature as one…
Inspired by the first Covid-19 lockdown in March last year, two of today's most celebrated children's book creators have put together both their heads and their talents to bring young readers a truly outstanding picture book.
A Song of Gladness – written by former Children's Laureate and CILIP Carnegie Medal winner Sir Michael Morpurgo and illustrated by the twice CILIP Kate Greenaway-winning Emily Gravett – is a rich and glorious celebration of humanity's connection to the natural world through the media of singing.
'So I sang, we all sang, sang away our sadness. In every house and flat and cottage, we clapped and sang, in every shelter and tent, in every palace and hospital and prison.'
From a blackbird in a Devon garden to leopards in the African savanna, hibernating bears and chimpanzees high in the forest canopy, this beautiful story reminds us all of our connection with nature, and with each other, and the urgent need for us to join together in caring for the planet and every creature in it.
Travel the globe in this inspiring journey through the animal kingdom as the blackbird's song of gladness is passed from one animal to another, across oceans, rainforests and back, until we too are joining the world in joyful harmony.
But Morpurgo and Gravett's heartfelt and evocative story also reminds children that by joining together, and caring for each other, we can make a difference, and prompts us all to remember that our planet is under threat of being destroyed by speed and greed, and challenges us to think about the wild world we live in and to start caring for every part of it.
With its inspirational and uplifting text, sensational illustrations that work in perfect harmony with the words, and timely celebration of the beauty and importance of the natural world, A Song of Gladness is a classic in the making, and the perfect gift for animal and nature lovers.
(Two Hoots, hardback, £12.99)
Swapna Haddow and Dapo Adeola
Families come in all shapes and forms… but they're lovable whichever way you look at them!
Open your arms and your hearts to an endearing picture book from exciting new creative duo… Swapna Haddow, award-winning author of the Dave Pigeon series, and brilliantly talented illustrator Dapo Adeola, winner of Waterstones Children's Book Prize 2020.
My Dad Is A Grizzly Bear – a riot of vibrant storytelling and big, bold and beautiful illustration – features a boy with a wild imagination, his lively family, and lots of hilarious antics.
Shhh. Beware. My dad is a grizzly bear. In this family, it's just possible that Dad is a grizzly bear! He has fuzzy fur, enormous paws and loves the outdoors. He sleeps a lot (even in the cinema) and when he's awake, he's always hungry, and usually eating up all the honey. What else could Dad be?
But sometimes, when it's scary at night, a lovely big bear hug is just what is needed!
Playful, warm and funny, this enchanting tale about youthful imagination and the close bonds of family is ideal for sharing at bedtime… and a big book hug you wouldn't want to miss!
(Macmillan Children's Books, hardback, £11.99)
Helping others has its own special reward in a beautiful and inspirational picture from Scottish author and illustrator Sally Anne Garland.
Pirate girl Lucy likes to sail across the sea, fixing and mending her small rickety raft, hoping to find Far Away Island whose silver shores nobody has ever reached. Other children seem to race easily past her on their fast speedboats and sturdy rowing boats but when a gigantic wave sweeps them all away, except Lucy, the Little Pirate Queen is determined to rescue everyone… no matter how dangerous that might prove to be.
The Little Pirate Queen, which comes packed with Garland's bright, bold and immersive illustrations, speaks loudly to young readers about resilience, empowerment, compassion and the joys of shared endeavour.
A voyage of discovery with a treasure trove of messages!
(New Frontier Publishing, hardback, £11.99)
Big Words for Little People: Happiness
Helen Mortimer and Cristina Trapanese
What does happiness really mean?
Understanding emotions and words is all part of early development for young children and this clever, conceptual book from the boffins at Oxford University Press helps young children to explore their feelings by giving them the everyday words they need to fill our world with kindness.
Big Words for Little People: Happiness is the latest picture book in an exciting series exploring big topics with young children in a way that feels warm and right. It has been created to help young children develop and understand how they can use their words to help them navigate emotions and first experiences.
Using carefully chosen words and phrases, such as 'laugh,' 'jump for joy,' 'carefree' and 'good mood,' and with fun illustrations throughout, Happiness creates a special moment for grown-ups and young children to focus on what it means to be happy and to experience both happy and sad feelings.
Children can discover and understand the new words to help them to talk about the ups and downs of first experiences and new emotions with confidence, and adults can use the book to talk about feelings and explain them to the youngest children in an engaging and accessible way.
The simple, appealing artwork and fun characters make the books accessible and perfect to share, and each includes reassuring tips on how to encourage conversation and build language confidence. There are also ten ideas at the back which help parents and teachers to get the most out of the book.
With its child-friendly focus on feelings, and its clever use of words and ideas to aid understanding, this is just the kind of educational goodness that helps children to develop and grow.
Perfect for reading and sharing together…
(Oxford University Press, paperback, £5.99)