Book review: Flight to Darkness and 77 Rue Paradis by Gil Brewer
In two turbulent, mesmerising tales from the 1950s, a Korean War veteran gets involved with a troublesome beauty and finds himself caught up in family strife and murder, and a disgraced former aircraft manufacturer is blackmailed into treason.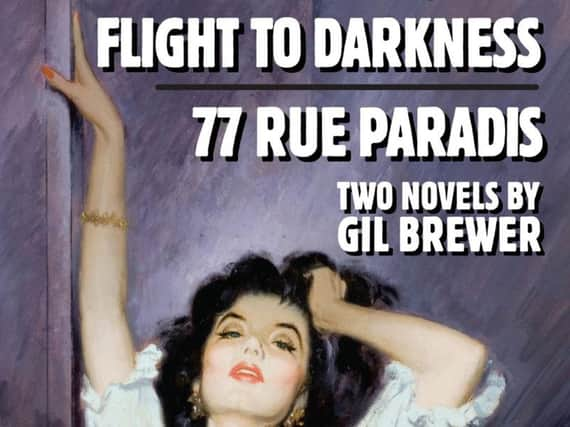 Flight to Darkness and 77 Rue Paradis are two early career novels by the late American author Gil Brewer, a prolific writer of compelling crime stories. Author of 50 novels and more than 100 short stories, Brewer was among the most popular noir writers of the 1950s.
Written in just three days, Flight to Darkness was published in 1952, one year after Brewer's hugely successful bestselling third novel, 13 French Street, which sold more than 1.3 million copies.
It tells the story of war veteran Eric Garth and his misguided affair with a femme fatale and a bitter feud with his adopted brother Frank, the man he hates with a passion.
Injured in combat in Korea - shot in both legs while carrying a dead soldier on his back across the battlefield - Garth recuperates from battle fatigue in a veteran's hospital in California where he is plagued every night by dreams of murdering his brother with the wooden mallet he uses for his art sculptures.
While there, Garth falls madly in love with Leda, a wayward nurse, 'the type you might wonder about having a knife sheathed in the rim of her stocking.'
After his release from the hospital, Garth and Leda head for Florida, intending to get married and settle down in Garth's hometown of Cypress Landing.
However, during a brief stop in southern Alabama, Garth is startled to discover he is the main suspect in a hit-and-run accident.
Unknown to Garth, his brother has arranged for him to be admitted to a psychiatric hospital rather than face prison. Then Leda suddenly leaves his life and, unable to get an update on the case, he finds he is confined to the hospital for countless months, oblivious to the devious plans of his conniving brother.
What follows is an exhilarating, unpredictable story of wild passion, deception and sibling rivalry run amok, with the deluded main protagonist on a tumultuous, out-of-control journey to disaster, and thoroughly regretting ever seeking an escape from his hospital confinement.The second tale, 77 Rue Paradis, another paperback original published by Gold Medal Books, is an intense espionage thriller focusing on an airplane manufacturer,
Frank Baron, whose defective planes caused the death of US pilots during the Korean War.
Held accountable for the loss of lives and branded a traitor, his reputation and career have been destroyed and his wife has deserted him, taking his daughter with her.
Full of anger and despair, and convinced a saboteur is responsible, he is sworn to vengeance and begins a mammoth worldwide search for the culprit.
After pursuing leads across the US, Mexico City, Panama, Tokyo, Brazil, Cape Town and various European countries, he eventually winds up penniless in Marseille, only to discover he has been deliberately led on a futile journey across the world by Hugo Gorssmann, a powerful criminal looking to thwart Baron and gain a financial hold over him.
Gorssmann, an enormously fat man with arms resembling 'inflated tyre tubes' and beady eyes that are 'like lively black bugs waiting to pounce on something good,' has also kidnapped Baron's daughter. And he is prepared to kill her if Baron doesn't steal the blueprints for a cutting edge airplane engine from his close friend Paul Chevard who is in charge of a French aeronautics company working with the Air Ministry.
Aware of the potential consequences of putting revolutionary aircraft machinery into the hands of the despicable Gorssmann, and racked with guilt about deceiving his long-time friend, Baron seeks help from a French detective at the Department of Air Intelligence. But the detective, keen to discover the identity of the man Gorssmann reports to, is unwilling to interfere.
Under continual surveillance from Gorssmann's deaf-mute henchman, the acutely troubled Baron, fearful for the well-being of his daughter, is 'trapped beyond hope' and forced to become 'an enemy agent – a spy in the pay of an international spy ring.'
There is much guilty pleasure to be had from watching Brewer's broken, long-suffering hero fall ever deeper into the pit of despair as he strives to accomplish his duplicitous mission and, at the same time, try to find a way out of his impossibly bleak situation.
Told with considerable intensity, 77 Rue Paradis is a gripping, tautly suspenseful novel offering some well-defined central characters and plenty of thrilling moments.
This splendid Stark House edition also contains an authoritative list of Brewer's short stories and an introduction by David Rachels, based on his research of the Brewer papers at the University of Wyoming.
(Stark House Press, paperback, £14.45)