Make Christmas magical this year in London's Seven Dials
Revive your Christmas shopping this year and experience the ultimate festive day discovering London's most precious hidden gem - Seven Dials - the intriguing network of seven streets that links Covent Garden to Soho.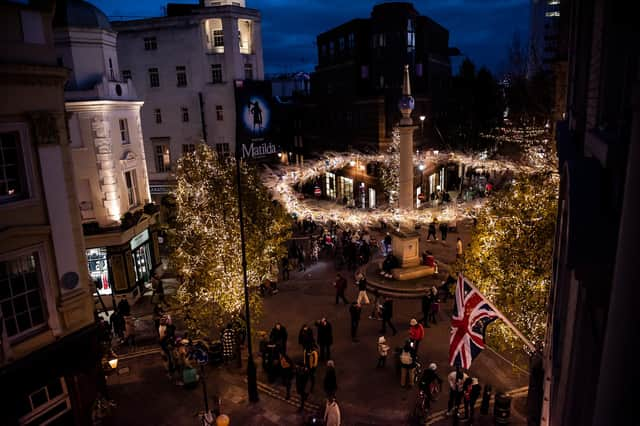 Seventh heaven! Discover the delights of Seven Dials this Christmas @7dialslondon
Set at a slower pace, Seven Dials captures the energy of London's West End and charmingly pairs it with a familial, community feeling. Adorned with beautiful Christmas lights, explore seven streets of independent brands, flagship stores, award-winning theatres, and some of London's best loved restaurants.
To help plan your trip to London this Christmas, here's our guide on some of the best places to eat, drink and shop in Seven Dials. 
CHRISTMAS SHOPPING WITH PURPOSE  
Get into the festive spirit @7dialslondon
Home to a collection independent stores and thoughtful brands, Seven Dials is the perfect place to find a gift for the ones you love while taking some simple steps to a more conscious Christmas. We, as consumers, can play a part in looking out for our planet by championing independent businesses, buying quality gifts to last a lifetime, and investing in brands that are conscious of the world we live in.
Pick up a pair of the World's first and only biodegradable tights from Billi London (35-37 Monmouth Street) or give the finest one-of-a-kind clothes a second life by picking up a reworked vintage garment from Good London (33 Neal Street) or Cow Vintage (13 Short's Garden).
For a gift that promises quality, you can't go wrong with a signature Tailored Tee from L'Estrange (19 Earlham Steet), sustainable denim from Nudie Jeans (57-59 Monmouth Street), or thoughtfully designed luggage from Away (9 Earlham Street) who all offer free repairs for life.
You can also feel good knowing that many of the Seven Dials stores partner with charities throughout the year, including jewellers Astley Clarke (31 Monmouth Street), who donate 20% of proceeds of selected jewellery to Their World charity, fighting to end the global education crisis, Astrid & Miyu who partner with The Baytree Centre, supporting and uplifting women and girls from disadvantaged backgrounds, and Tatty Devine who pride themselves in inclusivity and wholeheartedly support the LGBTQ+ movement with a range of charitable collaborations.
Enjoy browsing the huge range of shops @7dialslondon
A WEEKEND OF FESTIVE MERRIMENT  
Fancy some festive food to break up the Christmas shopping? Pop into one of the many restaurants and cafes dotted around the seven streets. Wildwood Kitchen (184 Shaftesbury Avenue) will be offering a festive menu which includes a turkey roast and a festive four cheese pizza, whilst Compagnie des Vins Surnaturels (8-10 Neal's Yard) will be offering their Alpine Wine Selection, a must-have when in need of a post-shopping tipple. Chick N' Sours (1A Earlham Street) will also be showcasing their festive crispy chicken burger topped with chicken and pork ragu and a spicy slaw. Or visit Seven Dials Market (35 Earlham Street) and take a walk around the Banana Warehouse to choose from 11 deliciously independent food traders.
Make the most of your trip by staying in one of our hotels and visiting one of our exhibitions or a feel-good theatre show. Located right on the dial, the boutique Radisson Blu Edwardian Mercer Street Hotel (20 Mercer Street) is offering discounted rooms from the 19th-21st November. If you want to soak up some culture, then drop into the Art of Banksy Exhibition (50 Earlham Street) or to Unit X (40 Earlham Street) who are showcasing surrealist painter Roby Dwi Antono.
What's more festive than a trip to a West End Theatre? Book tickets to the longest running play in the world, Agatha Christie's 'The Mousetrap' is playing at St Martin's Theatre (West Street), or 'Love and Other Acts of Violence' at the newly refurbished Donmar Warehouse (41 Earlham Street). If you are looking for some family-friendly entertainment, head to the Cambridge Theatre (Earlham Street) to catch a theatre classic, Matilda.     
Find the joy in Christmas shopping with Seven Dials – plan your perfect festive London trip @7dialslondon
WINTER WARMER ENTERTAINMENT   
Bag your free ticket to the first ever Seven Dials Winter Festival, running from 19th-21st November, this three-day event will be highlighting the very best of festive shopping, dining, and entertainment.
Enjoy a range of events, masterclasses, and workshops, including festive perfume-making at Experimental Perfume Club (53 Monmouth Street), a skateboard-making workshop at Route One (47-49 Neal Street), Zero waste cocktail-making at Billi London (35-37 Monmouth Street) and a tasting event at renowned chocolatier Pierre Hermé (38 Monmouth Street).
Not only that, but you will be able to take your time wandering through the streets of Seven Dials as the stores extend their opening hours and offer exclusive festive discounts for the three-day period.  Seven Dials Market (35 Earlham Street) will be serving mulled wine, Flesh and Buns (41 Earlham Street) are bringing back their renowned s'mores, and Hotel Chocolat (4 Monmouth Street) are offering three flavours of decadent hot chocolate. Finally, stick around for the free festival entertainment and performances including wreath-making stations, daily DJ sets on The Pink Stage in Seven Dials Market, a live podcast recording at The Donmar Warehouse and a whole line up of live music performances.
Be sure to stay up to date with all the latest news and experiences by following @7DialsLondon on Instagram. #SevenDials