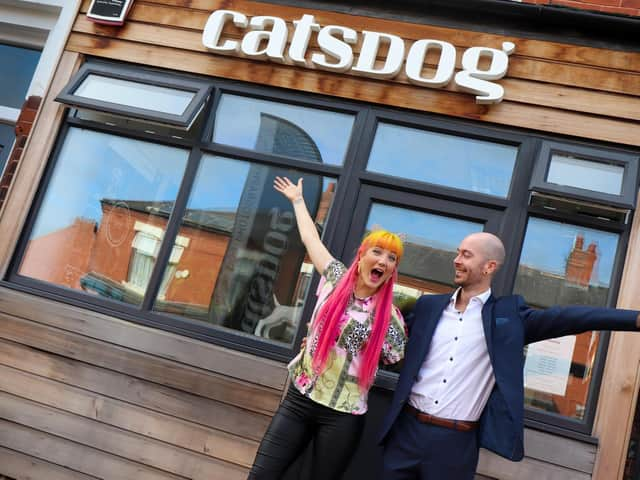 Cat Race, 34, and Michael Higginson, 30 of CatsDog Photography outside their studio in Tulketh Brow
Cat Race, 34, who hosted her first day-long workshop in Preston's Avenham and Miller Parks, says the January session drew visitors from as far as Portugal.
Cat, owner of CatsDog Photography, is now wondering if she has stumbled upon a niche market.
"I didn't have any expectations when I started," she said. "We do have quite an international following on our Instagram. I was aware of that but I didn't know who was going to book onto the courses.
Participants of the Cat's first dog photography workshop hosted in Avenham and Miller parks in Preston
"It's really exciting. It's a different part of my dog photography journey."
Cat started out her career working as a family portrait photographer but went part time in 2013 when, out and about taking pictures of her own chihuahua, Poppy she wondered if others would like pictures of their pets as well.
She said: "A couple of years later I met my other half Michael who now works with me in the business. He's very good with dogs, he used to work in a kennels. I call him my dog whisperer.
Part of what we cover in the workshops is how to control dogs.
Beau, a grey Westie cross Pappillon. Pic: Cat Race
"If they are not happy they probably won't look happy in the pictures.
"All the dogs in our photos are just standing there posing, but we photograph crazy dogs, shy dogs and some aggressive dogs as well.
"It's all about getting them to want to be involved.
"That might mean treats or we might turn it into a bit of a game.
Iggy the collie and Rupert the spaniel. Pic: Cat Race
"We might get a ball and Michael will throw it up at the right moment for people to take pictures.
"In the morning we teach in our studio in Tulketh Brow.
"First we teach people a basic understanding of photography.
"The second bit of the day is the practical bit so we look at how we handle multiple dogs.
Cat Race, 34, and Michael Higginson, 30 of CatsDog Photography outside their studio in Tulketh Brow
"We put them on their leads and Photoshop the leads out afterwards.
"We look at how the light falls and how to make the most out of the natural light in different conditions.
"At the course in January we had people coming from London, Brighton and Portugal."