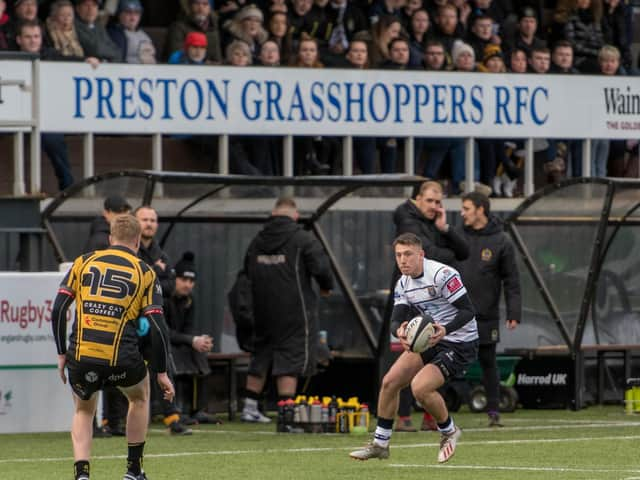 Preston Grasshoppers vs Fylde at Lightfoot Lane earlier this year (credit: Mike Craig)
Somewhat adrift in the National League 2 North division in rugby union's fourth tier, they weren't mathematically relegated and still had five games left to pull off a miracle. But, when the league was officially cancelled on March 20th, their fate was sealed.
"There are no real complaints with relegation," says Chairman Andrew Donovan, 63. "It was a disappointing season; we really suffered from injuries and lost a few games we should've won. It's been hard to take, but in the end we weren't good enough and it's a tough league full of strong clubs."
Rugby union came to Preston a year before it arrived in New Zealand. Five men from established rugby-playing schools approached the Headmaster of Preston Grammar in 1869, extolling the sport as a winter game for the students.
Preston Grasshoppers vs Caldy in their final fixtures of the now-cancelled season (credit: Mike Craig)
Community interest soon grew, and the Grasshoppers - who got their name from the fact that a number of the founders were former students at Cheltenham College, which held a regular Fireflies vs Grasshoppers match - officially formed at a meeting at the Bull Hotel.
The club has an illustrious back-catalogue of alumni. A.N. Hornby was the first man to captain both the English national rugby and cricket teams. Will Greenwood won the 2003 World Cup with England. Current Leicester Tigers Head Coach Steve Borthwick was an England international and a member of Eddie Jones' backroom staff at the recent World Cup in Japan. Chorley-born Paul Grayson is the third-highest points-scorer in Test rugby for England behind Jonny Wilkinson and Owen Farrell.
Former England U21 striker James Vaughan even played for the juniors before becoming a pro footballer.
But Grasshoppers is more than just a breeding ground for egg-chasing talent. "We're a community club," says Andrew, who was brought up in Cardiff and has lived in the North West for 40 years. "We want to keep that level of engagement. It's very important to us and I can't see anything ever changing that.
Preston Grasshoppers vs Hinckley in February (credit: Mike Craig)
"Our ambition is to play at the highest level on a sustainable basis; we have no intention of throwing money at the playing side at the expense of the future of the club," adds Andrew, who became Chairman around six weeks ago. "With it being such a contact-heavy sport, it's difficult to predict when we'll start next season and, while we know there will be a few players who'll move on, the majority were with us last season and will be with us next season. It won't be easy, the ambition is promotion straight away."
But before that comes the pressing issue of the coronavirus. Due to the pandemic, the club's bar and event facilities have been closed since March 20th, cutting off a valuable income stream. They also had to axe their annual three-day beer festival and pause a major redevelopment to the clubhouse.
"There's no two ways about it, Covid-19 has had a big financial impact," explains Andrew, with the league's cancellation meaning the club missed out on two marquee revenue-generating home fixtures. "We're lucky because, financially, we're reasonably well-off but it's still not been good."
Hoping to take advantage of their large bucolic, outdoor seating area to start serving food and drink in early July, the club's actions are nevertheless entirely dependent on government guidance. And in terms of when they can start hosting their 400+ mini-juniors and running their five men's teams and women's XV, the jury is still very much out.
But, the club's investment in its community has it well-placed to adapt and thrive.
"When the coronavirus hit, it was all hands to the pump and people have done amazing work," he says. "We're really lucky as a club to have so many good people."