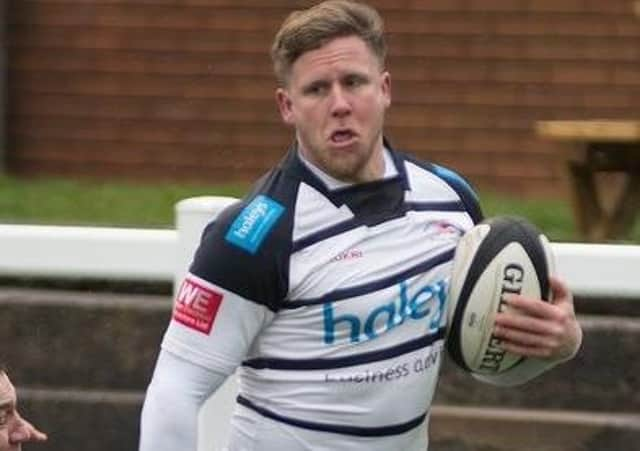 Alex Hurst returns to the Hoppers' squad (photo: Mike Craig)
Next Saturday they head for Sheffield but first there is a trip to stragglers Scunthorpe and a chance of the first "double" of the National League Two North campaign.
Hoppers defeated the Lincolnshire side 48-24 in September and tomorrow's hosts have lost all 15 games to date. That leaves them 15 points behind next-to-bottom Preston, who have three wins, two draws and 11 defeats.
Hoppers have now gone eight games without a win and have drawn two and lost six away from Lightfoot Green.
They are 12 points from the safety of 13th place and head coach Paul Arnold said: "We are in an absolute dogfight.
"We need at least 15 points from our four games in January."
Three of those games are away from home.
Arnold will make a late choice from a 23-strong squad, which is missing Tyler Spence and James Gough from the line-up that started against Fylde pre-Christmas.
Added to those on duty that day are Luke Procter, Ryan Carlson, Jake Squirrell, Jacob Browne, Alex Hurst and Jordan Dorrington.
After back-to-back away games to end the old year, second-placed Fylde return to Ansdell tomorrow to take on Wharfedale, who lie 12th.
Fylde remain four points ahead of third-placed Sedgley Park, who have a game in hand. Fylde won 32-19 at Wharfedale in September, one of 12 victories, together with a draw and three defeats.
In North One West, Vale of Lune also kick off 2020 with back-to-back away games. Next week it's Bowdon, but first they visit Warrington, whom they defeated 28-18 at Powderhouse Lane back in September. That was one of 11 defeats from 13 for Warrington, who have a new ground at Grappenhall.
Vale name the same starting line-up that lost narrowly to Northwich before Christmas, with James Hesketh joining the replacements.
Hoppers (from): Gregson, Jordan, j Dorrington, W Davidson, Stott, Hurst, Fitzpatrick, Browne, T Davidson, Squirrell; Blanchard, Mabaya, Taylor, Trippier, Miller, Murray, Wallbank, Howard, Procter, Carlson, Harrison, B Dorrington, Lamprey.
Vale: Manning; Fern, Forest, Higginson, Kyle; Briggs, Swarbrick; Branford, Dokter, Pillow, Fellows, Cvijanovic, Powers, Ayrton, Robinson. Replacements: Hesketh, Yates, Tagg.