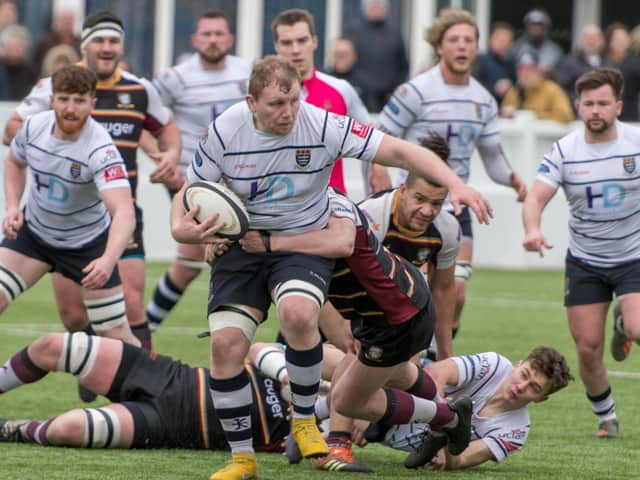 Match action from Hoppers game against Caldy Photo: Mike Craig
But even their most diehard supporters agreed that the final scoreline was a little harsh on Preston Grasshoppers, who are not yet mathematically condemned to relegation but in reality virtually doomed.
Hoppers head coach Paul Arnold paid fulsome tribute to the visitors as "worthy champions" and also praised them for their restrained celebrations in the face of his side's near-certain demise. "They were very respectful towards us," he said. "In fact, they said that that was the most clean breaks they've conceded all season.
"We broke through seven or eight times and could have had a few more points." But, in the coach's word, with chances on offer, "panic" set in, while, at the other end, Hoppers "conceded some soft tries."
While the goal-line Preston defence was strong and committed, the same could not be said of their tackling elsewhere on the park, with Caldy, especially full-back Rhys Hayes, frequently cutting through half-hearted efforts to put pressure on the hosts.
They were ahead as early as the sixth minute, with scrum-half Cameron Davies scampering over from close range, and kept the scoreboard ticking over throughout, with further tries from lock Tom Sanders and Hayes, plus a penalty and one conversion from Gareth Roberts, propelling them to a 20-0 halftime lead.
Hoppers had their best spells on either side of half-time, but over-anxiousness cost them good position and possible points through knock-ons, penalties and turnovers.
Roberts added an early second-half penalty before No 8 JJ Dickinson assured Caldy of promotion with the fourth try to give them the bonus point they needed to clinch top spot. That came immediately after Hoppers lock Sam Wallbank had been sent to the sinbin for a high tackle.
Centre Mike Cartmill, replacement Jack Parker and Davies again – with Olly Trippier having been yellow-carded just before - kept the try tally mounting and Roberts's three conversions saw Caldy equal the 49 points they scored in the earlier home defeat of Hoppers.
That day, Arnold's men racked up a more impressive 21 points – but it was a tally they might have equalled on Saturday with a little more control. As it was, No 8 Matt Lamprey scored their only try from a five-metre scrum, going into the last quarter.
"I am disappointed with where we are in the league," said Arnold. "But there were some positives."
He said one of the big pluses – with an eye on next season – was the performance of 17-year Tom Walker, sent on as a replacement fly-half shortly after half-time for his first senior game of rugby.
The coach said the youngster was nervous before the kick-off, but "I thought he was good enough to put in. He is one for the future." Dad Micky is an old-time Hoppers favourite and the coach said: "He did really well for the family."
Also getting valuable first-team experience off the bench were Rob Meadows and Will Clapham, and Arnold said: "We want to keep these lads together for the next three or four years and watch them do well. I'm going to give the young lads a run for the rest of the season."
Jordan Dorrington's first appearance in the No 13 jersey for Hoppers – he has operated elsewhere in the back division so far – also enthused his coach and his centre partnership with Sam Stott looks another one for the future.
In the meantime, there's a weekend off coming up, before Hoppers try to improve on their four victories to date in the final five fixtures of what has been a bruising campaign in every sense.