Preston rower Graeme Thomas could be robbed of another appearance at the Olympics if coronavirus causes Tokyo Games to be cancelled
Nothing will stand in the way of Graeme Thomas' determination to appear at an Olympic Games.
Monday, 16th March 2020, 3:17 pm
Updated
Monday, 16th March 2020, 3:20 pm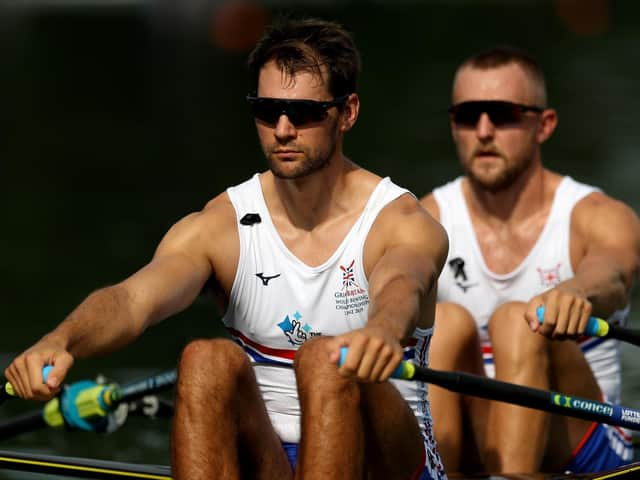 Graeme Thomas (front) and John Collins of Great Britain in action during the men's double sculls at last year's rowing World Championships. Photo: Getty images
The outbreak of the deadly coronavirus has forced the cancellation of sports events across the world due to the increased risk of spreading the disease among players, officials and supporters.
There is speculation that the pinnacle of all sporting occasions – this summer's Olympics to be held in Tokyo – will also fall victim to the global pandemic.
If that were to happen, then it would be the most ironic of disappointments for Preston rower Thomas.
The 31-year-old was robbed of his place at the last Games in Rio when he was struck down by a 'flu-like' virus having touched down on Brazilian soil.
Despite making a full recovery, Team GB selectors deemed he wouldn't be fit enough to take his seat in the quadruple scull and was promptly replaced and sent home.
Now four years later, the former Corpus Christi Catholic High School pupil could be denied another crack at winning Olympic gold by matters beyond his control once again.
"Whatever happens, happens," said Thomas, who reaffirmed his credentials by winning the single scull event at the Team GB Olympic trials at the Redgrave Pinsent Rowing Lake, last weekend.
"After what happened to me in Rio, I have to take a bit more of a chilled-out approach about things really.
"Some things are just out of your control.
"If the Olympics does get cancelled this year then you will have to look out for me at Paris in 2024 because I am going to make sure I go to an Olympics before I quit this sport."
Despite his Olympic dream being at risk once again, Thomas insisted that people's health must come first.
"I really have no idea whether the Olympics will go ahead or whether it will be delayed," he said.
"I would love to be a fly on the wall of one of these IOC meetings.
"At the end of the day, everybody's health is the most important thing. People are losing their lives because of this virus so we will just have to see.
"I am just taking each day as it comes and I will make sure that I am in the best possible shape so that I will be ready to go racing wherever in the world I am told and at whatever time of the year."