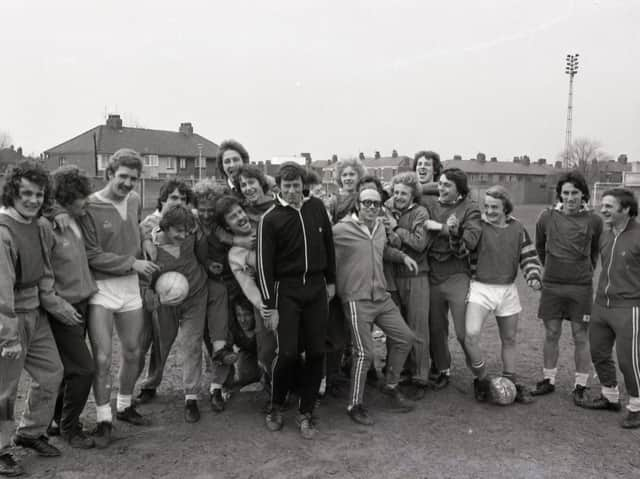 Nobby Stiles and Alan Kelly with the Preston North End squad in 1978
The board swung the axe a month after the Lilywhites had been relegated from the Second Division on goal difference.
Despite winning their last game of the season 2-1 at Derby County, they went down after relegation rivals Cardiff drew with champions West Ham and got the point to keep them up.
The sack for Stiles and Kelly was still incredibly harsh though, and the decision was one North End took some years to recover from.
Nobby Stiles during his time as PNE manager
Stiles' replacement was Tommy Docherty who at the time was managing Sydney Olympic in Australia.
The Doc was lured back to PNE for who he had made 323 league appearances as a player in a nine-year stay between 1949 and 1958.
However, Docherty was to last only a few months in the job, sacked in December 1981 after winning only three league games.
Stiles and Kelly did a fine job in their four seasons in charge.
England World Cup winner Stiles had come to Deepdale in 1973 as a player, signed by Bobby Charlton.
He worked as a coach under Charlton's successor Harry Catterick before being handed the manager's job in July 1977.
In his first season in charge, Stiles led North End to promotion from the Third Division.
The following campaign in the higher division, PNE finished in seventh position - a fine achievement.
In 1979/80, Preston finished 10th before the 1980/81 season saw them relegated.
The squad had lacked investment that year and that came home to roost in May 1981.
In fact money had been tight all the way through Stiles' time in charge.
Mike Elwiss was sold to Crystal Palace after being named player of the year in the promotion season.
A year later, Mick Robinson who had stepped up to fill the gap left by Elwiss' departure, left in a £756,000 sale to Manchester City.
Kelly later accepted an invitation to stay on the coaching staff and the PNE legend would himself go on to manage the club under difficult circumstances between December 1983 and February 1985.