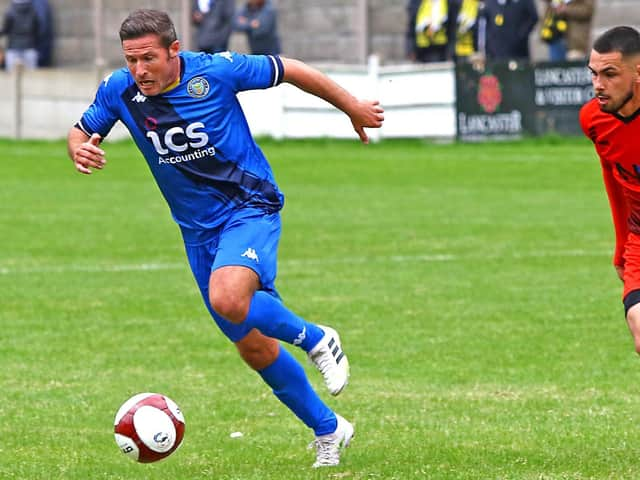 Lancaster City midfielder David Norris (photo: Tony North)
The Dolly Blues boss questioned a few weeks ago whether the club had seen the last of players such as David Norris, Matty Blinkhorn and Glenn Steel.
The trio are certainly veterans of the game, with former Leeds United and Ipswich midfielder Norris turning 40 last month, while Steel and Blinkhorn are well into their 30s.
Having virtually missed out on a year of their careers due to the Covid-19 pandemic, Fell revealed to this newspaper that he was unsure if they were willing to put their bodies through the grind once again.
However, after seeing the report about their futures circulating in the media, the trio were quickly on the phone to their manager indicating that they had no intention of calling it a day.
That was music to Fell's ears as he turns his attentions to planning ahead for the start of the 2021-22 NPL Premier Division campaign after this season was officially confirmed as null and void earlier this month.
"I don't foresee loads of ins and outs in terms of the squad," said Fell.
"I know I have spoken about some of the older players previously – I wasn't sure whether they would play next season. But I had all of them on the phone straight away as soon as the story went out. They all said, 'I'll be playing next season – I am not finishing like that'.
"Those discussions with all the players needs to be had. I will need to know where everybody is at.
"Every manager will have a list of players in their squad who they will want to secure early because you know potentially other clubs will be circling around them.
"We will be trying to speak to all our players within a short timescale. I think at this point, it's about getting a commitment from them that they want to play for us next season."