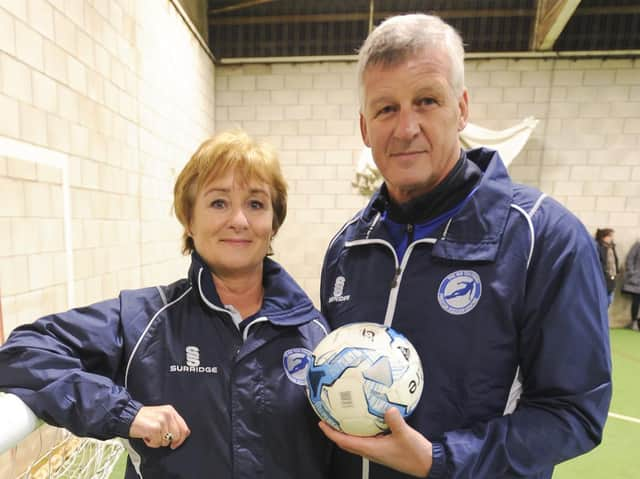 Kath and Peter Mason
Kath Mason is the co-founder of the Sir Tom Finney Soccer Centre - an establishment which she set up with her husband Peter, who is the chairman, more than 20 years ago.
In that time, it has flourished to become a pioneering sports institute, providing football opportunities for all.
Boasting more than 20 teams, the centre provides playing and coaching provision for every spectrum of the community from adults, juniors, people with disabilities and even hold coaching sessions for refugees.
After the second national lockdown came to an end last week, the centre was looking forward to reopening its doors to its footballers.
However, the LFA announced on Friday that it was suspending all grassroots football activity in Ribble Valley, Preston and South Ribble, Burnley, Hyndburn ,Pendle, Rossendale and Blackburn with Darwen throughout the month of December due to the Covid-19 crisis.
It revealed that it had taken that decision under the professional recommendation of Public Health for Lancashire, Public Health for Blackburn and Darwen, Public Health England and the Local Resilience Forum in Lancashire.
The decision has caused an outcry among parents who have slammed the decision.
They insist that football participation is crucial to their children's mental and physical well-being.
Mason, who is also the centre's secretary, has sympathy for everybody who has been affected by the decision but she believes the LFA's decision was made in good faith and under careful consideration from all of the professional advice which was on offer.
"Yes I do think it's the right decision," said Mason.
"Only because we have got to be guided by the health authorities who guide the FA and the LFA.
"I am the welfare officer and we have to be guided by the FA and know that the decision which has been taken has been done for the right reasons.
"It did come as a shock on Friday when the LFA made the announcement.
"There is so much confusion around and so many people with opinions, but at the Sir Tom Finney Soccer Centre we have told everybody that sadly we have had to close and we have got to wait for the outcome of why these decisions have been made and have confidence in the FA.
"We don't know what's been said that's behind the decision.
"On Friday, we had all our disability players in, they had not trained for a month.
"They trained for half an hour and then we just had to say that we are really sorry but we will have to see you after Christmas.
"We have got to be guided by the Public Health Authority, the FA and the LFA and have faith that the full facts will come out.
"This split and divide is no good."
Much of the parents' ire has been directed at the LFA's chief executive officer Simon Gerrard and a petition has been set up to reverse the decision.
But Mason believes calling for people's resignation achieves very little.
"I fully accept that people have their own opinions and maybe next month, or in a week or a few days, some facts will come out," she said.
"As a club we are fully insured and we are legally obliged to adhere to the FA rules when it comes to grassroots football and we can't change that.
"Petitions and wanting people removing, I can't see the point of it. It is wasted energy.
"I might be in the minority, but we have got to be guided by Public Health, the FA and then the LFA who are our governing body.
"They are all in partnership with each other. We don't know what has been said at meetings which has led to this decision being made.
"Anybody who thinks Simon Gerrard or somebody at the FA does not want football to be played is totally misguided.
"I think we will have Covid-19 risk assessments for many months to come."