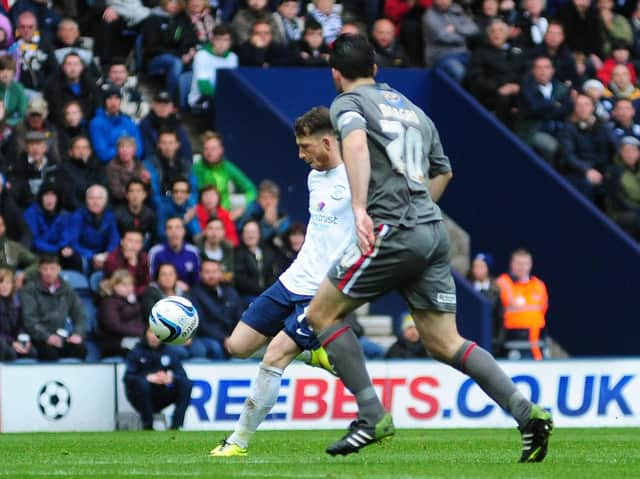 Joe Garner pulls the trigger for his stunning goal for Preston North End against Rotherham in the play-offs in May 2014
On Saturday, May 10, 2014, Joe Garner scored the best goal seen at Deepdale for many a year.
It came in the League One play-off semi-final first leg against Rotherham United had the North End faithful on their feet.
With three touches, Garner showed excellent control and an even better finish, the goal bringing PNE level early in the second half after Rotherham had taken a first-half lead.
PNE striker Joe Garner celebrates scoring against Rotherham
Tom Clarke's ball from the half-way line found Garner 25 yards out.
The striker controlled it on his chest, knocked the ball to the side with a flick of the right boot before sending a volley dipping over Millers goalkeeper Adam Collin.
It was superb from Garner and wouldn't have been out of place at a much higher level than League One.
Unfortunately, it wasn't be for PNE in the play-offs that season. The 1-1 draw in the home leg was followed by a 3-1 defeat in the second leg at the New York Stadium.
Jermaine Beckford celebrates with Simon Grayson after scoring his long range goal against Chesterfield in the play-offs in May 2015
A year on, North End found themselves in the play-offs again, this time against Chesterfield.
They should have gone up automatically, only to lose on the final day of the regular season at Colchester and allow MK Dons to grab second place.
It meant a 10th attempt at the play-offs and a meeting with Chesterfield.
The Lilywhites won the first leg 1-0 away, Jermaine Beckford on target with an early goal.
The PNE squad pile-on Jermaine Beckford after his superb goal against Chesterfield in the play-offs
Back at Deepdale for the second leg on Sunday, May 10, 2015, North End cruised to a 3-0 victory.
Beckford fired them ahead in the 38th minute, with Garner doubling the lead on the day from the penalty spot just past the hour mark.
Three minutes from time, Bailey Wright's pass found Beckford just inside the PNE half.
He turned Chesterfield's Sam Hird, moved a couple of yards into the visitors' half before letting fly with a shot - slipping as he did - which caught keeper Joe Murphy off his line and sailed into the net.
Victory sent North End to Wembley three weeks later where they beat Swindon 4-0 in the final, Beckford bagging a hat-trick and Paul Huntington netting the other.
Two years running, May 10 was a date for spectacular goals which will live long in the memory.