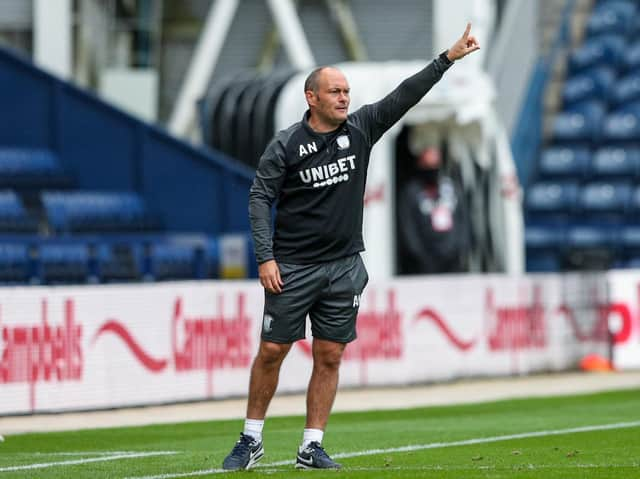 Preston North End manager Alex Neil
PNE play their final friendly of the shortened build-up against Everton at Goodison Park today (3pm).
The players who were on the bench in Friday's 2-2 draw at Sheffield United will start against the Toffees, with North End boss Neil having been careful to give the squad as equal amount of time as possible on the pitch in the warm-up games.
Neil doesn't appear to have shown his hand in terms of the side he plans to play against Swansea City in next Saturday's Championship opener.
Right-back Darnell Fisher is set for his first run-out of the pre-season against Everton after recovering from a calf injury.
Neil said: "What has been important during the games has been testing different combinations.
"Against Sheffield United it was the first time Ryan Ledson and Ben Pearson had played together for instance, the first time that Patrick Bauer and Ben Davies had played together.
"Scott Sinclair and Billy Bodin didn't play against a back three last week against Mansfield so they got the opportunity at Sheffield United.
"It has all been done by design, I haven't just chucked it together and hoped for the best.
"We have planned the games, put a good number of fixtures together and have constructed the team depending on who we are playing to cover all the bases.
"They are getting the same game time unless I have to take them off."
Fisher and Declan Rudd have been the two big injuries during pre-season, goalkeeper Rudd not yet ready for a return.
Neil said:"Darnell will get some minutes against Everton.
"He's just had a niggle unfortunately, a bit like Declan and they have been unavailable.
"Darnell has trained this week, he trained before the Sheffield United game and I'm hopeful he will be fine to start against Everton."
Ethan Walker or Adam O'Reilly are set to join the 10 players on the bench yesterday in today's starting XI at Goodison Park.