Preston North End now able to offer safe standing after Premier League and Championship given the go ahead
Preston North End are now able to have safe standing areas in Deepdale, thanks to a change in laws.
Monday, 4th July 2022, 4:22 pm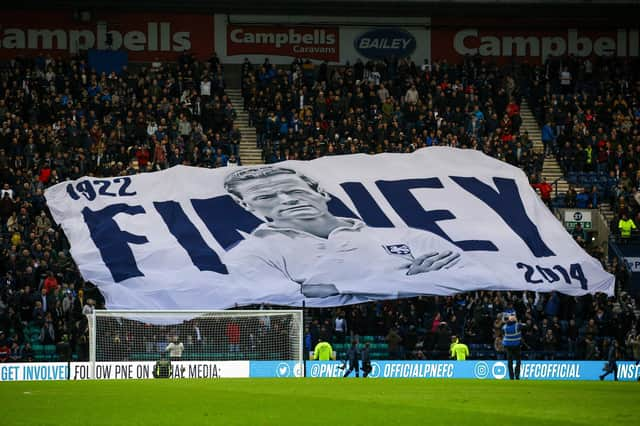 Preston North End fans with a giant Tom Finney banner during their derby win against Blackpool in April.
Clubs in both the Premier League have now been given permission by the government to create designated safe standing areas in their stadiums.
Five clubs took part in a pilot study during the second half of last season – Chelsea, Manchester City, Manchester United, Tottenham Hostpur and Cardiff City – leading to Monday's decision.
So far Brentford, QPR and Wolverhampton Wanderers will be following suit, with further clubs set to be added as the new season progresses - Wembley Stadium will also offer safe standing options.
"Thanks to a robust trial, thorough evidence and modern engineering, we are now ready to allow standing once again in our grounds," culture secretary Nadine Dorries said.
"We are not reintroducing terraces and only clubs which meet strict safety criteria will be permitted."
Standing areas at football stadiums have not been used in the top flight since the early 1990s, with them being all-seater since. It came off the back of the Taylor Report, itself a result of the Hillsborough disaster in 1989 where 97 fans tragically lost their lives after being crushed inside the ground.
Football fans do currently stand at games, though they are advised agaisnt it by police for safety reasons. It is common in Europe to see supporters in standing areas, such as in the Bundesliga, and also further afield in the USA or Australia.
Sports minister Nigel Huddleston said: "Based upon what I have experienced and we have learnt through the pilot programme, safe standing is set to deliver an electric atmosphere at our football stadiums.
"Fans have long campaigned for its introduction and we have worked carefully with supporters' groups, including the families affected by the tragic Hillsborough disaster."
PNE have long been open to introducing safe standing at Deepdale but that would come at a cost, and with efforts currently being made to increase the atmosphere in PR1 before the change in the law, it is likely a needless investment at this moment in time.
There will be further flags and drums at North End this season, thanks to efforts made by fans supplemented with funds the club have helped to raise, as well as over 11,000 season ticket holders.