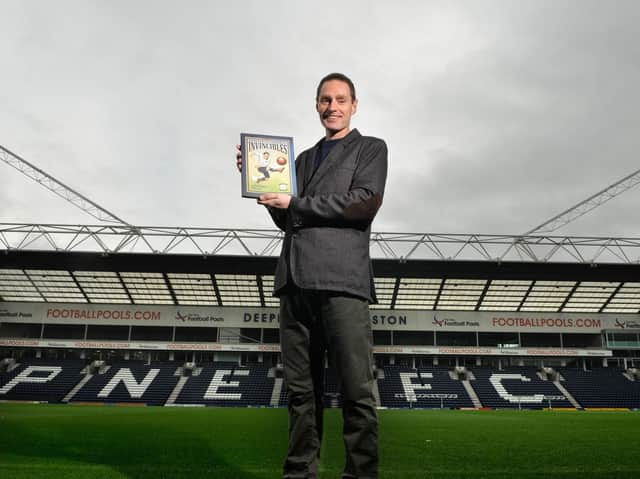 Preston North End fan and author Michael Barrett at Deepdale
In 2016 Barrett released 'Preston North End – The Rise of the Invincibles', telling the story in graphic novel form.
The artwork was done by David Sque, his illustrations having appeared in Roy of the Rovers.
That has sold more than 2,000 copies, an impressive number for a self-published book.
Barrett's next book is on the subject of North End fans, delving into why they support the club and some of their memories.
He hopes to get the book out for Christmas, providing a snapshot of what it means to be a PNE supporter.
North End have been a part of Barrett all of his life.
The 48-year-old was born a goal kick away from Deepdale and was a ballboy at matches as a youngster.
During time working in Ireland, he never lost his love for the club – it was when in Galway that he came up with the Invincibles book idea.
Now he hopes his second book can be just as big a hit with the PNE faithful.
Barrett said: "In a nutshell it is a book for the fans, written by a fan, about the fans.
"It was an idea I started to come up with when I was promoting the Invincibles book, meeting Preston fans and talking about the club.
"I was thinking about a poster to promote the book and the fabric of the club.
"The fabric of the club is the fans and it's developed from there."
Barrett has interviewed a number of supporters in a bid to represent the fan base as a whole.
"I've spoken to about 80 fans and I'd like to get about 110," said Barrett.
"It's been great to listen to what they had to say about PNE, why they support them and what their first game was.
"This is not a competition of who is the best fan, what I'm doing is getting a snapshot of people's stories.
"Ideally I'd like to get this published before Christmas.
"As fans we have all got our own story to tell. My first memory of PNE came when I was a ballboy in the era of Alex Bruce, Paul McGhee, Don O'Riordan.
"I used to ballboy for both first-team and reserve games, getting soaking wet.
"My favourite memory was what I called the 'Garretts' team under John McGrath which got promotion in 1986/87 – John Thomas, Oshor Williams, players like that."