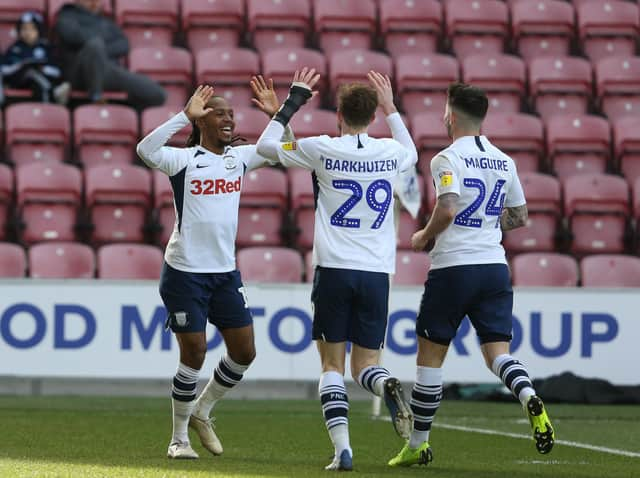 Daniel Johnson celebrates scoring Preston's second goal at Wigan
The Lilywhites won 2-1 in the televised lunchtime clash, Tom Barkhuizen and Daniel Johnson putting them 2-0 ahead.
Chey Dunkley's goal brought Wigan back into the contest and it needed some solid defending to hold off the threat of the home side.
Neil said: "I thought we played in spells really.
PNE midfielder challenges with Wigan's Sam Morsy
"We had some good spells, Wigan had some good spells, and in our good spells we were more dangerous than them.
"We scored a great goal, then Seani Maguire had a header which he couldn't have done any better with - the goalkeeper made a fantastic save.
"Scott Sinclair then had arguably one of the best chances of the game and probably should have scored.
"At that point had we taken those opportunities we would have been comfortable.
PNE fans celebrate their side's victory against Wigan at the DW Stadium
"Wigan had bits and pieces which I thought we dealt with those relatively well, in the first half there wasn't anything which you felt they should have scored with.
"At half-time we spoke about scoring the next goal and making sure we didn't rest on our laurels, we needed to go and get the next one.
"I thought it was a really well worked move for the second goal, that is both Tommy B and DJ into double figures now which is great.
"At that point we were relatively comfortable but we played as if we were comfortable which irritated me a little bit.
"We didn't get up to the ball quick enough and Wigan started applying pressure.
"When crosses start coming into your box it only takes one bit of luck.
"Late on we needed to solidify it, so I went with Tom Clarke to put a bit of height in there, then we went with Jayden Stockley for a bit of height.
"I felt that if Wigan were going to score again it would probably have come from a set play.
"Putting Tom on eliminated that threat really and we deserved to win the game."
Neil was pleased with the manner of both goals, Barkhuizen finishing off a fine move in the fifth minute to give North End the lead.
Another sweeping move two minutes after half-time saw Johnson double the advantage.
Neil said: "They are the sort of goals we scored quite regularly, inter-play and people running off the ball, short and long movement.
"We had other opportunities which we should have done a bit better with it.
"We had a lot of good transitions, something we had done a lot of work on during the week in terms of hitting them on the flanks where we knew the space would be
"I thought we worked that really well.
"One day in training last week we did all our work on playing against a back five and then the next day we worked on playing against a 4-3-3, just to cover it off.
"We drew the wing-backs out well, we got down the sides of the centre-backs well."