Preston North End boss Alex Neil much happier with second-half display than the first in the draw with Swansea City
Preston North End manager Alex Neil felt the Lilywhites' performance in the draw with Swansea City improved in the second half.
Saturday, 1st February 2020, 6:44 pm
Updated
Saturday, 1st February 2020, 6:46 pm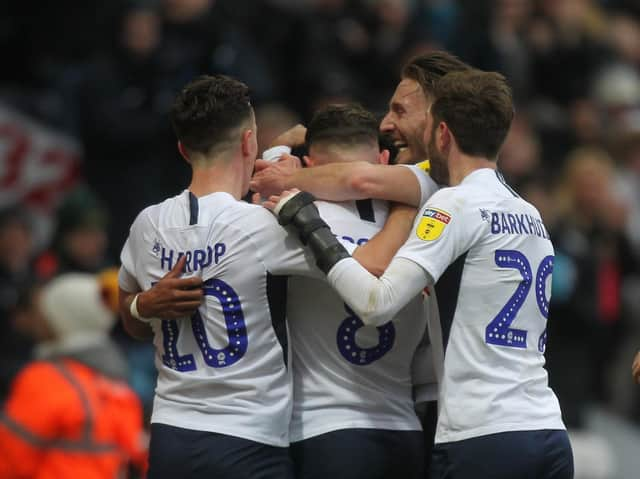 Preston celebrate Scott Sinclair's goal against Swansea
Both goals in the 1-1 draw at Deepdale came in a five-minute spell in the first half, Scott Sinclair scoring a fine solo effort to give North End the lead.
But Rhian Brewster, on loan from Liverpool, netted a quick equaliser for the visitors.
Late in the game North End carved-out some good chances but couldn't finish them off.
Preston manager Alex Neil during the game against Swansea
Neil said: "The first half I was disappointed with, I didn't think we played well enough.
"We didn't risk the ball enough at the back in terms of trying to get it out, we turned the ball far too early and far too quickly.
"I think the wind in the first half probably played a big part in that, the pitch is looking a bit battered by the weather too.
"Equally we showed one bit of quality in the first half and that was from Scott Sinclair for the goal.
Preston winger Scott Sinclair celebrates his goal
"Other than that, we has little spells and patterns but not enough.
"I didn't think we did enough at the top end, I didn't think we competed well in the middle.
"The goal from Scott I hoped would spur us on but then we gave a really sloppy ball away which led to their goal.
"At half-time we had a really good chat, I just felt we needed to be braver - we hadn't been brave in the first half, hadn't taken the ball in tight areas.
"We did in the second half, I thought we were very good and moved the ball well.
"Everything in general was better, we took the ball under pressure, risked the ball in certain areas.
"When the ball went up we made sure it stayed alive and when it dropped we won more second balls.
"Everything about us was much better.
"That was a bit frustrating because it was a really important game and it shouldn't take half-time fur us to kick into life.
"Towards the end if any side was going to win, it was us. We had three really good chances at the end.
"At the end of the day I represent Preston and I'm sure all the Preston fans want the team to play really well, win games and dominate the opposition, regardless of who you are playing.
"I'm like that with the team, you need to be demanding of them because they have so much in their locker."
Neil was delighted to see Sinclair off the mark in a PNE shirt and in some style too.
Sinclair collected a throw-in from Darnell Fisher, cut inside towards the box and curled a fine shot into the far corner.
This was his third start and fourth appearance since his move early in January.
Neil said: "We hadn't worked any good movement up to that point.
"Then Scott got into a wee pocket of space, got front facing, dribbled, dodged a couple and cut inside.
"With his weaker foot he bent it into the far corner, it was a great goal."