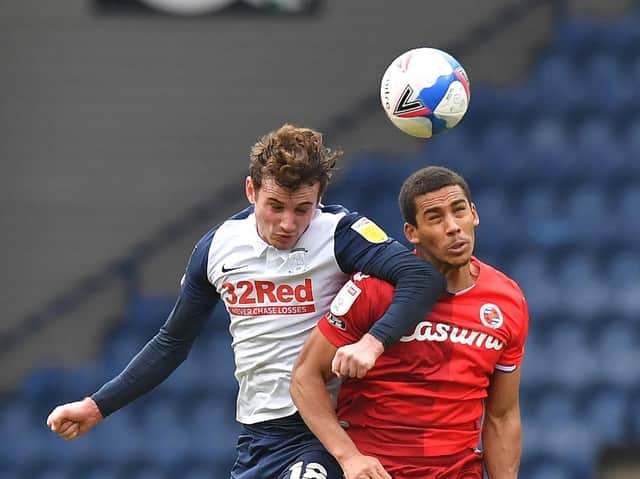 Ryan Ledson wins an aerial duel
Of the two, North End may count themselves the luckier party, as they survived a late penalty that was struck wide in the closing stages of the game.
There was some controversy in the award of the spot kick, with the referee initially missing what was deemed a grapple and pull-down in the box by Joe Rafferty. After letting it go, the man in the middle got a buzz from his assistant and the foul was given.
In my view Rafferty gave the officials a decision to make and can have no complaints. In his defence, our number 15 had not expected to start the match and is always playing out of position as a right-footed left-back.
As per the notification on my phone, natural left-back Andrew Hughes ran out for the warm-up but then aggravated a shoulder injury and had to taken out of the match-day squad. The hosts started brightly for once, taking the game to Reading and creating early opportunities.
However, as the half wore on the visitors got more into the game and so the trudge in these strange Covid times, down the inside of the tunnel by the white shirts and outside by the reds, reflected a half edged by the Lilywhites.
Almost the reverse happened after the Bovril, with Reading pressing North End hard and looking the most likely to score in the opening phase. Apart from the penalty miss it was a case of a game of two halves and an unsurprising result by the finish that does neither side any favours.
On the plus side for us fans was the continued good start by Jayson Molumby, a player showing real desire and hunger, and the Captain Alan Browne appearing to have his mojo back after signing his new contract.