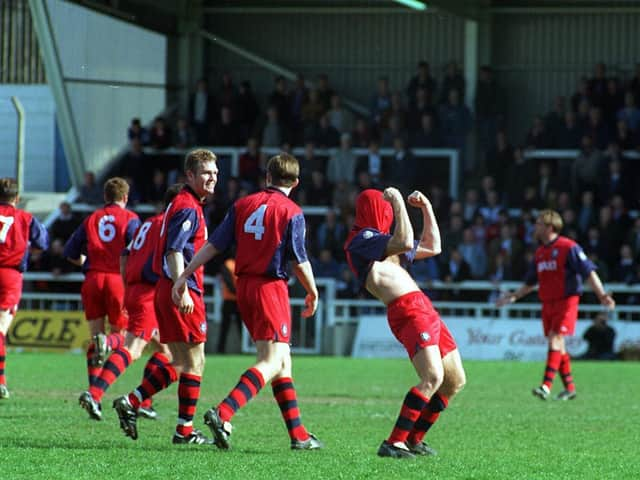 Andy Saville pulls his shirt over his head to celebrate scoring Preston's second goal at Hartlepool in April 1996
The week before they had all but clinched promotion with a 2-0 win at Orient - only a mathematical twist would have stopped them.
Victory by the same score at Victoria Park not only guaranteed promotion but it won them the Third Division title too.
More then 3,000 PNE fans were on Teesside to see it, the party afterwards stretching all the way back along the A66 and down the M6.
Simon Davey and Andy Saville celebrate bare-chested style after PNE win the Third Division title at Hartlepool
There was a debut for David Lucas, the young North End keeper deputising for John Vaughan who was ill.
For the teenager born a short distance away from Deepdale and who had supported them as a boy, it was a big moment.
The focus was on the other end of pitch though, as North End went looking for three points to bring them the title and hold off Gillingham with who they had gone toe to toe with all season.
PNE took the lead late in the first half.
PNE manager Gary Peters salutes the North End fans at Hartlepool
A shot from Steve Wilkinson was blocked and fell into the path of Simon Davey who rifled a shot into the net from the edge of the box.
Victory was wrapped up late in the game as North End scored a second goal.
It was Andy Saville who found the net, that rather appropriate.
Saville's goal was his 29th of the season and he got one in the final game to hit the 30 mark.
The striker throughout the season had struck up a superb partnership with Steve Wilkinson.
It was a pairing which helped separate PNE from the rest of the division in the 1995/96 campaign.
Saville's goal here came when a corner from the left was headed out of the box by the Hartlepool defence.
It was returned into the middle, a clearing header fell to Saville who fired a shot into the bottom corner.
Off he ran to celebrate by pulling his shirt over his head as the Preston fans who filled one side of the ground, danced in delight.
PNE were presented with the title trophy the following week against Exeter.