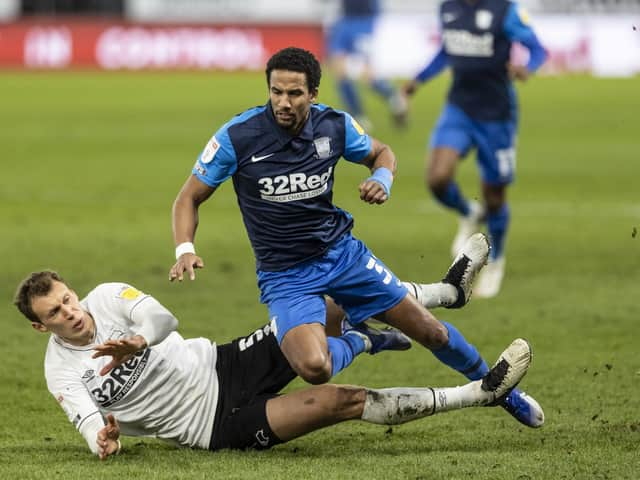 Scott Sinclair in the thick of the action
Up to that point,10-man County looked to have gained a deserved point to keep their unbeaten record under the caretaker managership of a certain Mr Wayne Rooney.
It must be said that Rooney got the tactics right from the moment Martyn Waghorn was sent off for a bad challenge on Browne in the first part of the opening 45 minutes.There being no controversy in the colour of the card shown.
Derby adjusted well, taking on a comfortable-looking defensive pattern that relied on hitting their visitors on the break whenever the opportunity arose. This put the emphasis onto Preston who, despite the lion's share of possession for the remainder of the match, came up short in terms of a cutting edge apart from a couple of opportunities in each half that required decent saves from the home keeper.
With Paul Gallagher able to start this match there was no lack of creativity in the first phase of each forward move by Preston. His distribution from deep in midfield was of the quality we expect and led to Josh Earl forcing that first good save. No, the overall problem was in the second phase, when a good final-ball is needed, and in this North End came up short.
Substitutions and formation changes made no difference and left this fan feeling frustrated by the sense of two points about to be dropped until Browne popped up with that piece of quality following a flowing move started on the left wing by Earl.
From deep in his own half, Earl sped down the left channel before moving the ball onto Daniel Johnson in a more central position who in turn fed it further across and forward to Browne lurking just outside the right-hand corner of the penalty area.
Cutting into the box, he moved the ball from right to left before unleashing a sweet curling shot that gave the keeper no chance before it hit the back of the net.
With the platform this win gives in terms of our position seven points away from the play-off places, it is now vital to give it some real meaning in the next match at home to Coventry.