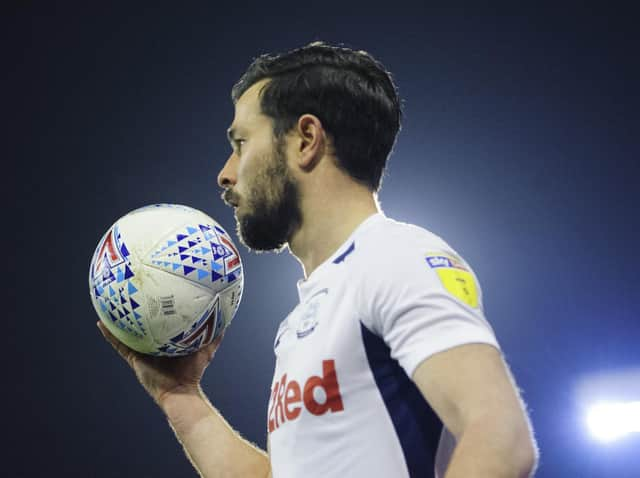 Preston full-back Joe Rafferty
The defender signed for PNE last January and had to wait three months for his first start.
This season Rafferty has been a regular in the side, mostly playing at left-back to cover Andrew Hughes.
It was against today's opponents Swansea in the reverse fixture at the Liberty Stadium that Rafferty first played in a Championship game on the left.
Joe Rafferty is mobbed by team-mates after opening the scoring in PNE's game against Swansea in August
He opened the scoring that day but North End slipped to a 3-2 defeat.
Now that Hughes is fit, it could be that Rafferty has a fight on his hands for a place in the starting XI.
But he has won a big fan in Neil for his performances playing out of position. Neil said: "You do have to be patient with players when they come in sometimes.
"Naturally they will need to have a bit of a settling-in process because we are buying guys who have to adapt to this division.
Preston left-back Andrew Hughes
"Generally they are coming from League One or League Two, or Scotland, Ireland or wherever.
"We have got to get them used to the method we play, they have to get up to the tempo which the lads train and play at.
"That takes a bit of time and we try to develop them as much as we can. It's not always that easy."
Rafferty has played 25 times this season, one of the few occasions he operated in his natural right-back slot he got sent off against Fulham.
Clearly Neil sees Rafferty as competition for Hughes who has suffered four different injuries this season.
"Don't underestimate how well Joe has done for us there," said Neil. "He's fitted into a role which was unfamiliar to him and taken to it really well.
"The one thing about Joe is that he is a proper competitor, he won't let you down.
"He will get up and down, put him up against anyone and he will give as good as he gets."
While Rafferty has filled in well at left-back, being able to call on Hughes again will be a big plus.
He has had some rotten luck with some fairly serious injuries this season.
Said Neil: "Hughesy has had some big injuries – he fractured his foot, one of them saw him take a bit of a tendon off the bone.
"This one he's just back from, he hurt his ankle when he rolled it.
"They've been quite serious, not just a deadleg or a bit of tightness.
"We've had to get him treated, sometimes put him in the cast. It's taken a bit of time but it looks like he is getting through."