Let's "Carry On" up the table after Derby win, says Preston supporter John Smith
In normal circumstances I would have been en route to the East Midlands instead of watching Carry On films on the television on a most unusual of Boxing Day mornings.
Sunday, 27th December 2020, 2:16 pm
Updated
Sunday, 27th December 2020, 2:22 pm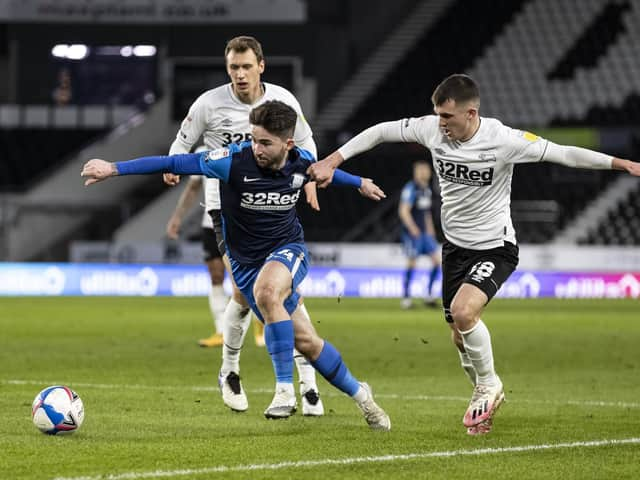 Sean Maguire on the ball against Derby County
After I switched channels over to ifollow in the afternoon it appeared that my day's fun and laughter had evaporated after watching what was in general an uninspiring game containing little action in either penalty box.
However, the smiles returned when Alan Browne provided the games "ding dong" moment firing in a sensational winner with our last attack of the game deep into injury time.
It had looked like Browne might have soon been calling out "ooh matron" at the local infirmary when he was felled by an outrageous challenge just inside the Derby half 20 minutes into the game but he showed tremendous resilience to get up and continue and it was poetic justice that it was his last-gasp strike which brought about a most welcome three points.
Since they had become "Wayne Rooney's Derby County", our opponents had not lost for six games and we struggled to make any inroads into the two banks of four they set up after being reduced to 10 men.
Alex Neil did try to go more direct on the hour mark when he sent on both Emil Riis and Jayden Stockley but this didn't really work either as without the craft of Paul Gallagher we did not get in enough quality crosses to make use of the added height in the penalty area.
Credit must be given to Derby for the way they defended after playing with 10 men for so long and all wins at this level have to be hard earned as this one was. It was our first league win at this ground for more than 18 years but it's such a pity that our fans could not have enjoyed their Boxing Day coach ride home celebrating their win.
With back to back wins secured it was a case of "Carry On Up The Table" for Alex Neil's men and for me it was back to watching some more of the bawdy comedy on the television .