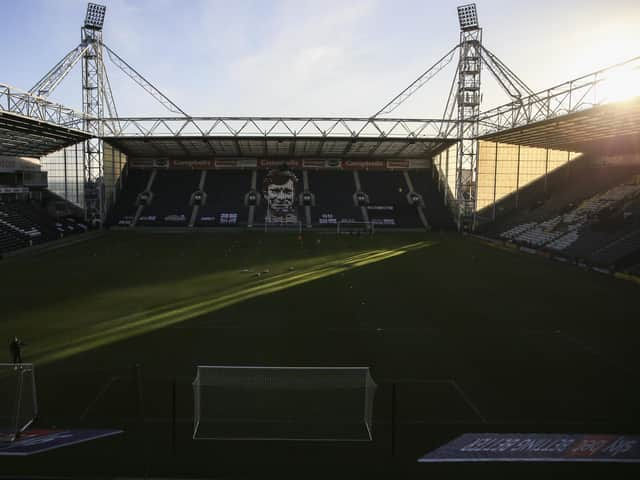 PNE's Deepdale stadium.
We'll have all the news, buld up and action throughout the evening so make sure to refresh the page (F5) to make sure you don't miss a thing!
LIVE: PNE vs Middlesbrough
Last updated: Wednesday, 09 December, 2020, 19:42
Full Time: PNE 3-0 Middlesbrough
PNE Starting XI: Rudd, Fisher, Huntington, Davies, Hughes, Ledson, Browne, Barkhuizen, Potts, Sinclair, Stockley.
Preston are still looking to correct their poor home form this season.
Boro will be hoping to shoot themselves back up into the play-off picture.
Follow us on Twitter: @LEP_football
Light at the end of the tunnel for Louis
There is 'light at the end of the tunnel' for Preston North End striker Louis Moult in his quest to comeback from a serious knee injury.
It is more than 15 months since Moult ruptured the cruciate ligament in his left knee and suffered other damage in the joint.
The 28-year-old's recovery from the surgery to repair the damage has been a tough one.
He had a second operation in the summer, a minor procedure compared to the first, to clean the knee out.
Read the full story here.
Time for change
PNE have won just one of their last 16 meetings with Middlesbrough in the league, their solitary victory coming in March 2019.
Team News
PNE Starting XI: Rudd, Fisher, Huntington, Davies, Hughes, Ledson, Browne, Barkhuizen, Potts, Sinclair, Stockley.
PNE Subs: Ripley, Storey, Earl, Rafferty, Bayliss, O'Reilly, Harrop, Riis, Maguire.
Four changes
A quartet have been introduced to the starting Xi differently to Saturday, Andrew Hughes the most notable name amongst them.
Hughes makes his first appearance back from injury, with Jayden Stockley, Darnell Fisher and Brad Potts all coming in too.
Josh Earl has a place on the bench, another returning from a lay off.
Surely things have to change?
It's been talked about over and over again, but North End still have offered very little at home.
That surely has to change at some point, could tonight be that night?
The teams are out
We're just moments away from kick off at Deepdale, both teams are on the pitch and ready to go.
Kick off!
Boro get the game underway!
No real chances yet
Neither goalkeeper has been tested so far, PNE have had the better of the possession in these opening 10 minutes but have yet to carve anything out.