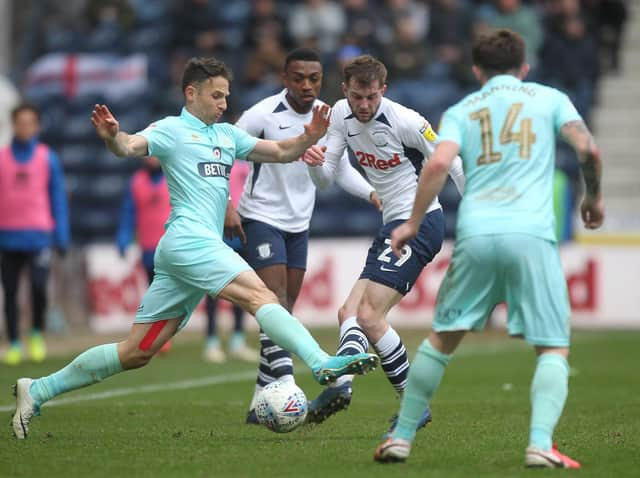 Preston North End winger Tom Barkhuizen in action against Queens Park Rangers
After analysing the latest available accounts of EFL Championship clubs as well as other historic EFL club data, UCFB academic Chris Winn, who formerly authored the Deloitte Annual Review of Football Finance, believes the short-term cash injection to help clubs during the current coronavirus crisis will only cover the coming weeks and leave club bosses desperate to see the season restart as soon as safely possible.
The figures reveal the stark reality of club finances below the Premier League.
Preston North End and the other Championship sides were forwarded £800,000 per club last week - that was money from the basic EFL award which would normally have come their way in three payments before the end of the season.
Championship clubs can also apply for a loan of up to £548,000 from next season's TV fund - that is up to individual clubs whether they do or not.
On the assumption that each team was to play an average of four home games over the course of the existing suspension through to the 30th April, Championship clubs can expect to lose, on average, around £865,000 of match day revenue – not including potential commercial revenue such as merchandise sales.
League One and Two sides are expected to lose on average around £250,000 and £150,000 respectively during the same period.
Additionally, clubs' expected outgoings over the suspension period is cause for further concern. Championship sides will spend on average around £7m during this time on items including wages and other operating costs (excluding player trading).
This figure stands at around £1.3m in League One and around £600,000 in League Two.
The EFL's relief package, which is made up of advanced Basic Award payments and interest-free loans, means Championship clubs are able to claim up to £1.38m, League One clubs £433,000, and League Two clubs £284,000.
Winn said: "The relief package from the EFL, though gratefully received by each club and much needed, is only going to last so long.
"If clubs' outgoings continue to be the same and the suspension extends into May or games are played on a behind-closed-doors basis, then wider gaps in funding may develop.
"What this does highlight is the importance of continuing owner contributions in EFL clubs to the extent permitted, alongside the timing of broadcast and commercial cash inflows and the government wage support being made available to all businesses that require it.
"These figures however assume that other forms of income, including broadcast and other commercial streams, are not impacted over coming weeks.
"If the suspension of the season continues into late May or even June, will broadcasters or sponsors suspend or withhold payment and if so, how long can owners realistically and feasibly continue to contribute?"
Winn said: "At what is a critical period for all businesses big and small, the measures provided by both the EFL and wider government will hopefully mean that by the time football returns, all our clubs are still operational.
"However, with EFL clubs historically being loss-making, and there being little sign of that changing, the present crisis may provide further evidence that this status quo, including the associated business models and revenue distribution mechanisms, needs to be addressed once business, and football, returns to normality."